[Inter BEE 2009 Exhibitor Information] Village Island exhibited standalone digital broadcasting equipment for common facilities in the "digital signage corner"
2009.11.24 UP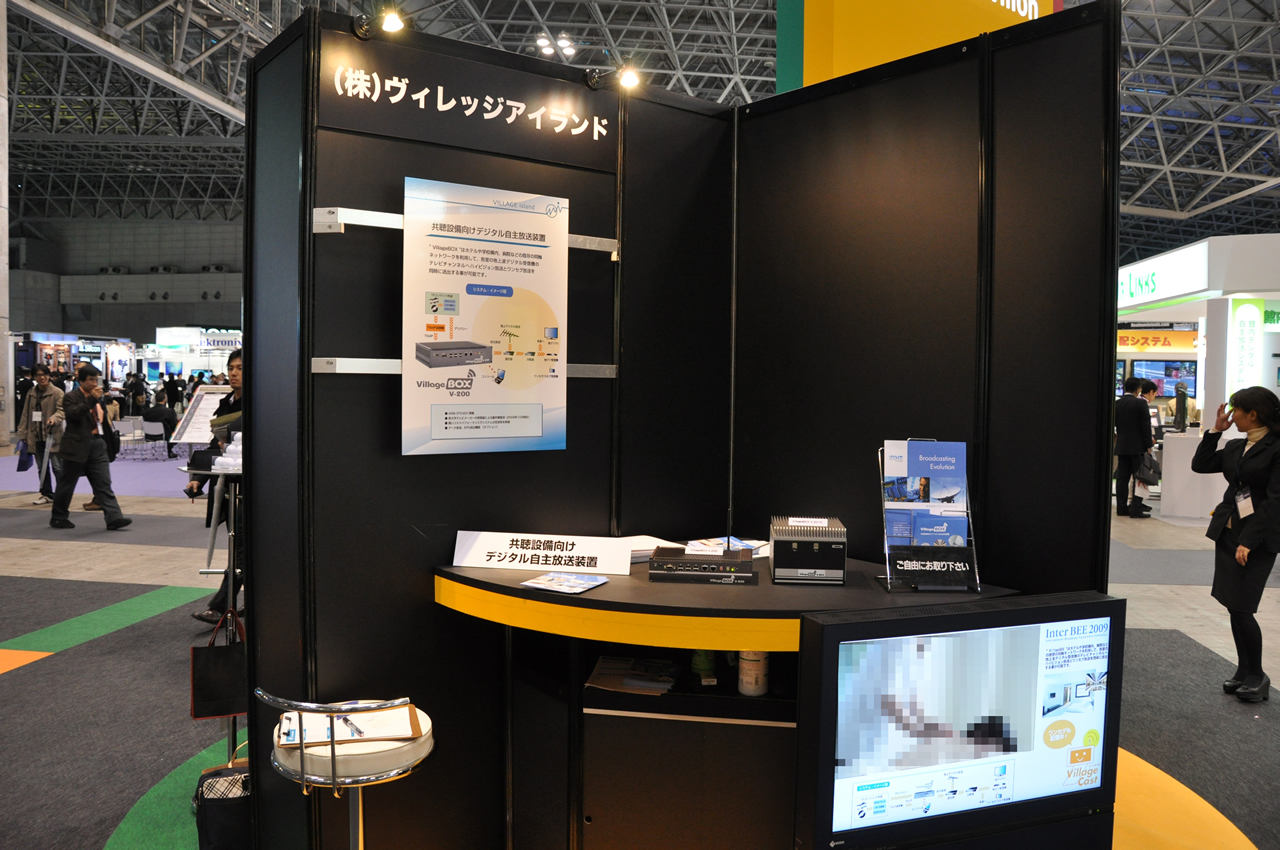 Village Island (Setagaya-ku, Tokyo) presented the VillageBOX V-200 standalone digital broadcasting equipment in the digital signage corner at the pavilion.

Standalone digital broadcasting equipment using shared antenna facilities
The Standalone Digital Broadcasting Equipment VillageBOX V-200 can use existing coaxial cable in hotels, hospitals, schools, and similar locations to deliver hi-vision (HD) broadcasting to televisions that support terrestrial digital broadcasts. This went on sale at the same time it was exhibited at Inter BEE 2009, and is priced at \450,000.

The VillageBOX has USB and LAN terminals as input interfaces, and simply by saving Hi-Vision video MPEG-2 TS files and BML/BCML data broadcast content files to the device using USB or the Internet, it can automatically convert these together with recorded playlists to a terrestrial digital broadcast signal that is compliant with terrestrial digital broadcasts standards (ISDB-T standard) for transmission. This can also simultaneously transmit One-seg broadcasting.
However, the creation of data broadcast content and MPEG2 TS files for the video content requires separate dedicated equipment.
Sales engineer Tom Moore explained "at present, this can only provide looped transmission of MPEG-2 TS files saved on the device together with playlists, but we would like to provide real-time conversion into terrestrial digital broadcast signals of TS files that have been sent in from remote locations for delivery". He also said "we are also investigating products that in the future will support real-time encoding".
Envisaging usage as digital signage
Alternative applications for this include use as digital signage in shops, as well as in events, airports, and other public facilities.
At Inter BEE, Village Island provided a demonstration of the delivery of Hi-Vision programming, data broadcast programming, and One-seg programming stored on the device, with this being displayed on digital televisions connected using coaxial cable. Additionally, although using a very weak signal, they also presented a demonstration showing One-seg broadcasting-capable mobile phones being able to receive these broadcasts simply by bringing it near the device.
PR Manager Hidenobu Yanagihara explained. "This has the benefit in that digital broadcast television can be displayed on digital signage display terminals without using high-cost equipment, and at the same time, can also provide One-seg service".