Leader Electronics Corp. demonstrated video signal luminance data analysis with the latest multi-SDI monitors
2008.11.21 UP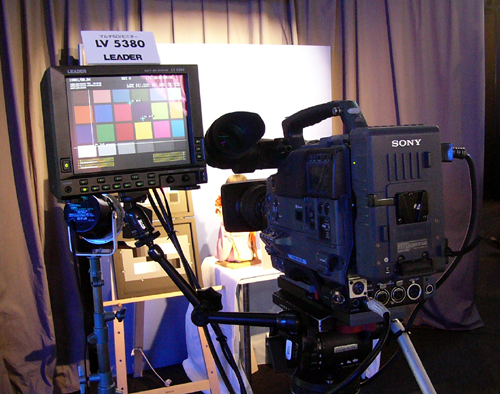 Leader Electronics Corp. presented their main range of products including new multi-SDI monitors, multi monitors, multi-SDI rasterizers, multi-format signal generators, along with IPTV and terrestrial digital broadcast instrumentation at this year's Inter BEE. Visitors were especially interested in the company's appealing demonstration showing the connection of the new multi-SDI monitor to a broadcast camera, which highlighted the useful Cinelite II signal luminance analyzing function.

Designed for video engineers, the compact multi-SDI monitors are available in two models, the LV 5380 and LV 5330. The LV 5380 can display video signals in both high-precision waveform and vector representation on its 8.4-inch TFT screen with high color reproducibility to ensure excellent picture quality. The multi-screen function enables both simultaneous or independent display of video signal waveforms and pictures, as well as simultaneous display of vectorscope and audio levels. Designed for use on-location, the LV 5330 is a compact, lightweight and low-power consumption model that features the Cinelite II video signal luminance analyzing function and provides an analog input as standard equipment to facilitate hookup to a camera viewfinder.

In addition to experiencing the company's regular product lineup in the booth, visitors enjoyed the LV 5380 demonstration, which showed monitor connection to an operating camera and analysis of images in real-time using the Cinelite II video signal luminance analyzing function. Cinelite II features the Cinelite function that displays up to three types of luminance data (selected by an operator using a cursor): fStop, percentage, and gradation sequence. The Cinezone function also converts screen brightness into color and when used in conjunction with the Cinelite function, both help to support video signal luminance analysis.

Also on display at the booth were the LV 7800 and LV 7330 multi-SDI rasterizers. The LV 7800 is a versatile rasterizer that can be freely configured for rasterizing with multiple input simultaneous display and simultaneous monitoring while the LV 7330 is a 1U/half-rack sized, low-cost model. PR Group Manager Toshiya Osuga said that, "The multi-SDI rasterizer is the same as a multi-SDI monitor except without the actual monitor screen. This product design was developed in response to increasing demands from users who wished to work with larger sized external monitors, which is why we have added these two new models fully equipped with substantial functions to our lineup."

With the imminent emergence of IPTV and digital terrestrial television broadcasting, the company focused its energies on exhibiting the IPv6, the Copper G2 TTS compatible IPTV analyzer, and the Mercury MPEG real-time analyzer. The two former products are both Grass Valley analyzers with the Copper G2 being an optimal test device for Video Over IP, systems, and network design as well as verification. The Mercury product, with its high analysis functionality, provides solutions that are well suited for digital TV equipment and system designs, verification, manufacturing and deployment.


[Inter BEE News Center]
Photo 1: The LV 5380 multi-SDI monitor demonstration on the Cinelite II function.

Photo 2: The LV 5330 compact, lightweight multi-SDI monitor.

Photo 3: The LV 7800 multi-SDI rasterizer.

Photo 4: The LV 7330 low-cost, multi-SDI rasterizer.