[Inter BEE 2009] NHK's joint development with Sakura Eiki of hybrid non-linear editing equipment that can carry out concurrent editing, exhibited in the Mitomo booth
2009.11.19 UP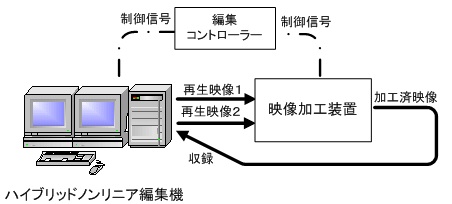 System combining features of non-linear and linear editing

On November 17, 2009, the Japan Broadcasting Corporation (NHK) announced with Sakura Eiki the joint development of "hybrid non-linear editing equipment" that can carry out efficient editing and real-time video processing (DVE).The latest specifications are introduced with a demo of Sakura Eiki's "Prunus Express" in the Mitomo booth.

This system combines the benefits of the efficiency of non-linear editing, with the real-time DVE video processing capabilities of linear editing equipment.

Non-linear editing equipment is replacing linear VTR editing equipment at broadcasters, but non-linear equipment fails in that it is designed with the assumption that it will be used individually, and that it does not have real-time capabilities of DVE and other image processing.

Consequently, at NHK, a new method that can operate in accordance with external time codes was devised, and together with Sakura Eiki, hybrid non-linear editing equipment on a par with linear editing equipment in that it can control non-linear editing equipment from an external controller was developed.

Normal non-linear editing equipment has a single video output, however this new development has two. These outputs are input into external DVE equipment, where high-speed image processing is carried out, and then this is recorded on hybrid non-linear editing equipment, giving dramatic reductions in image processing time.