Inter BEE 2008 technical trends from my perspective — Part 3: Production systems and displays.
2008.12.25 UP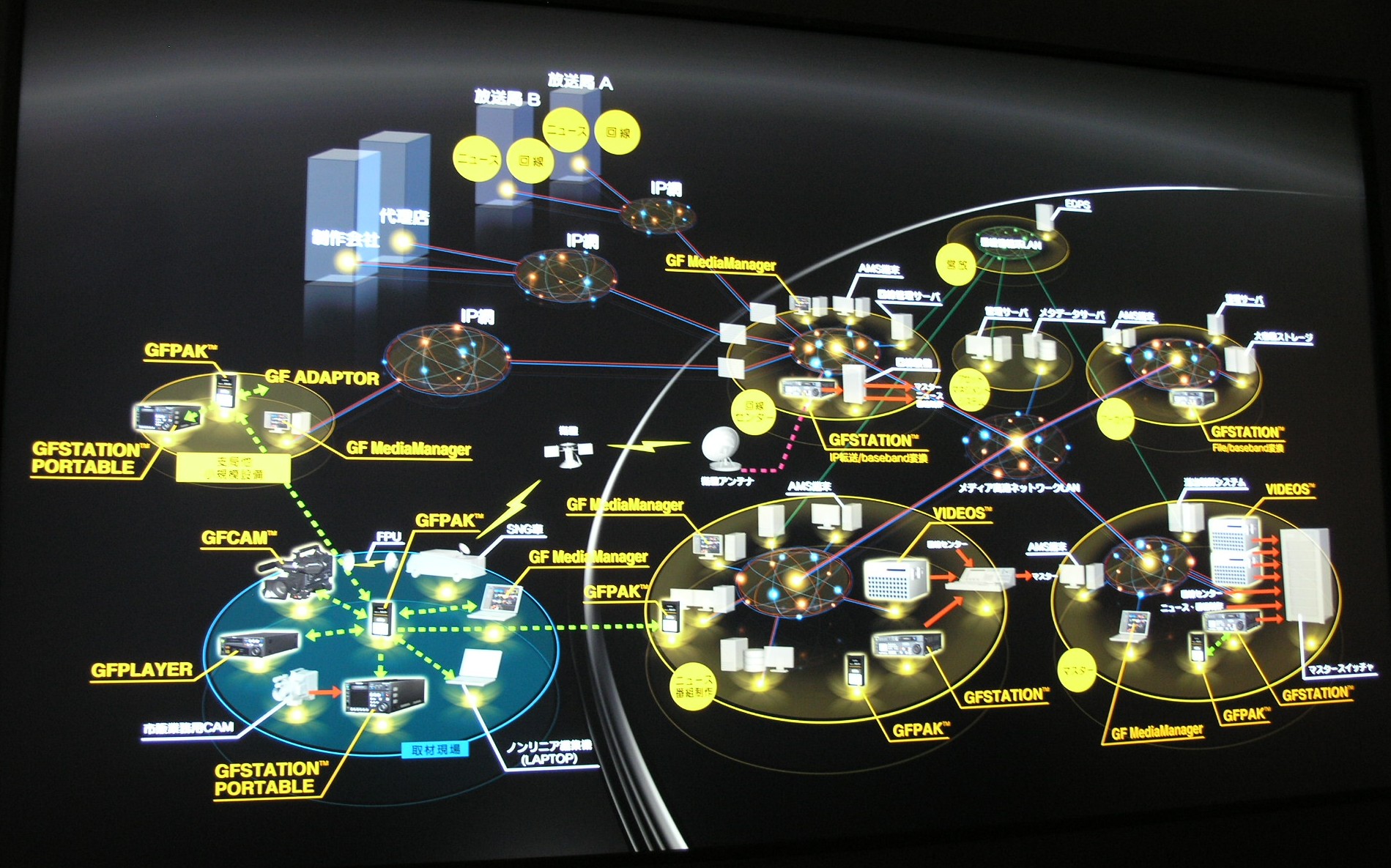 For issues of this year's Inter BEE, I covered a far larger variety of events and programs than in previous years including new industry trends such as tapeless cameras that are beginning to enter the market. So for this issue, I will focus my attention on trends in production systems that are also moving toward the tapeless direction, and displays that are playing an increasingly important role in visual systems.

As tapeless cameras increasingly enter the market and as more encoding technologies, networking, and IPTVs are developed, the methods of program making and delivery systems at broadcasters and production companies will change as well. And while walking through the exhibit halls at this year's Inter BEE, I saw more equipment and systems designed for file-based operation workflow processes that seamlessly links functions from acquisition and editing/production to delivery and archiving.

Sony had on display a total workflow solution centered on the XDCAM series called SONAPS, which conducts file-based acquisitions, transmission, editing, delivery and even archiving. News gathering is performed on a tapeless camcorder with data recorded on a professional disc XDCAM or SxS packaged media, or sent to production via the Internet in the MXF file format. Non-linear editing is performed with XPri then delivered in file-based format for linking with archives. And these systems have already being implemented at commercial broadcasters.

Toshiba proposed a next-generation workflow process for broadcasters last year and at this year's Inter BEE, introduced its further improved Workflow Innovation product. Developed around the GF STATION recorder equipped with flash memory and VIDEOS server, this MXF workflow system completely links news-gathering sites, circuit centers, and news centers, delivering master and archive data in an IP network system. Together with Toshiba, Ikegami Tsushinki exhibited a GF STATION-based non-linear editing system that fits seamlessly into the workflow process as well as its GF Media Manager, a media asset management system that is vital for file systems.

NEC used the slogan, "New Generation Broadcast", as its theme and exhibited many unique visual solutions. Making full use of the booth's main stage, NEC exhibited innovative news-related products including tapeless acquisition apparatuses, non-linear editing systems, material/distribution servers, and master to on-air systems. Connected to players of other manufacturers (e.g. Thomson and Panasonic), the EDIUS performs non-linear editing. The Armadia core video server enables selection of HDD or flash memory as its recording media and boasts highly reliable RAID6 construction. What's more, in the archival section, the LTO (tape media) makes possible storage of data by compressing and filing VTR tape sources.

FOR-A used the slogan of "Imagination to Creation" at its booth to attract visitors with demonstrations of a virtual studio using the blue screen special effects technique at the back of the front stage. Employing VRCAM software for a virtual system by Brainstorm, superimposed high-resolution video images of computer graphics, backgrounds and figures created without the use of camera sensors were on display. Inside of the booth, mixed input of HD/SD formats, 3Gbps-SDI, independent control of M/E, 3D DVE, and motion picture file support were exhibited. Additionally, a highly functional switcher series covering 2M/E to 4M/E, media management that corresponds with file-based production environments, a bidirectional converter for MXF files and HD/SD signals, workstations, servers, and many more advanced systems were also on display.

As always, the booths of overseas manufacturers employed attractive big-screen presentations. Autodesk, Inc., a pioneer in video-production processing systems, provided demonstrations of highly functional, high-resolution visual effects machines called Inferno, FLAME, Flint and Smoke. Large audiences gathered to view the big-screen showing applications by special-guest filmmaking companies such as Hollywood's Sony Pictures and Digital Pictures of Australia. Videos and production processes for creating TV dramas and commercial clips by domestic users were also presented. The Quantel Ltd. booth was also large and spectacular, but I will cover their booth in the next issue on 3D-related topics.

Under the theme of "Images & Beyond", the Thomson booth displayed a number of innovative production systems. The Kayak HD (a highly noted product in the world of live production systems), EDIUS Pro 5 non-linear editing software, the network editing EDIUS Workgroup Server for sharing materials on multiple HD editing terminals, K2Dno record and show live event footage systems, and the Aurora digital news production system were some of the products on display. Avid Technology, that did not participate at NAB 2008, took part in this year's Inter BEE and exhibited the upgraded flagship Media Composer non-linear editing system using a big screen at the center of its main stage. DS, Symphony, the Unity media sharing server, and Interplay asset management system were also displayed to demonstrate their effects on production flow. Adobe Systems introduced their line of new products on its large main stage including Production Premium, a solution product that covers processes from production to delivery.

As I reported in past issues, progress in high picture quality acquisition, production and delivery, management and evaluation of video quality are becoming more dependent on monitors and displays. Conventional CRT monitors are no longer being manufactured and improved monitors with higher tonal characteristics, color reproducibility, and higher responsiveness are in demand, so many of the monitors and displays exhibited at this year's Inter BEE reflected this industry trend.

Ikegami Tsushinki, which has an impressive track record with CRT monitors, displayed a new line of LCD monitors with wider viewing angles, higher contrast ratios, higher sensitivity, accurate color reproduction, and high response speeds. Most of these models were compatible with SD to full HD formats and offered screen sizes of 8.4-inch and 17- to 32-inch. A comparison demonstration between a conventional master monitor and the new attention-getting 19.2" FED (Field Emission Display) by FET and a CRT was also on display. Sony transformed its entire line of video displays into LCDs, and exhibited the BVM Series master monitors and LUMA Series high-resolution monitors. The BVM Series offers excellent picture quality, accurate color reproduction, higher resolution, improved tonal gradation, and enhanced gamma characteristics to provide extra reliability and stability at production sites. 23- and 17-inch monitor sizes are available, and each model is compatible with 1080p, 2048/24p, 720i multi-formats. The LUMA Series is designed to answer the demands of applications from production sites to industrial use and 8.4-, 17-, and 24-inch models were on display. Also exhibited was a prototype 56-inch QFHD (3,840 x 2,160 pixel) LCD monitor, while an 11-inch organic EL monitor designed for use with a viewfinder could be found in the camera corner.

Panasonic had on display a highly sensitive, higher contrast, wider viewing angle, expanded color space, panel-equipped full HD (1,920 x 1,200 pixel) LCD monitor. The 25.5-inch screen size makes it ideal for use not only at broadcasting production sites but also in the digital cinema, printing and research fields. In the camera corner, the P2HD VARICAM variable-speed camera with a variable frequency 42-inch PDP display was on display. The special purpose, compact LCD monitor on display at the ERG Ventures booth was a DC-powered 6.5-inch full HD monitor with 75-μm pixel pitch, RGB LED backlight, 360Hz drive, and a wider viewing angle, which can be used not only for program production but also in the medical and industrial fields.


[Takehisa Ishida, visual technologies journalist]
Photo 1: Workflow Innovation, a proposal of the next-generation in broadcasting by Toshiba,

Photo 2: The popular virtual studio by FOR-A.

Photo 3: Big-screen theater presentation by Autodesk.

Photo 4: A wide variety of high picture-quality LCD monitors by Sony.

Photo 5: Picture-quality comparison between CRT and FED by Ikegami Tsushinki.