ShibaSoku focuses on exhibiting HDTV format converters and test-signal generators for China's DDTB standard
2008.11.22 UP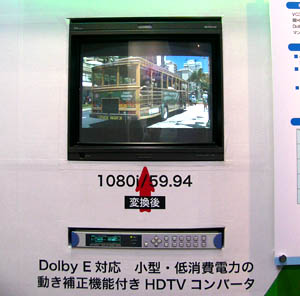 ShibaSoku Co., Ltd. manufactures and markets AV measuring instruments, broadcasting equipment, and communications related measuring instruments. At Inter BEE 2008, the company focused primarily on two categories ― broadcasting equipment and FPD & digital TV test signal generators ― but also exhibited other new product lines.
In its broadcasting equipment category, the main product on display was the new VC39A HDTV format converter, released in November 2008. The world-first VC39A is a compact 1U-sized HDTV format converter that features precise motion compensation technology using motion vectors to eliminate the generation of jaggies to minimal levels even for fast-moving images. It supports four formats of 720p 50/59.94Hz and 1080i 50/59.94Hz and is also capable of HDTV interconversion. What's more, the converter is compatible with the latest Dolby E audio compression technology to provide an excellent cost-performance solution that optimally matches global trends in the world of HDTV footage production. The company also demonstrated HDTV format conversion from 1080i/50Hz to 1080i/59.94Hz at its booth.

Other interesting exhibits in the category included the PS11AX broadcast network checker. Compatible with both SDTV and HDTV, the PS11AX is a test-signal generator that efficiently and speedily checks product equipment and footage transmission paths. The unit incorporates functions such as AV ID superimposing, lip sync pattern, and scrolling. Compact and optimally portable, this model is ideal for a wide range of applications regardless of genre including news coverage, hookup or footage production.

In the FPD & digital TV test signal generators category, the company focused heavily on exhibiting testing instruments for China's DTTB standard. Masayuki Yonekawa, the head of the testing equipment sales section, stated that, "At ShibaSoku, we are actively involved in the development and marketing of testing instruments for the Chinese market where expansion in digital terrestrial TV broadcasting (DTTB) and digital broadcasting for mobile terminals can be further anticipated in the future. At Inter BEE, we will be presenting new products along with video presentations including new field analyzers for the Chinese market and a terrestrial digital TV signal generator."

The new field analyzers for the Chinese market comprise two products: the TX901A DTTB network tester and TX701A CMMB signal analyzer for mobile terminal broadcasting. The TX901A is a handheld field tester standard equipped with an analyzer function using the DMB-TH format, which can be expanded to a total of 330 transmission methods including the ADTB-T method simply by adding options. This compact and lightweight unit incorporates measuring functions such as FI (field intensity) and BER delay profile, as well as the display of transmission parameters. Additionally, combining the unit with a GPS unit will enable plotting of measurements on a map for efficient field measurement and analysis. The TX701A signal analyzer is also compact and lightweight, making it ideal for conducting field surveys underground or in mountainous regions. The unit is equipped with essential functions required for CMMB signal measurement and analysis such as FI, BLER, delay profile, and MER/EVM measurements as well as a constellation display function.

As a part of the FPD & digital TV test signal generator category, the company also exhibited the advanced TG59AX/AP test signal generator. This product is a cost-performance version of the high-precision, advanced TG45AX test signal generator and as a simulation-based product, it is well suited for TVs or devices that are equipped with HDMI output terminals, compatible with eight SDTV and twenty-seven HDTV signals (up to 1080/60p), and compliant to VESA standards. The unit provides a standard signal for checking picture quality and because it developed for the engineering or manufacturing sectors of flat-panel display manufacturers, it offers intuitive operation with easy-to-use menus and key layout that is effortless for even first-time users.


[Inter BEE News Center]
Photo 1: Demonstration exhibit of the VC39A HDTV format converter.

Photo 2: The TX901A network tester for China's DTTB standard.

Photo 3: The TX701A CMMB signal analyzer for Chinese mobile terminal broadcasting.