NEWS: Hollywood, CA. Huge press event announcing Canon's full-fledged entry into the motion picture industry with the "CINEMA EOS SYSTEM" line of cinematic cameras!
2011.11.12 UP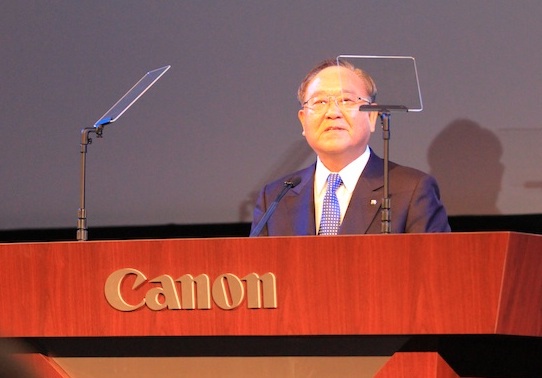 On November 3rd in Hollywood, California (November 4th Japan time), Canon announced its new, next generation digital cinema camera system, the "CINEMA EOS SYSTEM" and EOS C300 / C300PL cameras.
This system is a further evolution of the much loved DSLR motion picture system found in the cameras of the past three years - including the EOS 5D mark II. It features a newly developed Super 35 mm large scale CMOS sensor compatible with PL-mount lenses, and employs 4:2:2 color sampling and a 50Mbps recording rate found in X Series cameras used in the industry. Combined with legendary lens technology, this camera system is a groundbreaking solution for movies, television, and commercial productions.
Adding to Canon's 70 years of history and tradition of EF lenses and B4 mount lenses are a lineup of new cinema EF lenses and PL mount lenses for movie use. The new system has essentially the same compact chassis as the EOS series, and utilizes the newly-developed Canon-LOG which features 12 stops of dynamic range. A completely new lineup of digital cinema cameras and equipment have made their debut.


■ Hollywood VIPs gather for a grand announcement

At 3:00pm on November 3rd, at Paramount Studios in Hollywood, CA, USA, a major event was held to announce Canon's new CINEMA EOS SYSTEM.
Opening ceremonies began at 3pm in the Paramount Theater, the largest theater within Paramount Studios. Mr. Fujio Mitarai, chairman and CEO of Canon (previously chairman of the FEO and now honorary president) gave the main speech and announced the CINEMA EOS SYSTEM, along with screenings of videos taken with the new camera. This was followed by a speech by a special guest, a one-hour press conference, and an introduction of the detailed specifications for the CINEMA EOS. Directors of the four demo screeners that were created for the event were also in attendance, and gave details of the technology that was used.
In addition, at the "Stage 1.2" studio, there was an Exhibit Showcase featuring numerous products, including actual production models of the new "CINEMA EOS" C300/C300PL, Canon's new flagship EOS 1D-X camera (announced at the end of October), and new PL and EF cinema lenses. There were also events held on the 4th and the 5th where Hollywood's elite and the press were invited. A variety of technology sessions were held with directors of the demo screeners and other people from Hollywood. Even local Hollywood professionals noted that "there hasn't been an event where one company borrowed an entire studio for an announcement like this in a long time!" There were many other praiseworthy comments and surprised reactions.
Following the opening ceremony on the 3rd, there were cocktail receptions and dinner parties, all events lasting well past 7:00 PM.


■ Director Martin Scorsese praises Canon

Along with the C300 announcement, this event makes clear Canon's intent for a full-fledged entry into the motion picture industry. For that reason, many of Hollywood's VIPs were invited. During the opening ceremony, director Martin Scorsese took the stage to give the guest speech.
Scorsese reiterated Canon's past successes in 1972 and 1977 in winning two Oscars (Academy Technical Achievement Award), and praised Canon's return to Hollywood, as well as its re-entry into the motion picture industry with its CINEMA EOS.
Many film directors, members of the production community, and VIPs in Hollywood's movie industry were in attendance, including famous directors like JJ Abrams (MI:3, Star Trek, Super 8), and Ron Howard (Cocoon, Apollo 13). It was truly a spectacular event, quite unlike typical manufacturer's announcements. Estimates say that including press members from countries all over the world and invited guests, there were around 600 in attendance on the first day, and over 2,000 members of the film community in attendance over the three day period.


■ A true digital cinema camera makes its debut

The C300 boasts features completely different from past generation cameras. In a sense, it holds the potential to become a true "digital cinema camera," potential long absent from digital video cameras.
Since Japanese filmmakers of today generally work with a video base, if judging by the catalog specs alone, 8-bit, 4:2:2, and 50Mbps, you can see something like the industry's camera trends of two years ago. In reality, even if someone can record an RGB MPEG base, they might think it's not all that great, and it's just a high-priced camera.

However, by including the incredible Canon-LOG data format as a default base for the equipment, the C300/C300PL boasts revolutionary abilities. That hidden potential has been a must in Hollywood for over 10 years, and is the direction that Canon's C300 and CINEMA EOS SYSTEM are aiming for; this directional approach is in turn being welcomed with open arms.

Unfortunately, in Japan, except for a portion of films, processes using CINEON are not yet mainstream, so it may take a long time until this process is adopted and fully understood. However, if shooting film using dynamic lenses and LOG data becomes the norm, regardless of what area of cinema, quality will improve remarkably.

Prior to the announcement on the 3rd, Canon announced plans to open a specialty CINEMA EOS technical support center in Hollywood, and made clear their foray into the movie industry. The C300/C300PL has been fine-tuned to include a robust complement of high-level features for filmmaking, has a superior design, and is overall a groundbreaking digital cinema camera.
At InterBEE2011 starting on the 16th, there are plans to open the largest booth ever, and the focus will be the CINEMA EOS SYSTEM. Actual production models will be on display, and several seminars on the device will be held.