[Inter BEE 2009 Highlight Pickup!] Presenting the Abekas universal format production server in partnership with Sony3D integrated workflow system
2009.11.12 UP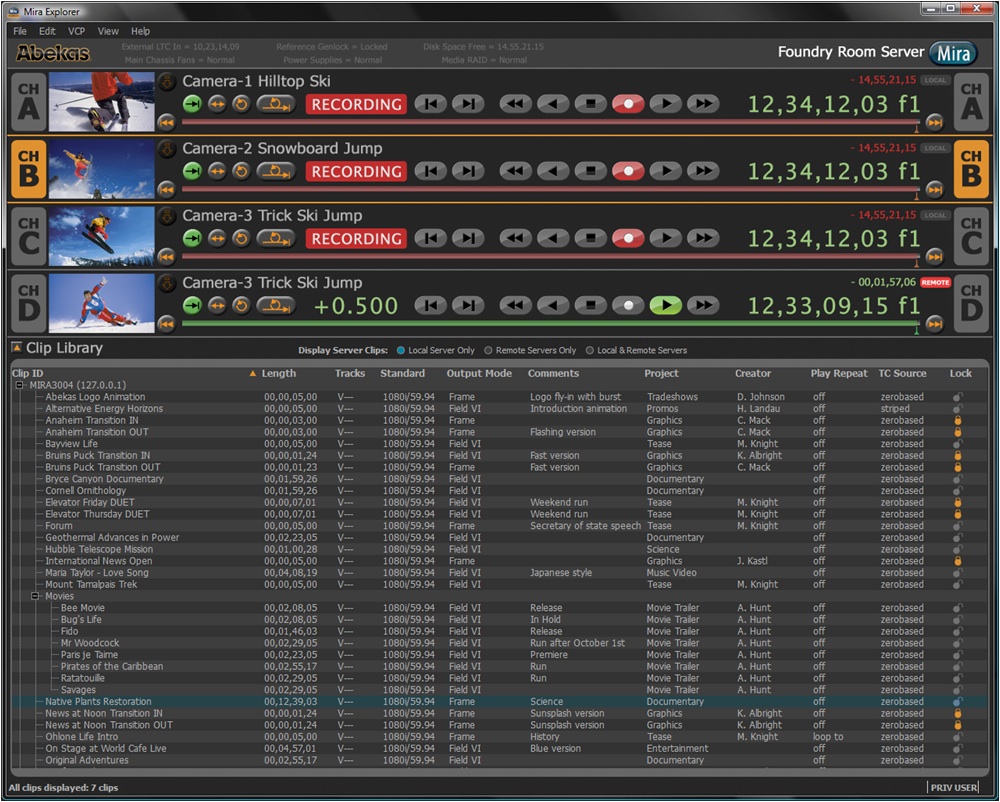 Abekas demonstrates server with Sony 3D visual support workflow

The US-based company, Abekas is cooperating with Sony Marketing to introduce workflows using the Abekas HD digital production server "Mira" in conjunction with the Sony and Sony Marketing 3D (stereoscopic) exhibit.

Sony and Sony Marketing will be making in the International Conference Center (room 201) during Inter BEE 2009 to present high-end 3D image production workflows with a line-up of 3D (stereoscopic) production equipment.

As part of the array, the Mira server will be used as a clip server supporting the Sony multi-format production switcher "MVS-8000G" to present the 3D stereoscopic workflow linked with 3D camera and non-linear editing systems.

First exhibited to the general public at the NAB show in spring this year, Mira is a production server with excellent cost-performance qualities.

The Abekas brand first appeared on the broadcasting market in 1980, and has since become widely-known for their A62 Disc recorder, now considered as an industry standard. Mira is set to reconfirm the brand's acclaimed status as a new sports program production server with its triple speed, high-resolution slow-motion video recording capability, HD super-motion camera (HD super-slow) support for creating sports content overflowing with presence and brilliant slow playback image quality

The product line-up includes compact 3U size 15, 30 and 60 hour recording models in a 4-channel single server system.

The equipment is capable of recoding 200Mb/s 10 bit HD digital video in JPEG 2000 compressed format. Bit rates are variable from 200Mb/s to 75 Mb/s (HD).

The product will perform high-speed import of QuickTime MOV files with RGB alpha key and audio, and replay material as an animated clip. Operation is made easy with not only a 4-channel multi-viewer but also with unique graphical user interface that allows checking of proxy images in real-time during recording. It is also equipped with convenient functions including looping and ping-pong replay.

Well positioned to meet the needs of sports servers and live mobile broadcasting as well large sport facility production site workflows, these media servers are already up and running with a number of American organizations such as Turner Studio, Fox Speed Channel and The Golf Channel.

The device is also used for HD/SD VTR exchange, instant replay with live broadcast, and replay graphic content on a plasma display. The excellent technologies used in this server design helped it to win the Outstanding Product Award at BIRTV held this summer in Beijing.