Report on Europe's Largest Broadcasting Exhibition - the IBC 2007.
2007.10.26 UP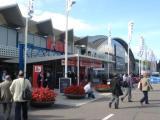 IBC 2007 was held over a period of five days from September 7 (Friday) to 11 (Tuesday), 2007 in Amsterdam, the Netherlands.
IBC is Europe's largest exhibition for the field of broadcasting that is held annually in September along with NAB of the United States and Japan's Inter BEE, it is one of the world's three major broadcasting exhibitions. This year marked the 40th anniversary of IBC, and it fully answered all the expectations of broadcasting equipment businesses in Europe.
IBC used all 12 halls of Amsterdam's RAI International Exhibition and Congress Center. More than 1,300 companies participated and over the five days of the exhibition, 46,964 visitors from over 120 countries attended.

As with every year, the conference that was held a day prior to the exhibition featured noteworthy discussions and announcements.
At IBC, Steve Wozniak, who is one of the founders of Apple Computers, was awarded with the International Honour for Excellence for his work in developing personal computers. When accepting this award, he said that, "I wish to be an engineer for a lifetime", and that he wants to be 's longest-standing employee."
Additionally, Consumer Electronics Association's (CEA) CEO Gary Shapiro of the US talked about the "next 40 years," and stated that if broadcasters would make better use of their assets and listen carefully to consumer demands, there would then be a "bright future ahead." Approximately 70 other topics of discussion and big-screen presentations were also provided.
The event also featured training facilities, which introduced a large number of projects to meet a diverse range of user needs.

This year's IBC featured two themed exhibition areas.
One of these was the Mobile TV zone, which introduced 42 companies, along with their devices and software that utilize mobile TV methods such as DVB-H and Media FLO. Although penetration of DVB-H is proceeding well throughout most of Europe, the start of BSkyB's Media FLO service has been delayed in Britain. It was also announced that in the one year since the start of the service in Italy, 450,000 subscribers already have DVB-H terminals.
The other zone was the IPTV zone, which for the first time this year, attracted much attention. At this zone, participating companies staged middleware, STB, EPG, VOD, H.264, and other demonstrations, all of which proved popular with visitors to the venue.
On an added note, this year's IBC Innovation Award was awarded to the CNN digital newsgathering project.

This year's IBC was no different to any other, as there were a great number of participating companies. Participating Japanese companies included Sony, NEC, Hitachi Kokusai Electric, Ikegami Tsushinki, Mitsubishi Electric, Fujinon/Fujifilm, Canon, For-A, Leader Electronics, Shotoku, etc., all of which were seeking to enhance their promotional and marketing activities in the European marketplace.
Sony offered exhibits of HD news creation solutions and digital cinema cameras, and it garnered much attention with its screening of video in the theater using its 4K projector. NEC had two separate booths at the exhibition - one for transmission-related equipment, the other for audio-visual system LSIs. Hitachi Kokusai Electric presented an exhibit focusing on camera systems while Ikegami Tsushinki presented HDTV camera systems and a portable non-linear disk recorder.
Other participating companies also actively promoted their products, with For-A debuting its video switchers, Fujinon/Fujifilm presenting its TV camera lenses, and Canon exhibiting its HD camera lenses.

This year marked the first time Inter BEE was represented with a booth at IBC, and it held a press briefing for the European press.
A promotional video was displayed at the booth and in addition to image-building, Inter BEE carried out promotional activities for their 2007 exhibition while inviting visitors to participate in the 2008 event.
Inter BEE also held a press briefing in the Press Center at 10:30 on September 8 (Saturday), which was attended by approximately 30 members of the press who enthusiastically asked questions about the types of new technologies that would be available at the exhibition in Japan. In addition to the press briefing, overseas members of the press were eager to learn more about the exhibition in Japan, as all 200 copies of the press kit that were available at the Press Center were quickly picked up within two days.

The success of this year's IBS was evident by the tremendous interest shown by those in the industry and related businesses to the changes that have resulted from the worldwide expansion of digital broadcasting. This expansion is basically occurring simultaneously in the United States, Europe, and Japan so the mass media and personnel in industry are paying close attention to worldwide developments and trends.
We also believe that Inter BEE will attract great attention from the mass media and personnel in industry.
We hope you will use Inter BEE to observe the latest international trends and also as an excellent venue to create new business opportunities.
We eagerly await your participation.