Inter BEE 2010: Fujitsu Real-Time Delivery System for IPTV, High-Speed File Transmission System for News Services.
2010.11.21 UP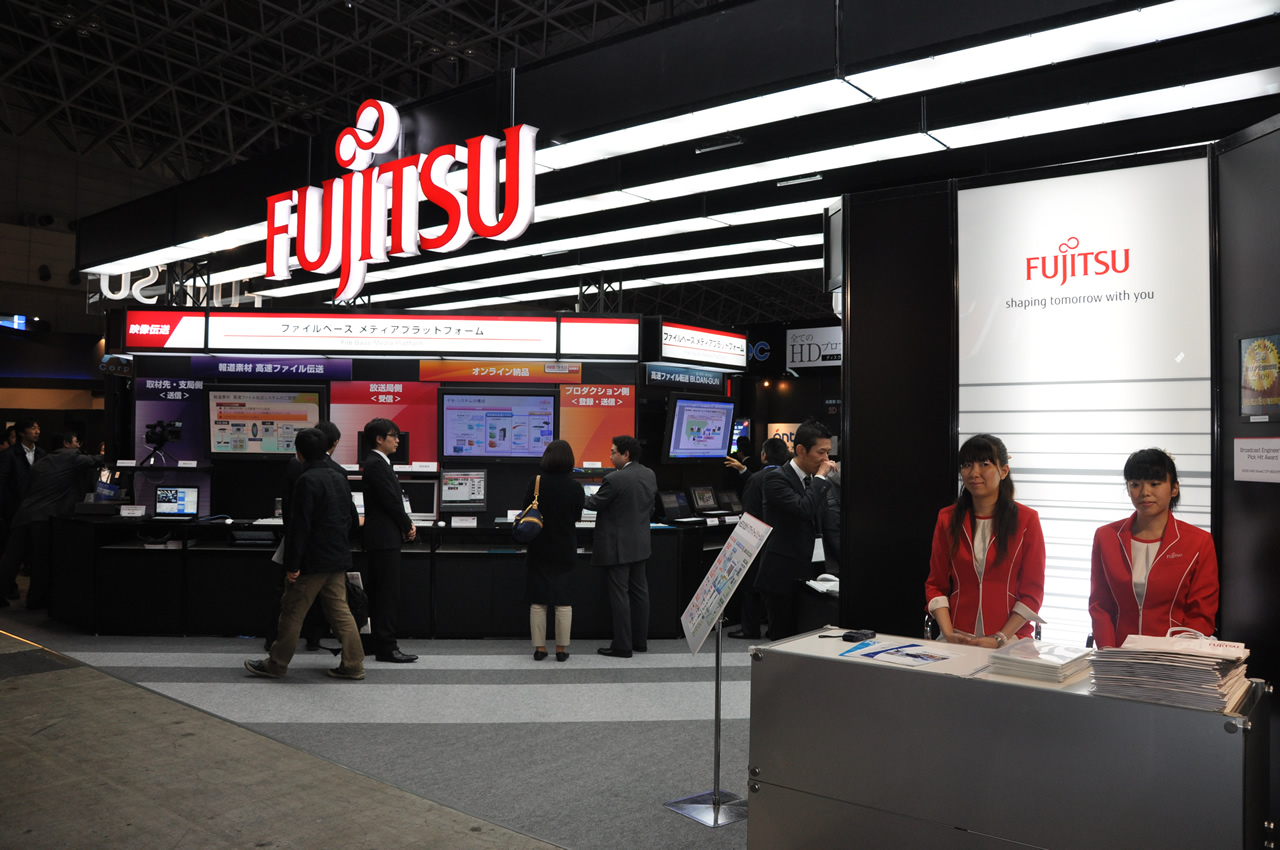 Fujitsu (booth #8309) exhibited a real-time H.264 HD video delivery solution for IPTV terminals compliant with IPTV Forum specifications, and a high-speed file transfer system for news services capable of 20 times the speed of normal FTP.

■ Introducing Live on Demand -- a real-time IPTV video delivery system for AcTVila
Designed for AcTVila compatible televisions, the Live on Demand real-time video delivery system for IPTV is compliant with the network television specifications standardized by the IPTV Forum and established by the digital television information research Association. This system enables provision of live delivery and VOD delivery to AcTVila compatible TVs and set-top boxes.

The current IPTV Forum standards define VOD and live streaming specifications. Currently, the IPTV Forum standards compliant service supports Hikari TV and NHK VOD services as well as IPTV live streaming. A presenter at the booth explained that Fujitsu's solution uses standard VOD streaming formats, and because it is capable of real-time live streaming, viewers can enjoy real-time live streaming on an AcTVila compatible TV if they don't have access to Hikari TV.

The system consists of the Futureye II Live On Demand server -- the video data storage server and web delivery server -- and the IPTV compatible H.264 encoder IP-900E. For copyright protection, Fujitsu also offer the Marlin IPTV-ES option. The presenter also explained that the Futureye Live On-Demand Server can be seamlessly linked with Sony's CMS OPSIGATE Delivery to incorporate file-based video content.

The presenter went on to explain that there are three benefits to the Live on Demand IPTV real-time video delivery solution. Firstly, the system can be used over community IP networks, secondly, it can be used to transfer materials between networked stations, and thirdly, it offers secondary uses with event broadcasting. When using this system within a community, and using a television monitor to view content, it is not necessary to modulate signals as RF, and the On-Demand functionality allows viewers to watch video that they missed at a later time.

As a simple configuration available for about JPY 3.8 million, Fujitsu plans to release this system onto the market in November. This product is already in use with some major banks for staff training purposes and as university remote lecturing systems.


■ High-speed news service file transfer system 20 times the speed of normal FTP.
With the theme "workflow innovations for the file-based era (from tape to disk)", Fujitsu also exhibited their high-speed file transfer solution for news services that offers support for conversion to file-based workflows in broadcast stations.

This high-speed news service file transfer system consists of an H.264 encoder, file storage software and high-speed file transmission software. Video shot on-site is encoded with the IP-900E H.264 encoder and stored using PC file storage software. Using the high-speed file transfer software, the stored video files are split up into 1 minute long units and sent to the receiving server. The BI.DAN-GUN high-speed file transmission software uses the high-speed file transmission engine developed by Fujitsu. Shinichiro Imaizumi of the company's video systems and solutions division explains that this system achieves transfer speeds roughly 20 times that of normal FTP transfer.

The file transfer engine used with BI.DANGUN doesn't resend packets lost during transmission with UDP protocol, rather uses the company's unique automatic restoration technology called RPS (Random Packet Stream) at the receiving end. Mr. Imaizumi says that even in areas of bad quality lines, there is no loss in transfer speed.

Supported video files formats include MXF, WMV, AVI, MP4, MPEG, FLV, MOV and so forth. Mr. Imaizumi further explained that it's possible to freely decide the units to split up the files, and since files are transferred in those units it is also possible to preview the video even during transfer.