[Inter BEE 2009 Exhibitor Information] Martin Professional Japan — exhibits include new moving-head light models
2009.11.24 UP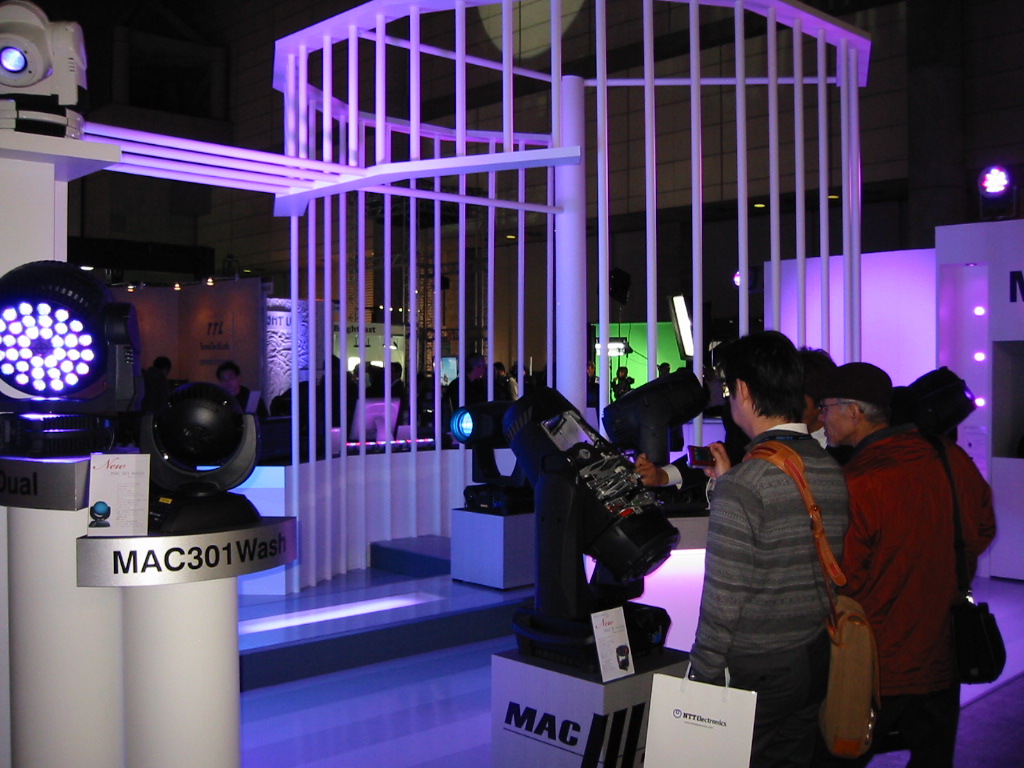 Exhibits include new moving-head lights on show for the first time in Japan and a large-size LED screen

Martin Professional Japan (Setagaya, Tokyo) presented a rich product lineup including new model moving-head lights from Martin of Denmark.

Among the devices on show was the MAC 301 Wash LED moving-headlight just released in spring this year, which was exhibited for the first time at the Inter BEE. This device uses Luxeon Rebel high power emitters for the lamps and is one of the brightest in the LED moving-light class. The light is L200 x W320 x H388 (mm) in size and weighs 8.9 kg, and has been used in live performances in six locations throughout Japan on a live tour by Japanese artist Aiko from July 23rd to September 12th.

Another LED moving-head washlight on show was the "MAC 401 Dual". This device features Osram multi-color LED high power emitters to deliver a punchy beam from a large diameter with brightness exceeding 6500 lumens. The light is L221 x W505 x H527 (mm) in size and weighs 20 Kg.

Also presented was the third-generation moving-headlight MAC III Profile using a HTI 1500W electric-discharge type lamp to produce more than 30,000 lumens of brightness, with improved color mixing technology for outstanding red expressiveness. The size is L690 x W536 x H914 (mm) and weighs 53.5kg.

As well as the array of moving-head lights on display, the booth featured the "LC Plus Series" outdoor-use large size LCD screen — a device that employs RGB LEDs for the lamps, and is suitable for a range of applications such as ambient signage or text advertizing. This screen delivers a maximum brightness of 3000 NITs (Cd/m2) in a L1000 x W152 x H2000 (mm) unit weighing 22.4 Kg. As well as finding uses in a variety of live-event situations, the device is also installed in the BT (British Telecom) Tower in the London city center.

LED lights provide long periods of use without the need for lamp exchange and feature excellent energy-saving characteristics; however, the optimum lighting environment varies depending on the desired dramatic effect. In many cases electric discharge or halogen lighting is more preferable. For this reason, Martin does not only supply lighting products, but also offers support services to help determine the appropriate lighting for a particular application while comparing running costs and so forth if desired.