Video images are now entering into the 3-dimensional realm.
2008.11.20 UP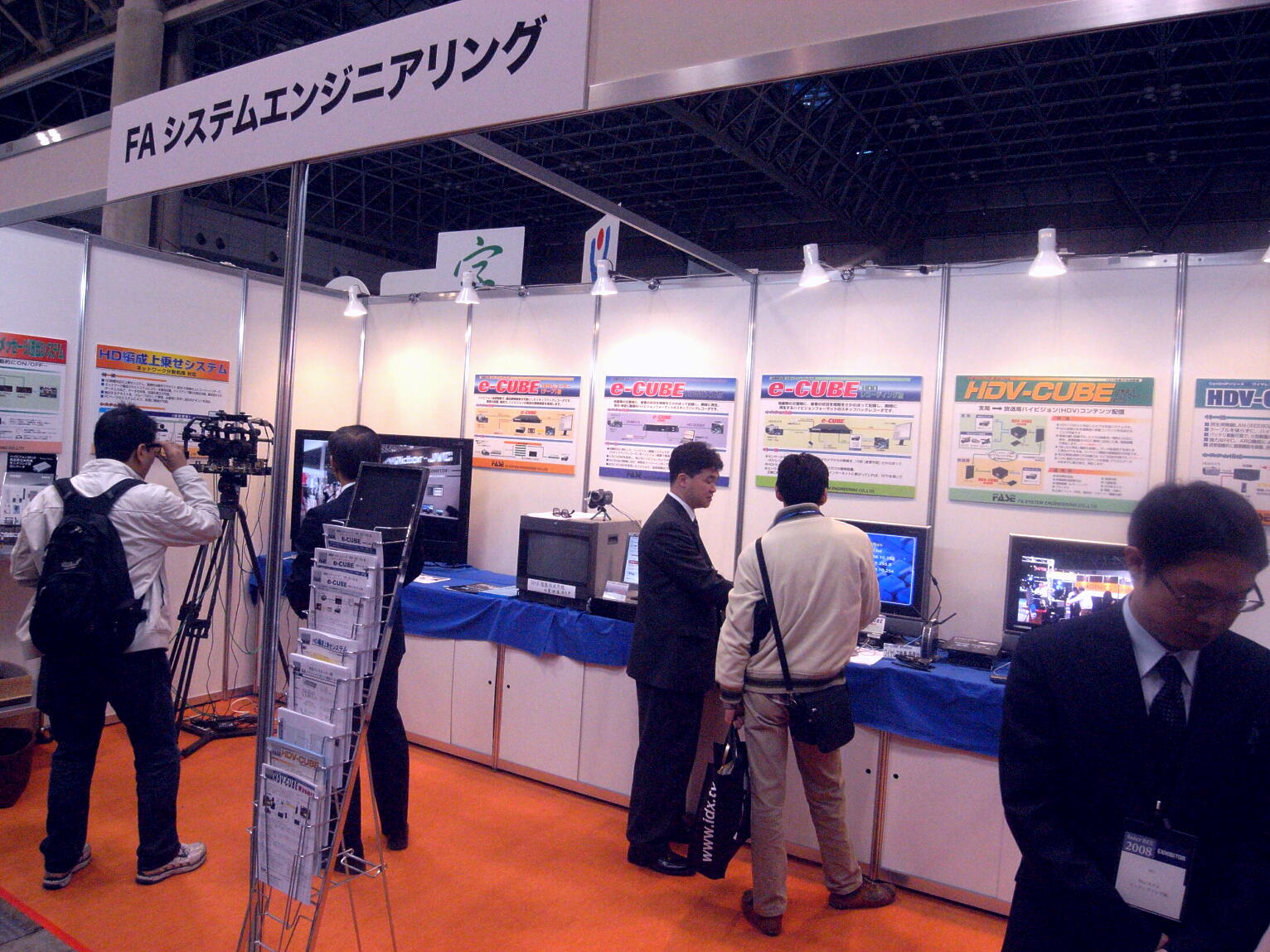 Three-dimensional audio produced by 5.1ch or 2.1ch surround sound systems has now become commonplace in homes as the market continues to expand for large-screen TVs and DVD software. Hollywood movies offering 4- or 6-channel stereo reproduction in cinemas could be enjoyed in the past but it was the 1977 film <italic>Star Wars</italic> released with Dolby Surround in the analog format that made three-dimensional audio a big hit with audiences. This was followed by DTS (Digital Theater System) in the 1990's, and this technology found its way into home theater systems as the 21st century dawned. With this brief history of 3-dimensional audio, it should be mentioned that 3D video could also be viewed at specially equipped 3D movie theaters (3D display=3D video) but it was costly due to the need for specialized technologies and did not become as popular as expected. However, there were several 3D video related exhibits available at this year's Inter BEE.


■ It is just a matter of time before all video content turns into 3D.

FA System Engineering Co., Ltd. (http://www.fase.co.jp/) introduced at its booth ― as a world's first ― a 3D Hi-Vision (HD) display manufactured by Asuna Corporation. This 3D display features a transparent optical filter known as the X-Pol system, and by applying this optical filter (that matches the number of pixels of the LCD display) onto the surface of an LCD, polarized lines are created on the display. By assigning odd-numbered scanning lines for the left eye and alternatively, even-numbered scanning lines for the right eye, three-dimensional images can be viewed by wearing a special pair of polarizing glasses that allow polarized images to be seen simultaneously. But unlike those 3D images, which are color-processed for viewing with polarizing glasses having one red and one blue lens, the X-Pol system does not require color processing so 3D images can be viewed just as a conventional 2D image without the need for polarizing glasses.

Currently, there are only a few broadcasters such as BS11 (a satellite channel in Japan) with available 3D programming; therefore, Asuna Corporation has developed a device called a TriDef DVD player that will convert commercially available 2D content software into 3D video content by simply connecting a 3D monitor and commercial DVD player to it. At present, the largest 3D LCD TV available is a 46-inch model but given how fast the LCD TV industry evolves, it is likely that a 60-inch model will soon hit the market in the immediate future.

For-A Co., Ltd. (http://www.for-a.co.jp/) displayed a monitor developed by Philips Electronics at its booth, which uses a "naked-eye" 3D system that does not require polarizing glasses. This system inserts black and white depth information (called Depth Map) to conventional 2D images to create 3D images. A 42-inch WOW 3D display, also developed by Philips Electronics, will allow viewers to enjoy 3D images without wearing special glasses. This unique system exemplifies the technological strength of Philips Electronics and is currently being targeted for use at public institutions and amusement facilities where large groups of people congregate so applying it to movies or for home use is expected to take some time.

Mitomo Co., Ltd. (http://www.mitomo.co.jp/) displayed the world's largest 3D LCD monitor at its booth. The 65-inch monitor was developed by VisuMotion of Germany and like the monitor manufactured by Philips Electronics, it also incorporated a "naked-eye" 3D system. This LCD monitor was released in June 2008, and the company said that it will be able to develop even larger 100-inch+ sized displays using LEDs. The company has also succeeded in developing a commercially viable mobile phone with 3D-image capability and this product is expected to hit the market in the near future.

Generally speaking, consumers do not have a particular need to view 3D images today as they are comfortable with watching conventional 2D images. However, if 3D images were to become readily available for viewing movies or documentaries at home, this evolution would surely make their lives more exciting and entertaining. Therefore, I am convinced it is just a matter of time before all conventional 2D images become available as 3D.


[Inter BEE News Center]
Photo 1: FA System Engineering Co., Ltd booth.

Photo 2: 3D monitor developed by Philips Electronics shown at the For-A Co., Ltd. booth.

Photo 3: 3D LCD monitor at the Mitomo Co., Ltd. booth.