STUDIO PLUS has developed the world's first low-cost HD video transmission system over coaxial cable
2008.11.22 UP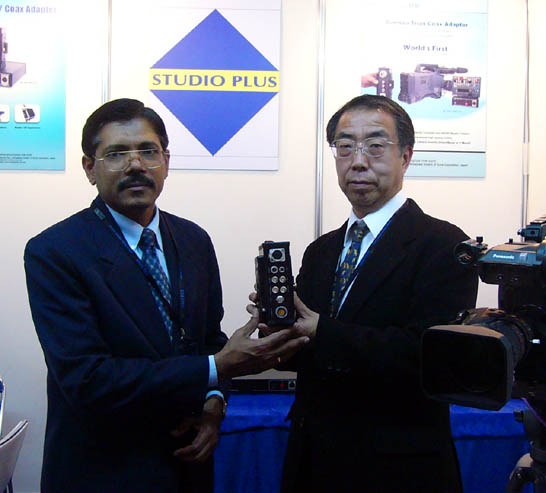 STUDIO PLUS is a venture company that has been established in Dubai in the UAE, which has independently developed a Camera Triax/Coax Adapter HD/SD video real-time transmission system that utilizes a coaxial cable (Triax/Coax). Providing optimum cost performance, Studio Plus is aiming to expand into markets in the Asia and Middle East regions. At this year's Inter BEE, they unveiled this innovative product for the first time in Japan in cooperation with their partner Suns Corporation Japan, and are now seeking new business opportunities in the Japanese market.


■ Exhibiting at Inter BEE to better respond to Japanese market needs

STUDIO PLUS was established by Robin Hood, who has approximately 30 years of experience working with broadcasting equipment and made full use of his expertise and outstanding technical capabilities to develop the Camera Triax/Coax Adapter. This product is comprised of the CA-70HD camera adapter for mounting on cameras and the BS-70HD base unit that receives the video signal. The camera adapter and base unit are connected using a Triax/Coax coaxial cable and can transmit uncompressed HD/SD video in real time, which makes this system using a coaxial cable to transmit HD video a world first.

The camera adapter supports various connection methods employed by users for their cameras and there are two types of base units ― a studio model and a portable model. Extension of the coaxial cable up to 200m is possible for the studio model, while the cable for the portable model can be extended up to 100m.

Compared to HD/SD video transmission systems that use fiber optic cable, this product offers overwhelming cost-performance advantages and Robin Hood stated that, "We expect the price of the camera adapter and base unit to be set at about seven to eight thousand US dollars. And there are no other systems that can provide this kind of functionality for transmitting HD video without delay, at such a low cost. We are taking the sales approach of targeting cost-conscious academic institutions as well as smaller-scale broadcasting and production companies that cannot afford high-cost video transmission systems."

At present, Studio Plus is cooperating with its partner Suns Corporation Japan in product manufacture and sales, and they plan to start production at the beginning of next year. Daisuke Sakai, Suns Executive Vice President, commented that, "Our main target markets are in Asia and the Middle East regions. In the Japanese market, the trend is to purchase high-function products even if they are expensive so HD video transmission systems that use fiber optic cable are the mainstream, which is why we did not target Japan in the past. But based on the results of market surveys and feedback from our exhibition here at Inter BEE, the reactions of visitors and their purchasing behavior (replacement or to augment current equipment purchasing) showed us that there was ample demand for a low-cost HD video transmission system using a coaxial cable in the Japanese market."

Inter BEE, where it is possible to see the actual reactions of people in the industry to new products and technologies in real-time, is an important event that provides an invaluable opportunity for overseas exhibitors to gain a foothold in the Japanese market.

[Inter BEE News Center]
Photo 1: STUDIO PLUS Managing Director, Robin Hood (L) and Suns Executive Vice President, Daisuke Sakai.

Photo 2: Camera adapter (top) and studio base unit set.

Photo 3: Camera adapter (top) and portable base unit set.