2011.11.14 UP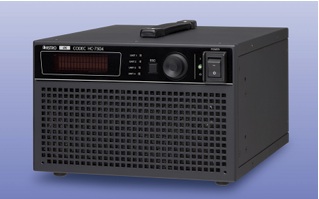 Astrodesign announced that they will present a new 4K codec device, the "HC-7504", at Inter BEE 2011, an exhibition being held at the Makuhari Messe Convention Center in Chiba from 16 to 18 November.
HC-7504 comes equipped with Louvain-la-Neuve, a JPEG 2000 compression solution system. Astrodesign has acquired the license for the JPEG 2000 IP-Cores from Belgian company intoPIX s.a. (from here onwards referred to as "intoPIX").
intoPIX technology enabled Astrodesign to support high-definition video and increased recording time by combining the 4K JPEG 2000 based codec system with the uncompressed 2K SSD Recorder "HR-7502A".
In addition to supporting HD-SDI, Dual Link HD-SDI, and 3G-SDI, the HC-7504 supports various formats including resolution, color space, and frame rate. Furthermore, the HC-7504 provides both encoding and decoding functionality within one unit.

intoPIX is a leading supplier of video compression technology to AV equipment manufacturers. They have developed leading edge FPGA IP-cores and boards that enable high-end JPEG 2000 image compression, security and hardware enforcement.