D-Storm Inc. exhibited the TriCaster TCXD850: the latest addition to NewTek's (US) HD portable live production lineup.
2010.11.18 UP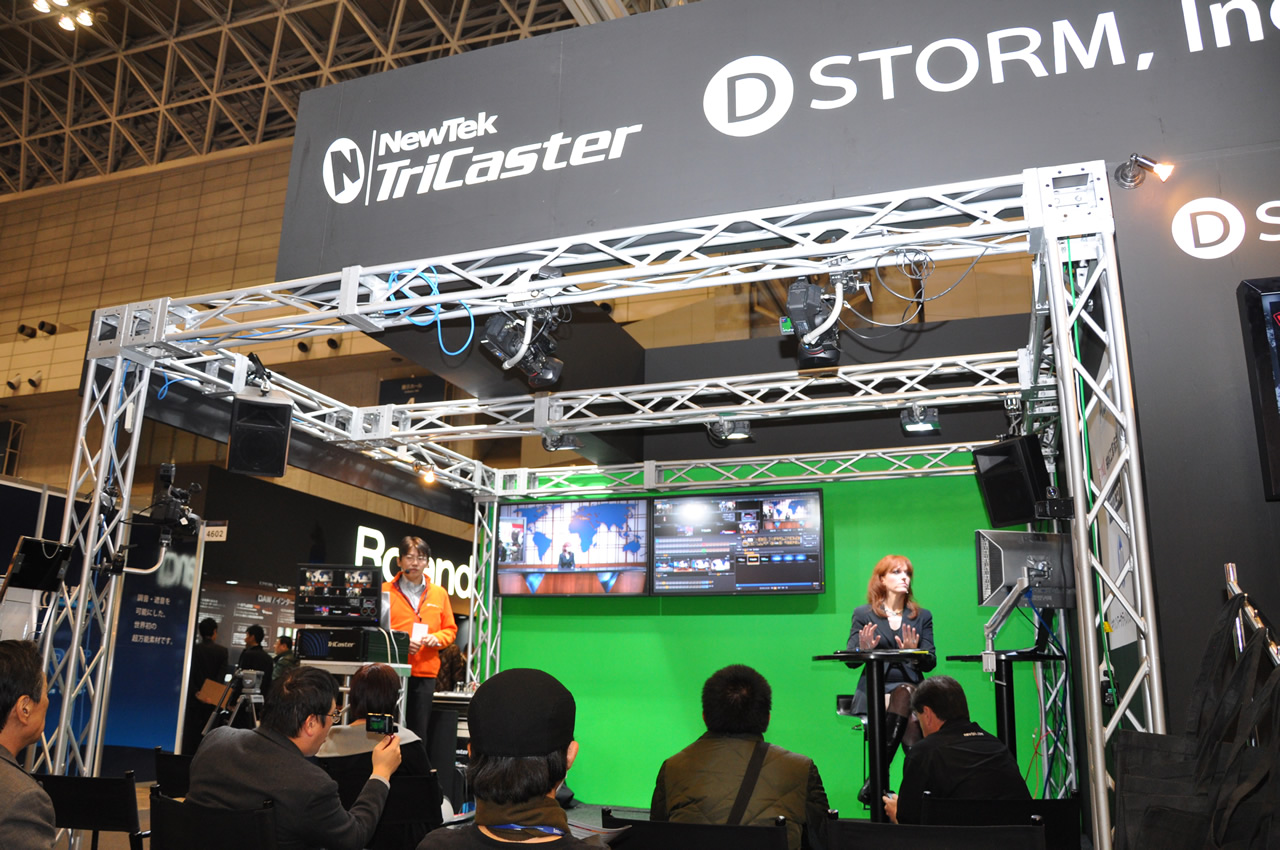 At Inter BEE 2010, D-Storm Inc. presented and demonstrated the TriCaster TCXD850 — the latest model in the TriCaster portable live production lineup — from NewTek in the United States.

The TriCaster TCXD850 is a 22-channel switcher with eight HD-SDI or analog inputs, two DDRs, two network inputs, titles, stills and eight virtual/mix channels. This system is used with ESP in the United States and is scheduled to go on sale to coincide with Inter BEE 2010.

The previous TriCaster CXD300 supported three camera inputs but D-Storm Inc.'s head of video technology, Katsuhito Matsuo, explained that it was necessary to increase the number of camera inputs to meet the demands of TV station users.

Therefore, in addition to the 8 channel inputs, the new TCXD850 is capable of positioning and scaling in 3D with subtitles and picture-in-picture functions. It also features live video insertion into 3D virtual sets, alpha input for an external subtitle generator, dual redundant power supply support, AUX output and internal HDD hot-swap functions.

What's more, the TriCaster TCXD850 supports Windows Media Player and Flash for streaming output, and Mr. Matsuo said that, "This latest version supports USTREAM account data input and thus provides quick and easy USTREAM distribution capabilities".

Priced at approximately JPY 3,680,000 per unit, the TriCaster TCXD850 is garnering interest from cable TV stations and Mr. Matsuo mentioned that this is because the device is designed to deal with the switch from SD systems to HD, and facilitate the changeover to HDDs while SD equipment is still being used.