NEC's VoiceGraphy, delivering sought-after speed and accuracy.
2008.11.21 UP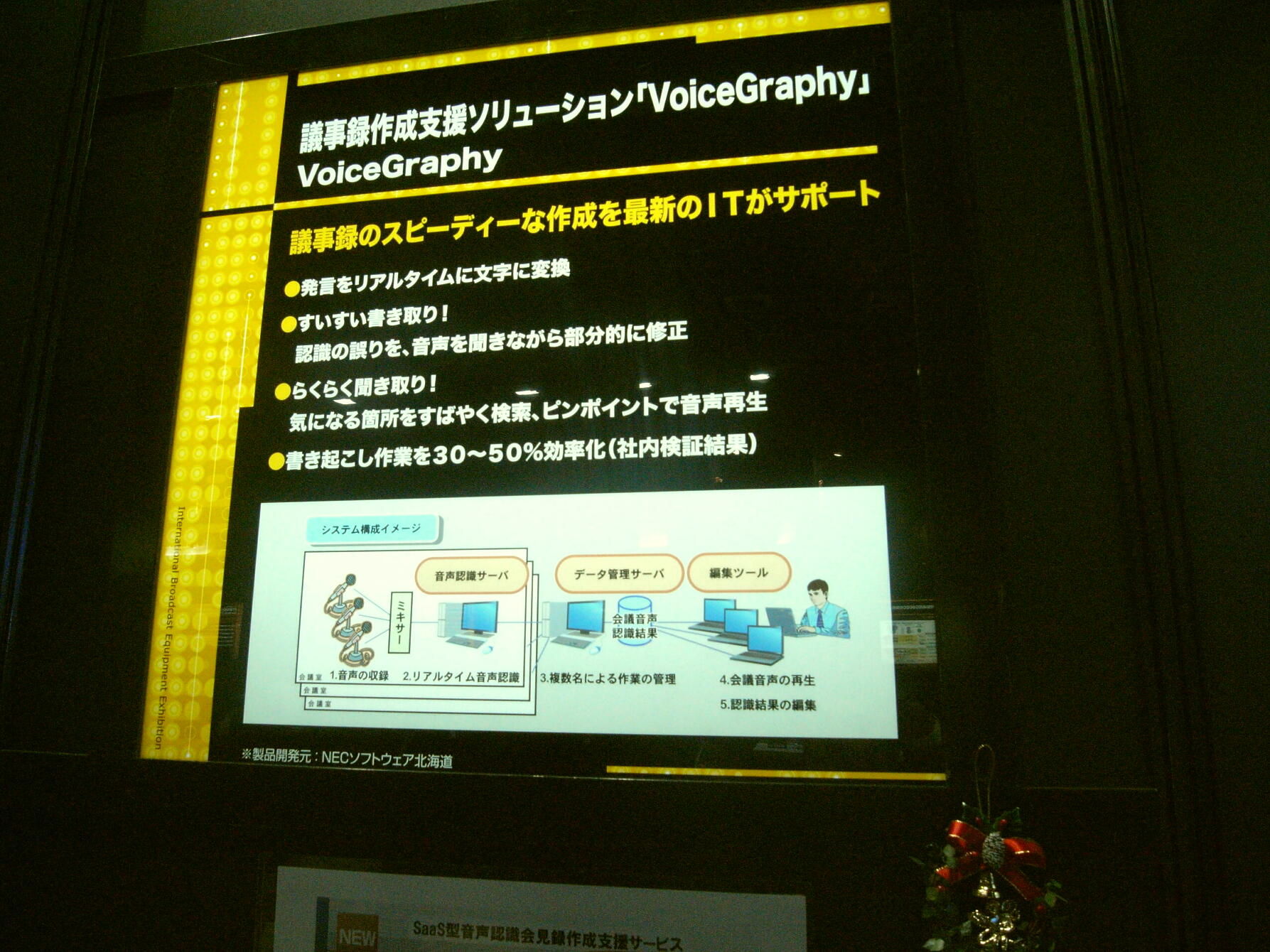 Modern-day television reporting is all about speed and accuracy as immediacy has always been important in broadcasting ― it's a "shoot and transmit" situation with news items broadcast as soon as press conferences with people involved or interviews are completed. Meanwhile, the use of subtitling in news reporting is also increasing today (in Japan) as there are more governmental sessions, corporate press conferences, etc. being broadcast. And as lifestyles in Japan diversify, there are a growing number of people who do not have the time to watch television for long periods as well as the elderly who find news easier to understand if it can be read as well as heard, making subtitling is an important service that broadcasters are seeking to provide.

As one can imagine, however, subtitling can be a very laborious process. The staff creating the subtitles must replay audio segments repeatedly to accurately interpret every phrase and insert the appropriate captions. And because getting the news out quicker than other stations is a top priority, failure to do so is sure to invite disapproval from the station management. Conversely, because news reporting must be carried out so quickly there are often mistakes made in subtitling, which can be corrected later and apologies made but in the end, there are certainly limits to what can be tolerated. This is why the staff responsible for creating subtitles has such a difficult job to perform.

However, relief is here with NEC's VoiceGraphy ― an innovative voice recognition system that easily and accurately converts audio into written characters.

Of course, voice recognition systems are not new but they are also notoriously inaccurate as audio must be listened to repeatedly to ensure accuracy when using these systems. Especially for the Japanese language where similar sounding words with different meanings are common, the potential for mistakes with voice recognition software are significant. However, NEC claims that the accuracy of their VoiceGraphy technology exceeds 90% in ideal situations and amazingly, it even deletes unnecessary pauses or interjections between words automatically. Enhancing the performance is the automatic display of indeterminate words in red, which helps to greatly reduce the amount of labor involved in preparing a transcript for broadcast.

NEC's VoiceGraphy clearly demonstrates its potential when used for audio of governmental sessions or press conferences where pronunciations are concise, and although system accuracy can be degraded by interference from other audio tracks or increased ambient noise, this system nonetheless represents a huge step in efficiency for subtitling work. Clearly, NEC's VoiceGraphy is destined to play a major role in ensuring the accuracy of news reporting.

VoiceGraphy is a product of NEC Software Hokkaido http://dnes.jp/ss/voicesolution/index.html (page in Japanese)

[Inter BEE News Center]
Photo: VoiceGraphy on display in the NEC booth.