[Inter BEE 2009] Inter BEE 2009 opens with a record 816 companies exhibiting new technology, new products and new businesses
2009.11.18 UP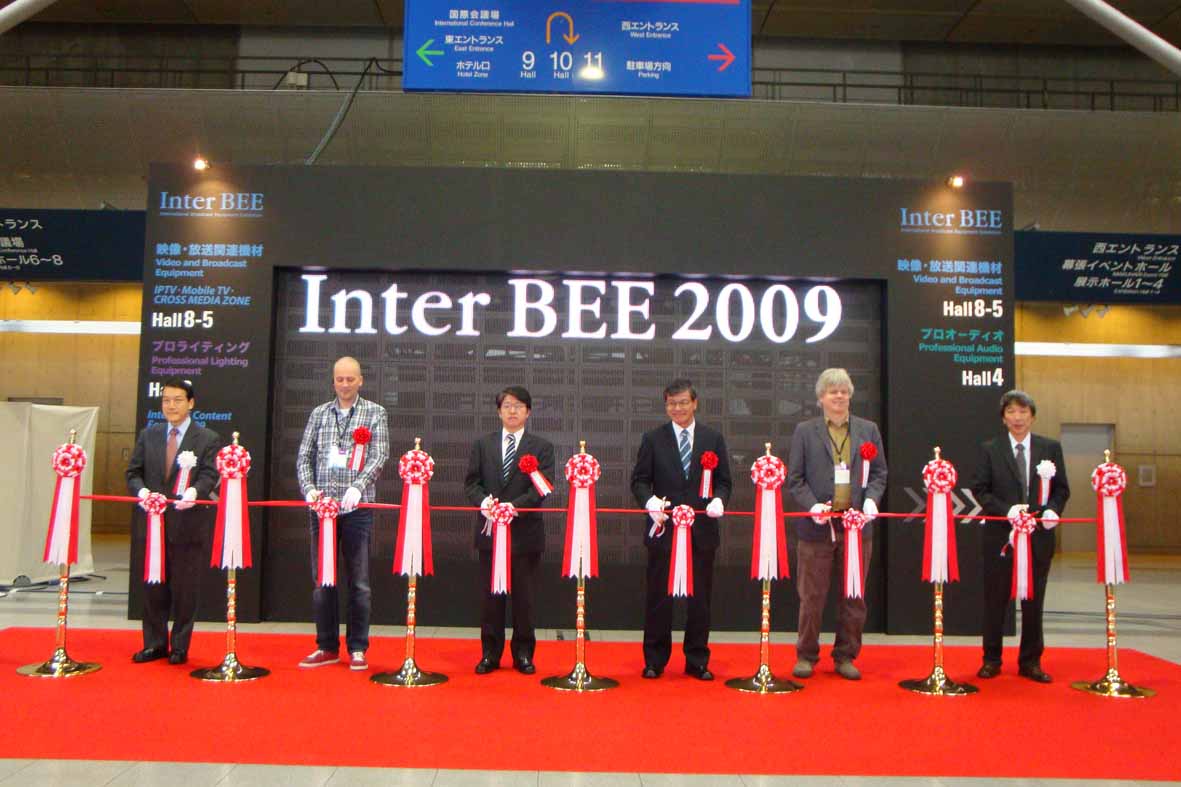 Highest participation ever with 816 companies, including 466 companies from 30 different countries
The 18th of November 2009 saw the opening a major event in the broadcast equipment field - the 45th International Broadcast Equipment Exhibition (Inter BEE 2009) at Makuhari Messe in Chiba, Japan. The opening ceremony was held at 9.40 am on the day. Dignitaries invited were NHK Director-General - Engineering Administration Department Kenji Nagai, National Association of Commercial Broadcasters in Japan (NAB) Secretary-General Shunichiro Kudo, (address read in absence), both who discussed aspects of Inter BEE and the exhibition's current standing.

Greeting the exhibition sponsors at the beginning of the ceremony, Takashi Ohyama from The Japan Electronics and Information Technology Industries Association (JIETA) took the podium and said of the scale of the Inter BEE 2009 exhibition - "The 816 companies participating make this year's exhibition the largest ever. Also, The 466 participating companies from 30 countries represents an increase of 66 international exhibitors from last year. We expect about 35,000 visitors to the exhibition."

Mr. Ohyama continued - "In the current era, laws are constantly being revised to meet the continued merging of broadcasting and communications to allow for more flexibility in radio-frequency utilization, and thus enable the expansion of new broadcast markets. The new technologies on exhibit in the various halls at Inter BEE speak of these connections. This remarkable collection of IPTV, mobile broadcast, 3D technologies and so forth clearly show the emergence of new cross-media zones ,"he continued to say that the InterBEE exhibition is "held to coincide with the progressive cooperation between broadcasting and communications and the birth of new technologies, products and businesses."

Mr. Ohyama further stated that as an event staged in tandem with Inter BEE, "the Inter BEE Contents Forum will be held to discuss the latest content trends with invitees including leading experts in the area from all around the world. There will also be a range of tutorials held in conjunction with the exhibition aimed at educating personnel who will be responsible for carrying the torch in the next-generation."Mr. Ohyama emphasized his view that Inter BEE is not just an exhibition, but an information technology business exchange forum focusing on broadcast, communications and content industries that continues to grow and expand.

NHK Director-General Nagai - "Inter BEE a major symbol of new media development"
Continuing from dignitary greetings, NHK Director-General Kenji Nagai looked back to the first-ever Inter BEE exhibition and talked about the profile of Inter BEE.

"InterBEE has been held every year since 1965. A year before that in 1964, the year of the Tokyo Olympics, NHK Research Laboratories began researching high-vision. Moreover, 1966 saw the beginnings of satellite broadcast research. The current era sees the introduction of high-vision around the world, while there are about 30 million households in Japan that enjoy digital satellite broadcasting. Right from its beginning, one gets the feeling that Inter BEE has always been at the forefront of new developments in broadcasting."

"What we have to do now is prepare for the switch-over to all-digital broadcasting on the 24th July 2011. That's 613 days away, but the next six months are going to be the real challenge. In other words, in order to achieve total digital broadcasting, we should aim to clarify prospects by the 24th of July 2010. Over the next few months, governments, broadcasters and manufacturers alike must be ready to deliver their maximum collaborative efforts to bring about this major change.

"Once total digitalization of broadcasting is complete, it will mean a new start for broadcasting. Broadcasting has always used cutting-edge technology, and this won't change. During this time of transition, I would like to see broadcasting ready to accept new challenges. NHK will also approach these new media challenges with consistency and determination. I would like to see Inter BEE also maintain its position as a symbol of new media development" continued Mr. Nagai.

National Association of Commercial Broadcasters in Japan Secretary-General Shunichiro Kudo - "Full power ahead to total digitalization"
Since Mr. Kudo couldn't attend the opening ceremony, planning manager Jun Takeuchi from the National Association of Commercial Broadcasters in Japan read an address on his behalf.

"There are only 613 days left before analog television broadcasting comes to an end. Moving toward the complete transition, we are making daily efforts to consolidate equipment and educate the general viewing public. As a means for public education, we have introduced the "Chidigika" character -a lovable character making appearances on a wide variety of television shows all around Japan. The Chidigika character works toward the introduction of digital broadcast by encouraging a competitive spirit to broadcast high-quality images, sound and well-produce programs."

Also, regarding the 46th Technical Report Conference of Commercial Broadcasting, Mr. Kudo's address contained the following:
"The complete switch-over to digital broadcasting will not be achieved by broadcasters alone. Local governments, broadcast equipment manufacturers and house-hold appliance makers are all making great contributions to the transition. I would like to ask that these efforts continue from now on. As part of the National Association of Commercial Broadcasters activities during the Inter BEE exhibition, the 46th Technical Report Conference of Commercial Broadcasting will be held for all specialties to present their latest technologies. By all means, please drop into the conference."

After the addresses from dignitaries, Shuji Usui from the 2009 Inter BEE executive committee declared the exhibition open.

Tape cutting participants included Mr. John Lewis from Weta digital and Mr. Morten Lindburg from Lindberg Lyd As
The tape cutting ceremony was performed by NHK Director-General Nagai, Mr. Takeuchi from the National Association of Commercial Broadcasters, Takashi Ohyama from The Japan Electronics and Information Technology Industries Association, as well as digital content symposium presenter from New Zealand's Weta Digital research programmer John Lewis and Norway's Lindberg Lyd As (2L) President Morten Lindberg.