[Inter BEE 2009: Highlight Pickup!] FOR-A — Exhibiting a Range of Products at Inter BEE — a Live Demo of a 3D Stereo Vision System
2009.10.30 UP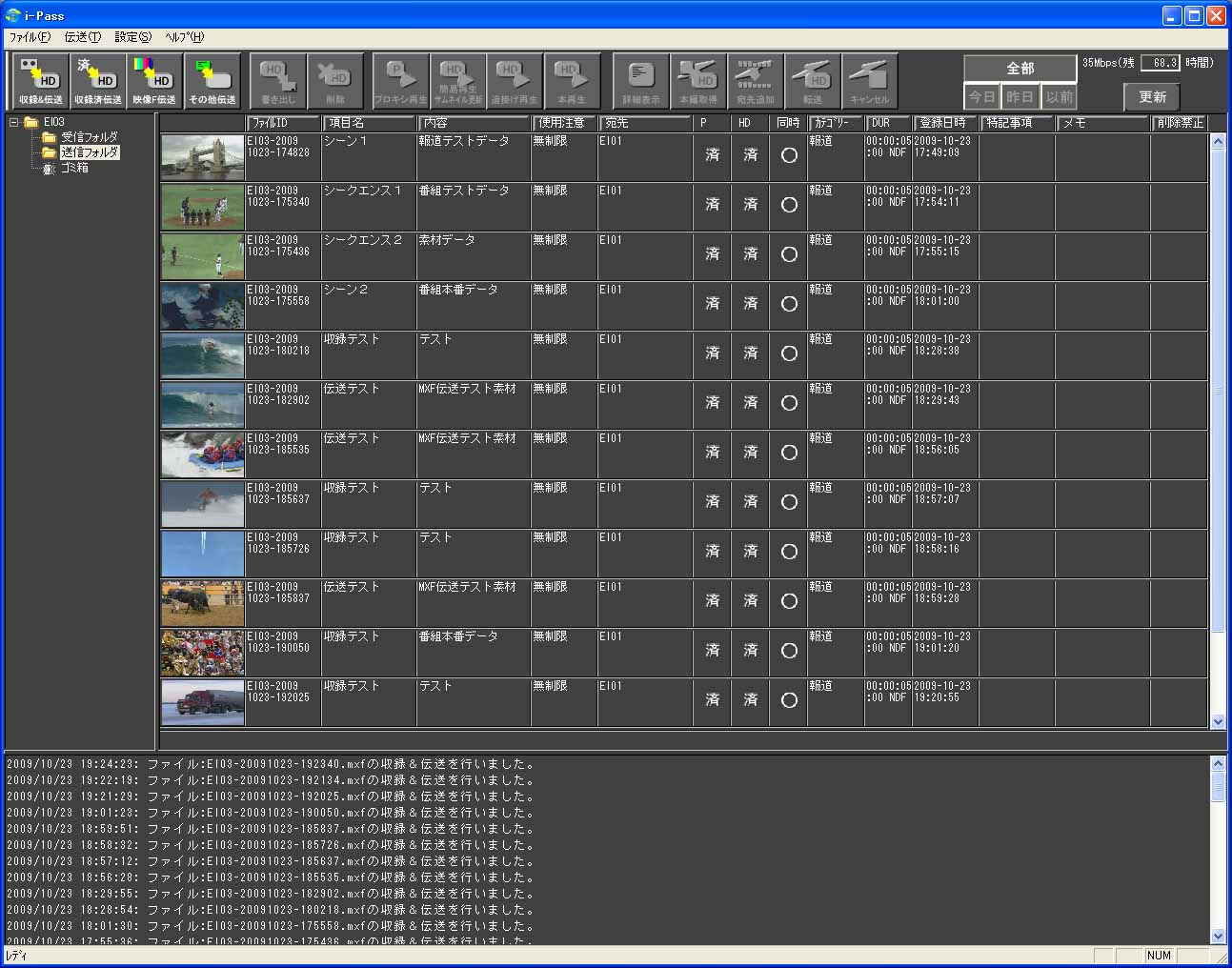 At the preliminary press conference held on October 29, FOR-A gave a specific explanation of the products they were going to exhibit, and their plans for demonstrations. This explanation was provided by Business Department Planning Office PR Manager Takayuki Shiratori, preceded by an address from Vice President Katsuaki Kiyohara.

Demonstration of the MediaConcierge file-based media management system
The first products introduced were file-based media management systems, based around the MediaConcierge. The booth will offer a full product presentation for these systems, and give a detailed explanation of their new functionality.

The related MBP series MXF clip server is a multi-function converter that is capable of conversion between MXF files and HD/SD-SDI signals, and this is the first time that the new MBP-110SXA product has been exhibited.
This exhibit will see the debut of FOR-A IBE's media management systems, namely the Eclair file transfer system, and the Prism system simultaneous recording distribution system.

Adoption at EXA International introduced at the event
As an actual example of MediaConcierge in use, the booth will feature a demonstration exhibit of content management service using MediaConcierge that has been introduced at EXA International.

This system makes maximum use of the MediaConcierge integrated management system. This enables searching, browsing, and previewing of digital content over the Internet. This simplifies storage and management of resources, as well as utilization by users. This lets the system immediately provide the content on the desired media, by previewing the footage, and using FOR-A's copy and dubbing system which is ideally suited to these tasks.


Debut of VRCAM, a new virtual studio product that does not require sensors
Video switcher products being exhibited are the new 1U HVS-300HS portable video switcher, as well as the HVS-5400 featuring 3Gbps support.
FOR-A's multi-viewer products include the newly added high-function, high definition multi-viewer MV-3200 series, which is capable of multiple-output to up to 4 screens, and the exhibit will also introduce the existing multi-viewer lineup.

FOR-A's process product exhibit will feature the FRC-8000 frameless converter, enjoying its debut in the domestic market. This features highly-regarded accuracy of motion compensated image, and has already been adopted by several companies. Additionally, this exhibit will also show off the FRC-7000, the FRC-3000, and the FA-91FRC, which is an option for the FA-9100.
Other process products that will be exhibited are the UFM-30 series module products.

The virtual studio corner will feature a demonstration as always, but this time, "this will see a return to a previous theme, away from the theme of a fusion of sound, dance, and CG that has been used for the last few years. Instead, the focus will be on making the products easy to understand".
The new VRCAM product is a new-style virtual studio that does not need sensors. This can recreate larger sound spaces even in small studios. This can create an advancement program, providing smooth operations, and VRCAM also provides functions necessary to create programs, such as the incorporation of easy character generation.
The MBP-100CK chroma keyer with its support for HD/SD will also be displayed as another technology that supports virtual studios.

Two new character generators will be exhibited for the first time; the EzV-200HS and the EzV-210HS. The 200HS is the PC workstation model, whereas the 210HS is a compact 1U size, suited for use in the field, or application in outside broadcast vans. These are compatible with the current EzV series, as now also support 3D telops. Incorporation of an animation option is also possible. In addition to these products, the 3D-VWS with its added functions will also be exhibited.

Yet another FOR-A IBE product being exhibited is the new version of the NeON broadcast subtitle system. This is the NeON VIII, based upon Windows 7.


Real-time 3D stereo vision live demonstration technical exhibit
One of FOR-A's technical exhibits will be a demonstration of the 3D stereo vision system. As a part of introducing its initiatives, FOR-A will exhibit a live 3D stereo vision system that combines their products that support stereo vision, such as the CEQ-100HS color equalizer, as well as video switchers and RCG Graphics' Brainstorm eStudio.