Inter BEE 2010: Para.TV exhibits video distribution service for mobile terminals in the Pavilion Area.
2010.11.21 UP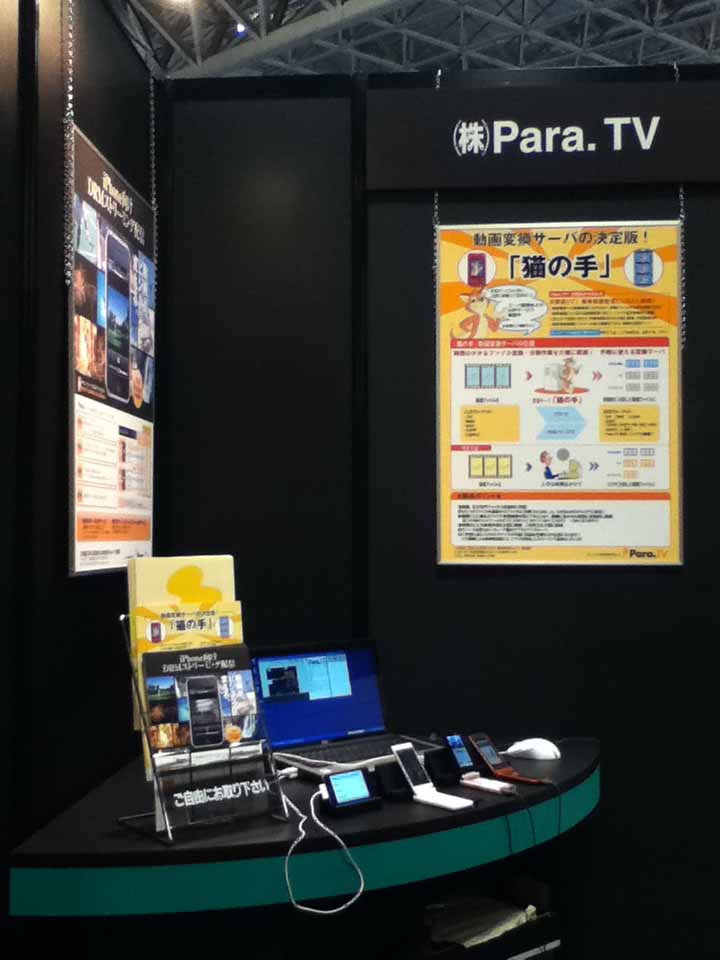 Para.TV Ltd., exhibited its video distribution service for mobile terminals at CEATEC Japan 2010, being held at Makiharu Messe (Chiba City) from Wednesday, November 17. Para.TV plans, develops, and sells systems for internet video broadcasts to mobile terminals, streaming data production and distribution programs, and recording media.



■ Para.TV provides services for iPhones with
three major domestic mobile providers.
When a corporation that has its own video content, such as broadcast station video content, their own corporation's commercials, or the like and they want users to be able to watch this content on their mobile phones tool, Para.TV provides distribution services for mobile phones and also handles live distribution and other mechanisms for encoding recorded video as is on a PC and uploading it to a server.

The flow of operations prior to distribution is that first Para.TV receives the video from a corporation that has content that it wants to distribute to mobile phones, then Para.TV encodes it and uploads it to the distribution server. Then when a link to this server is put on the corporation's site, general users are able to go to the video distribution page and watch the video. This is how Para.TV provides its service in the form of providing a video distribution platform, primarily for corporations. Para.TV says that many of its customers are broadcast stations and video production companies. Para.TV's service supports mobile phones for the three major domestic mobile service providers SoftBank, DoCoMo, and au.

At this year's Inter BEE 2020 booth, Para.TV also exhibited its service for iPhones. The video distribution that Para.TV provides for iPhones features the ability for users to watch videos by just clicking links on the standard Web browser, without needing any kind of special app. This service encrypts using AES 128 bits, has DRM functions to protect copyrights, for example by preventing content storage by users or interception, and simultaneously encodes the optimum bit rates (800 kbps and 400 kbps) for Wi-Fi connections and 3G connections. This service can also handle 24-hour live distribution. Plans are to also support providing service in the future through specialized apps too and they are currently under development.