YEM ELETEX, Inc. displayed their new line of noteworthy products including a material transmission system for news coverage, a multi-screen system, and much more.
2008.11.21 UP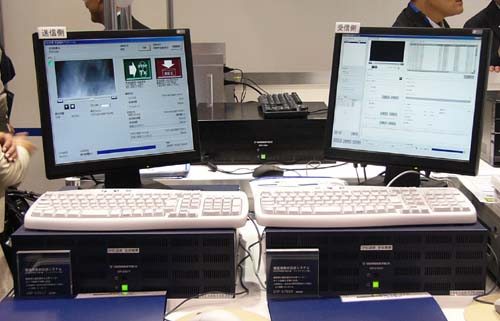 As YEM ELETEX's new line of products was displayed at its booth, President and CEO Shinichiro Nakahara commented that, "Our business operations just began last July with a merger of Yamashita Engineering Manufacture, Inc. and ELETEX Inc., to become part of the Flight System Consulting Group. Products that we are exhibiting this time at Inter BEE are all very new, being released within the last six months and we are especially pleased to be able to introduce these leading-edge products so soon after the merger. The wide range of products displayed is designed to provide easy solutions for visitors via helpful demonstrations to ensure that each individual feature and application can be immediately comprehended and appreciated."


One of the main displays was a material transmission system for news coverage, which enables news video data recorded on-site to be transmitted faster to stations and production crews via the Internet. Two products, a DVCPRO HD version and HDV version, were included in the lineup and each product transmits data in the raw format to realize high-quality video transmission without distortion or noise. Additionally, essential functions at news scenes are supported by features such as proxy data transmission and requesting.

The VANC (vertical ancillary data space) modem enables transmission of up to four lines of RS-232C serial data using the SDI signal's ancillary data space. This means that during live coverage of a marathon race, for example, pertinent information such as distance, time, and/or GPS data can be transmitted together with the coverage data to enhance operational efficiency during live sports hookups.

Newly unveiled at Inter BEE 2008 were an SDI seamless switcher and multiple-screen system, both of which are scheduled to be released in December 2008. The SDI seamless switcher is not just an SDI signal switcher but also performs blanking switch operations while detecting SDI CRC errors that can generate within the transmission path. And to enhance uncompressed video transmission, this switcher also compensates for delays within ±5 frames that can be generated due to differences in transmission paths or transmitting devices.

A multi-screen system representing a first-time application of Cyber Screen ― an original technology developed by Cybernet Technology ― in Japan displayed video and data from multiple projectors in real time. The projection area of this system can be adjusted between 10 to 100 square meters and it also allows projection to curved or spherical surfaces. At this booth, a seamless and cohesive multi-screen display using an edge-blending function was performed on PlayStation 3 source images projected from two projectors onto the system, and this mesmerized all visitors who were watching.

Also on display at the booth was an iPhone radio application being developed by the corporation's parent company, Flight System Consulting. This application acquires current positions from a GPS or WiFi router to find available radio stations nearby for song selections that can be listened to via an iPhone or iPod touch. Songs can also be downloaded using the iTunes Stores service and as the song-purchasing function works together with affiliates, it represents a new income-earning opportunity for radio stations. Initially, this application will be available with Tenjin FM, which is a part of the Tenjin & Daimyo WiFi Consociation in Fukuoka, and it will then be offered by a number of other participating radio stations at a later date.


[Inter BEE News Center]
Photo 1: Display of solutions for news coverage material transmission system.
Photo 2: Demo video clip shown on a spherical screen using the multi-screen system.