2011.11.16 UP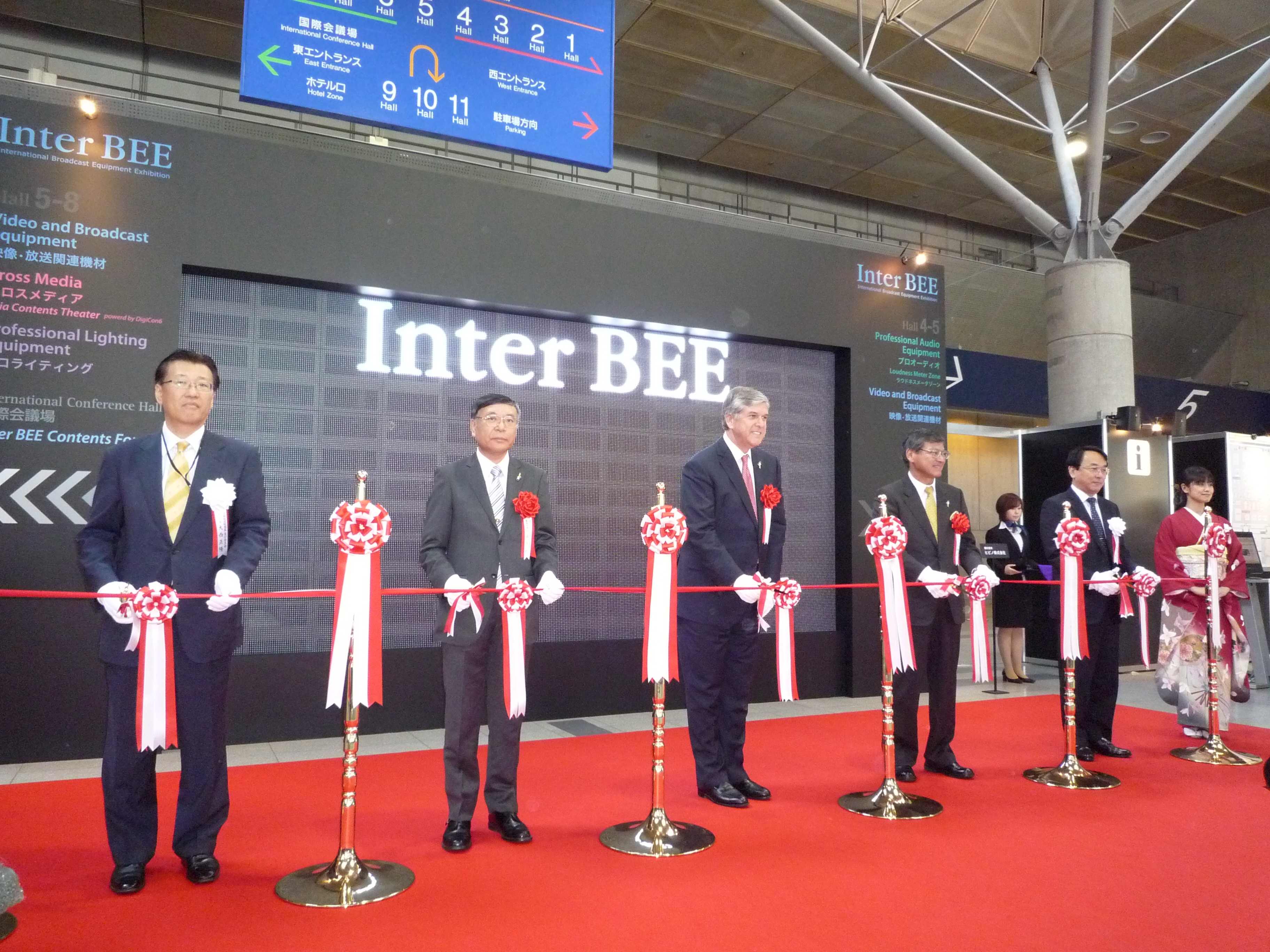 The opening ceremony for Inter BEE 2001-an exhibition of services and products for sound, image and communication professionals sponsored by the Japan Electronics and Information Technologies Association (JEITA)-was held on November 16 in the Makuhari Messe entrance hall.

Eiichi Hasegawa, executive director of JEITA, officially opened the exhibition. Mr. Hasegawa remarked that this year saw the establishment and strong development of a cross-media category for mobile devices, smartphones and IPTV. He also expressed gratitude to Gordon Smith, president of the U.S. National Association of Broadcasters, who came to Japan to express his hopes for recovery from the March 11 disaster.

In his remarks, Mr. Smith expressed sympathy for the people who suffered or lost loved ones in the earthquake and tsunami. He also praised the Japanese media for their skill and bravery in reporting on the disaster. Mr. Smith said that because of Japan's excellent broadcasting technology, technical cooperation between Japan and his association was of momentous importance to the world.

NHK Managing Director Kenji Nagai said in his remarks that this year's Inter BEE was particularly special because July 24 saw the end of analog broadcasting in Japan, with the exception of the three prefectures most affected by the disaster. Mr. Nagai said disaster reporting and activities to support recovery have made this a time of renewed focus on the role of broadcasting.

Shunichiro Kudo, executive director of the National Association of Commercial Broadcasters (NAB) in Japan, paid respects to those affected by the disaster and called for consideration of how safety and peace of mind could be enhanced through the use of digital technology.

Finally, Action Committee Chief Masataka Onishi declared the exhibition open and the five men cut the ceremonial tape.

Sponsored by JEITA and supported by NHK and NAB, Inter BEE 2011 was held over three days from November 16 at Makuhari Messe.
This year featured exhibitions by 800 companies, including 466 companies from 34 countries and regions outside Japan, with an estimated 30,000 people attending the event.