Inter BEE 2010: Village Island's IPDC/ISDB-Tmm Multi Media Solutions.
2010.11.21 UP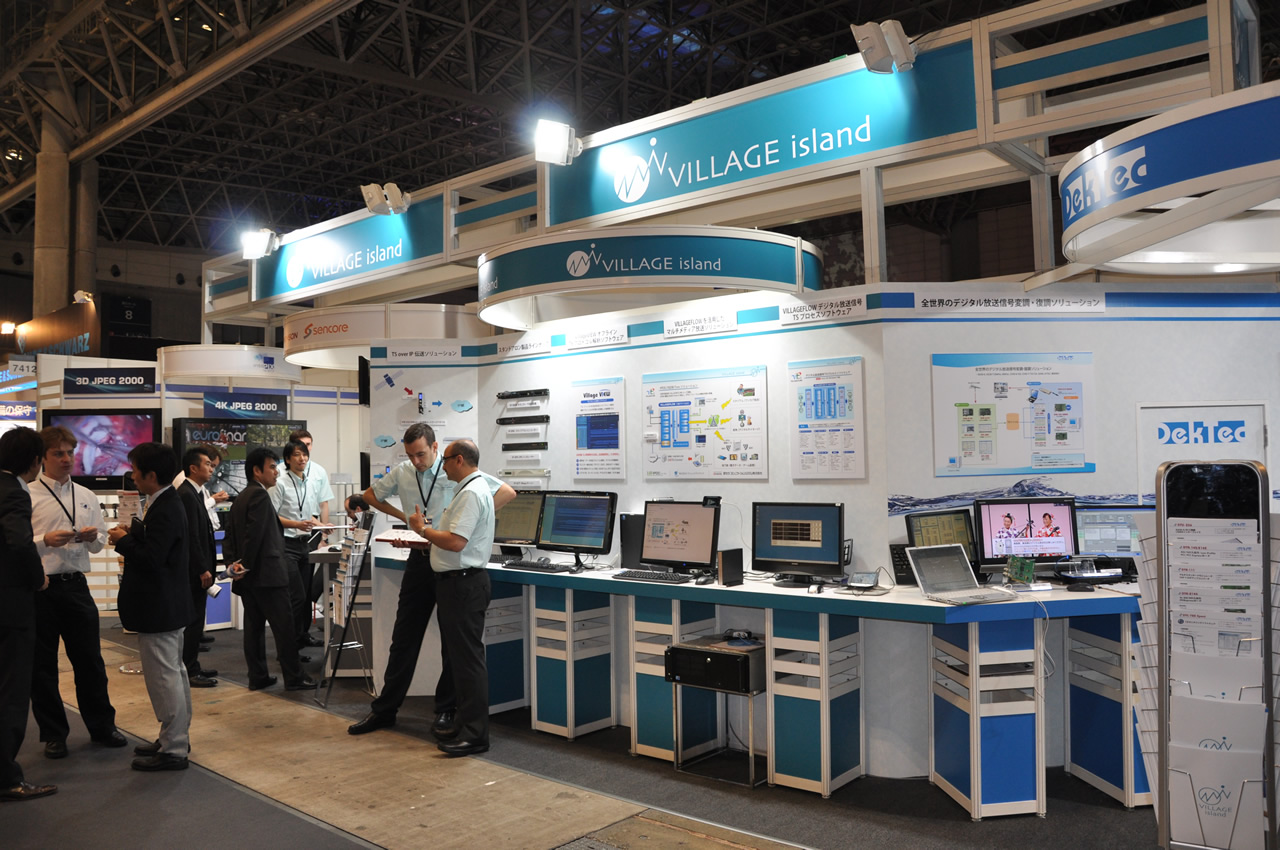 Booth 7412 hosted Village Island's exhibit of the company's Village Flow digital broadcasting software solution with "IPDC/ISDB-Tmm Multimedia Broadcasting Solutions" designed to support the ISDM-Tmm mobile multimedia format that will go into use in spring 2012.

ISDB-Tmm is the next-generation 1seg standard multimedia broadcast system for mobile phones adopted by multimedia broadcasting company "mmbi" in Japan, and is based on ISDB-T. As well as real-time broadcasts, this standard also enables filecasting.

The filecasting functions use broadcast waves with the IP packet communications available with IPDC (IP Data Casting). ISDB-Tmm uses the FLUTE (File Delivery over Unidirectional Transport) file delivery protocol for IP multicasting defined in the RFC3926 standard to process the data, and then uses ROHC (RObust Header Compression) IP header compression technology to compress the header, then uses ULE (Unidirectional Lightweight Encapsulation) to encapsulate IP into TS, (IP over TS), and finally multiplexes to MPEG 2 TS and broadcasts the signal.

Village Island has developed a stack module with ULE/ROHC functions for ISDB-Tmm. Village Flow uses the ISDB+ multi modulator/UHF up-converter PCI card from DecTech, and runs on Windows XP and Windows7.

The demonstration in the booth featured multimedia content such as JPEG and movies registered with the IPDC delivery platform, processed with the FLUTE protocol and sent over the Internet as IP data. The IP headers of the received data were then compressed using ROHC, then converted for IP over TS using ULE protocol, and then broadcast through ISDB-Tmm. This was received on an iPhone via a Wi-Fi router fitted with IPDC reception functions.

Company president Mr. Atsushi Hamada described the system saying "Jointly advocated by the IPDC Forum and Kyocera Communication Systems, this system aims to realize the next-generation of multimedia broadcasting services." He continued by saying that he expects this technology be used for multimedia content delivery services such as digital signage, electronic data, e-books and games.

Village Island also exhibited their ISDB-S modulator for the Japanese digital BS/CS110 broadcasting standards.