Inter BEE 2010: Noticeable Technical Trends (Part 1) -- Overall Situation, Event Overview.
2010.11.29 UP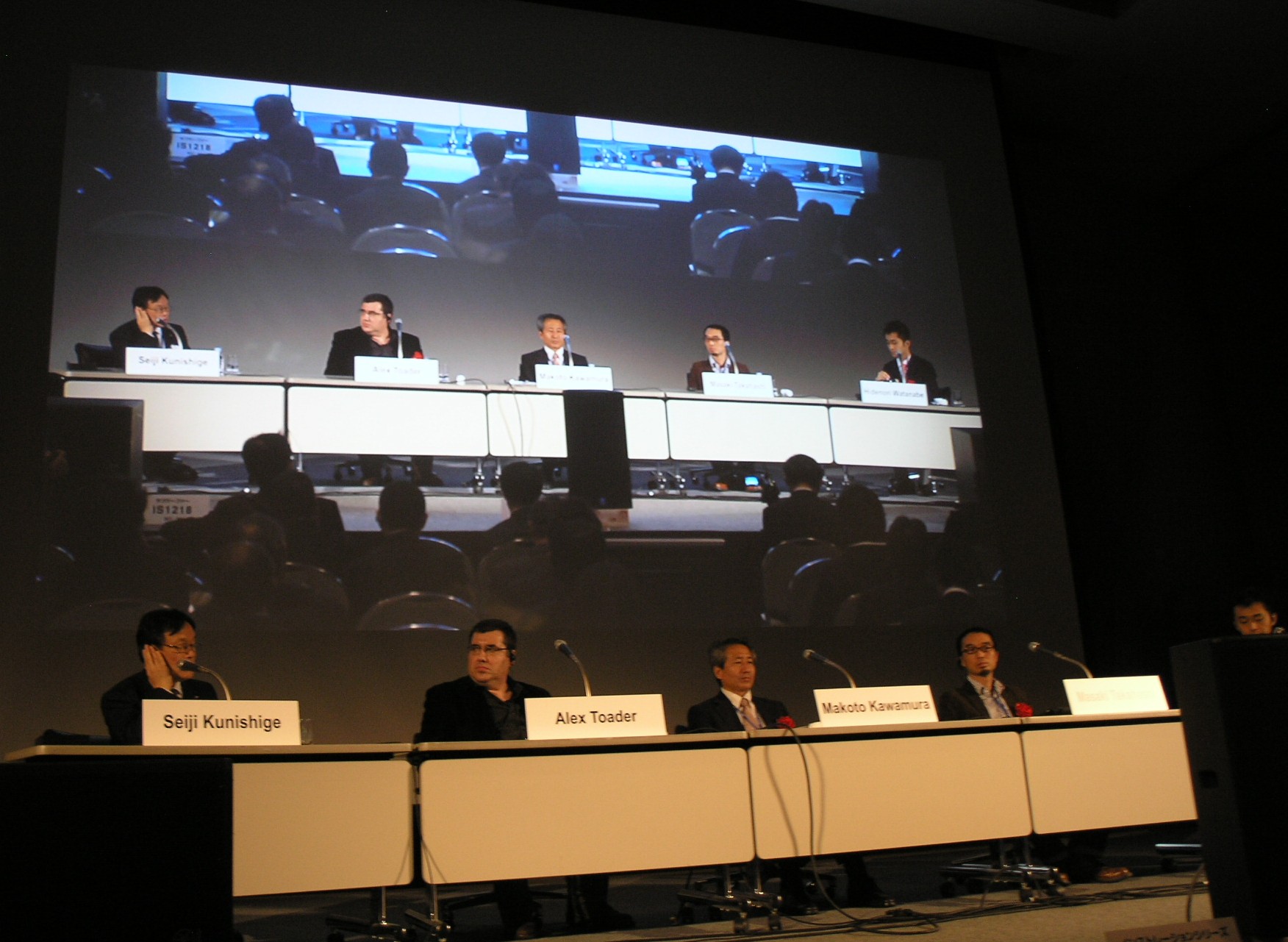 Along with NAB in the United States, IBC in Europe, and BIRTV in China, Japan's Inter BEE is one of the world's four major broadcasting exhibitions. Inter BEE 2010 was held at Makuhari Messe from November 17th to 19th. While showing signs of recovery, we are still facing an uncertain economic situation, but the event hosted a record 824 participating companies, and welcomed 31,567 visitors (962 from overseas), similar to last year's attendance. Japan has enjoyed analog broadcasting for more than half a century, but with the switch over to digital television only 8 months away, this Inter BEE will be the last of the analog age, and will in the future strive to be a major player in digital media conventions.

The event was opened by main sponsor JEITA on the morning of the first day, followed by addresses by the technical head of NHK and the head of the National Association of Commercial Broadcasters in Japan (representative), both sponsors of the event. In these, they stated that with the upcoming full switchover to digital television, both expansion of the service area and the transition of users to digital technology were proceeding well, but further efforts were still needed. When walking around the exhibition venue, I was left with a sense that company booths were rather modest in size, but I was able to take my time viewing the booths. An overall technical trend is the increased drive towards digital broadcasting, which brings together broadcasting and communications, and is illustrated by a gradual move to tapeless, file-based technologies at all stages from shooting through to creation and delivery. This has resulted in major changes in the accompanying workflow. Emblematic of this effectively being the first year of the 3D era, of particular note at this exhibition was that cameras, content creation systems, instrumentation, transmission systems, and displays were all 3D, illustrating an overwhelming focus on 3D-related exhibits.

I will explore the technical trends in the exhibition in my next posting, but here, I will give an overview of regular functions, forums, and events at Inter BEE.

The popular Inter BEE Content Forum event held every year started in 1989 as the International Symposium symbolizing internationalization. In 2007, to reflect the trend towards global content, this was renamed the International Forum. As with last year, the first day featured the Video Symposium and the second day the Audio Symposium, and for the first time, the final day was a special paid session. This was held in the largest hall in the venue, and featured invited specialists and key figures from both within Japan and overseas. The wide array of content such as presentations by lecturers featuring screened content as well as panel discussions that include the audience filled the venue, and these were a roaring success.

The theme of the video symposium was "cross-media expansion of video content," reflecting the state of current media. This featured talks by invited lecturers showing the most up-to-date creation methods and workflows for the high-quality content that is currently being created both within Japan and overseas, and that makes full use of technologies such as VFX and CG. Furthermore, cross-media expansion is essential in this digital age, and this featured discussions regarding its current state and problems it was confronting.

The audio symposium had as its theme "Audio Loudness Standards", and comprised active talks and discussions featuring speakers from overseas. These confronted issues concerning audio and acoustics in the digital age, including production standards, audiences, and the standardization of "loudness monitoring" which has seen recent great strides made in the development of psychoacoustic modeling. The topical theme was of such interest to companies, broadcasters, and audiences that the venue needed to add more seating. Additionally, demonstration exhibits of loudness meters from each company were held after the conclusion of the symposium.

3D is currently the major topic in image media, and consequently, the admission fee-charged special session on the last day had as its theme 3D Content -- Ensuring Safety on Human Body. There has been a rapid increase in the creation of 3D content, as witnessed by the impact of Avatar, which in a way symbolized the start of the 3D era. While 3D is an attractive new way of displaying image content, there is the concern that it may have a psychological impact. So that 3D is not just a flash in the pan, it is necessary to actively reduce the adverse impact on users. In order to make full use of the appeal of 3D, investigation is underway into both research to firmly entrench 3D as a form of image media, and in its standardization. In this session, NHK and industry specialists offered basic explanations and a report into the latest technical trends. Currently, because 3D is all the rage amongst players in the content industry, device manufacturers, and the broadcasting industry, the session was packed in spite of admittance being charged. When presentations by lecturers and questions from attendees were included, it went well over its planned 3 hours duration. This was a highly beneficial event for the future expansion of 3D media.

Three years since their inauguration in 2008, the Tutorial Sessions have been designed to have device manufacturers and content creators who are active in the industry provide upcoming engineers and students with practical, easy-to-understand instruction. There were several themes for this event; in the audio sessions, "Principles and applications of microphones" and "Application and techniques for usage of the latest digital technologies in PA systems", and in the video sessions, "Basics and applications of the MXF format" and "Basics and applications of transcoding." These presented information regarding this topical theme so suited to the digital age in an easy-to-understand manner, and even though attendance required payment of a fee, the sessions were full to capacity.

The 47th Technical Report Conference of Commercial Broadcasters spanned the three days of the event, separated into sessions provided by circuitry and broadcast departments, delivery and transmission departments, production technology departments, image technology departments, information and networking departments, data broadcasting and digital services departments, and radio and audio departments, giving a total of 50 presentations from flagship stations and regional broadcasters. On the second day, a special project had the theme of "Thinking about 3D — looking for new technologies after the full switchover to digital terrestrial television broadcasting," which is a major focus within the broadcasting industry, and this featured talks and presentations including screening of 3D content. This included flagship stations talking about initiatives towards 3D broadcasting, the status of content creation, and their future expansion; production companies talking about the workflow of 3D image creation and the combination of VFX; and manufacturers talking about the development of technologies for 3D content creation devices. Groups affiliated with NHK are also moving forward with creation of 3D programming and with the development of technologies. However, 3D has up until now experienced ups and downs, and whether 3D has become established as a media type, audience needs for 3D broadcasting, and future broadcasting industry initiatives will have a major impact on the expansion of 3D media.

The Asia Contents Forum started in 2008, and proved popular as an opportunity to view content in a largely hardware-oriented exhibition venue. Outstanding content from a total of eight countries including China, Taiwan, Korea, and India was displayed on a large screen, and presentations and panel discussions were conducted by talented creators. Additionally, Seiji Mizushima, the director of "Mobile Suit Gundam 00," and renowned Korean film director Kwak Kyung-taek were also invited to give presentations. This was a valuable opportunity to view Asian content, which is not usually encountered.


Takehisa Ishida, Video Technologies Journalist.