[Inter BEE 2009: Highlight Pickup!] Mitomo presents file-based, tapeless solutions — many new products, such as Sakura Eiki's Prunus non-linear editing equipment
2009.11.6 UP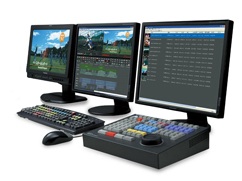 Demo for easy understanding of the editing, processing, and delivery workflow
Mitomo is presenting its file-based, tapeless solutions with an eye to broadcasters' move towards tapeless systems, and some of these products and models are making their debut. The booth featured a lineup of Mitomo products giving an easy-to-understand demonstration of the editing, processing and transmission workflow used in actual video creation.
New products that were introduced included:
● The latest of Sakura Eiki's Prunus non-linear editing equipment
● Exhibit featuring the Play Magic IDX play out server combined with Intertec Corporation's APC
● AJA's Ki Pro tapeless media recorder with support for ProRes422
● Aspera high-speed file transmission software
● RHOZET universal transcoding application
In addition to tools for creation, this year also features a panel exhibit of Tipping Point's intrusion prevention systems, bringing attention to the importance of security in tapeless facilities.


Network workflow utilizing new model Prunus editing tools
Assistant Sales Manager Tatsuo Nagata, affiliated with the Mitomo Sales Department spoke about the characteristics of the workflow in the demonstration.
"Here, we are introducing a demonstration that uses the editing functions incorporated in the new Prunus model, and that makes efficient use of the network".
"This introduces a server-less environment that delivers a workflow combining both file sharing and the editing of celebrity news content. Additionally, it introduces the workflow from connecting NAS devices with their low introduction and operations costs to processing machines, through to the IDX PlayMagic play out server".
"We hope you'll take a look at our products which are a step up from standalone solutions, as one proposal towards achieving tapeless environments".

Also exhibiting products for network security
TippingPoint is network gateway hardware to be used for external connections.
General Manager Makoto Tanaka from Mitomo's Sales Promotion Division said "We want to stress the importance of network security in the move to tapeless systems in the broadcasting and video industries".

"Given the increased use of network environments in broadcasting and post-production, people are at last becoming aware of security. As networks that include external connections continue to grow, so does the importance of security".
"This product does not require any installation of applications or troublesome approval work, and because there is no need to change system internals, it is very easy to install", said Mr. Tanaka.

This product is being widely introduced in IT enterprises, and is being increasingly deployed in the video industry.

Low-power operation Nexsan servers, 14 TB in 4U
A panel exhibit introduced Nexsan's SATABeast and SASBeast storage servers that operate with low power consumption. This incorporates 42 blade servers (14 TB) in a 4U rack mount, supporting configuration of RAID arrays. This achieves high capacity with low space requirements, and can also be used for archiving. Another strong point of this product is its low failure rate, achieved by allocating data alternatively to different drives, thus balancing out drive wear.
Mogmo Super Resolution — powerful improvements to video quality for diverse image sources
This exhibit features Mogmo Super Resolution software capable of bringing low quality materials up to broadcast level. This product is sold in conjunction with JCTV, and has been the subject of cable television shows.

The product can improve degraded images, and can also be used for improving the resolution of video that has been taken with non-professional, low-resolution cameras.
"Instead of image quality, video used in news reports may have an emphasis on speed to air, and in these cases, footage taken on mobile phones and similar cameras is often used. In such cases, we increase the resolution and image quality. This also lets us improve the image quality of old archives, and bump up resolution from standard to high definition".
A characteristic of image improvements is that they employ an algorithm that uses interpolation with adjoining frames. Mogmo has research capabilities in Russia, and the product is expected to hit the market in February 2010, being sold exclusively in Japan by JCTV and Mitomo.

HD multi-channel audio monitor supporting up to 16 channels
The HD multi-channel audio monitor from Wohler Technologies Inc. is an audio monitoring product that supports high-definition, multiple channels. Up to 16 channels are supported, and is the first such product in Japan.
It is suited to multi-language and audio-related programming. This is also used in the United States for checking English and Spanish. In Japan, this is offered for HD audio monitoring in live broadcasts, delivery, and transmissions.