[Inter BEE Exhibitor Information] Hirotec displays a BS/CS110 digital broadcast receiver OFDM remodulation device
2009.11.24 UP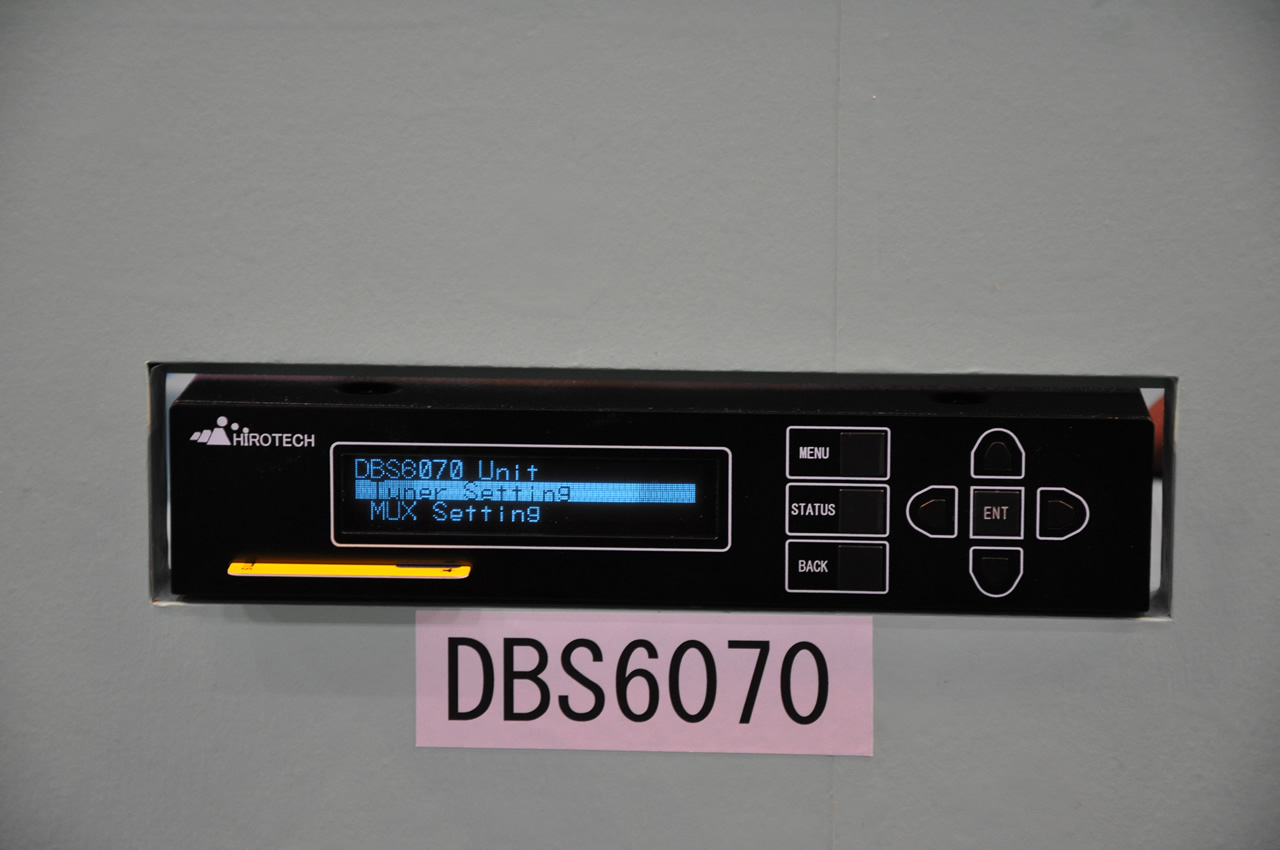 Hirotech (Located in Yokohama, Kanagawa; Managing Director: Motohiro Kurisu) presented their BS/CS110 digital broadcast OFDM remodulation system (DBS6070).

Modulation for open terrestrial digital broadcast channels (UHF band)
The BS/CS110 Digital Broadcast OFDM Remodulation Device (DBS6070) uses a half-size case (1/2U) to house TX/RX tuners for BS digital broadcasting and CS110 broadcasting, as well as MUX, PSI circuit, and OFDM modulator in this independent trans-modulation capable broadcast system.
When the BS/CS110 digital broadcast is received, one transponder TS stream is extracted, and the entire encoded transponder TS is decoded with a B-CAS card — then any program can be converted to OFDM modulation for terrestrial digital broadcast from the extracted TS, which is then broadcasted through an open terrestrial digital broadcast channel.
There are two main features of this system. The first is the PSI generating function that allows SI data such as remote control key numbers, channel numbers, region, channel name and so forth to be included with the terrestrial digital broadcast. The second main feature is the system's ability to reorganize EPG extracted from the received TS stream and also broadcast multiplexed BML data (via MUX) which can be used as it is.
Although the Hirotech system doesn't use cable TV specs but original ones, Hirotech Chief Motohiro Kurisu explains that there has been some talk from cable television providers about proposing the terrestrial digital broadcasting trans-modulation specifications to Japan Cable Laboratories.
The system has been on the market since August this year, and Mr. Kurisu says he wants continue to provide it at a reasonable price of about 1,000,000-yen. He also points out that the 1 million yen price tag is cheap compared with other BS/CS110 digital broadcast trans-modulation systems.
Moreover, Mr. Kurisu says that since the system converts to terrestrial digital broadcast modulation and enables open channels to be used for transmission, the system could be used for in-house transmission in hotels, cable television or discrete community systems.
He says he hopes to further expand the market for the equipment as a discrete broadcast system for hotels, schools, hospitals and so forth.