Inter BEE 2010: Loudness Meters for ITU-T BS.1770 and EBU-R128/TECH3341 Standards were on display from companies like Yamaki Electric and ForBit.
2010.11.21 UP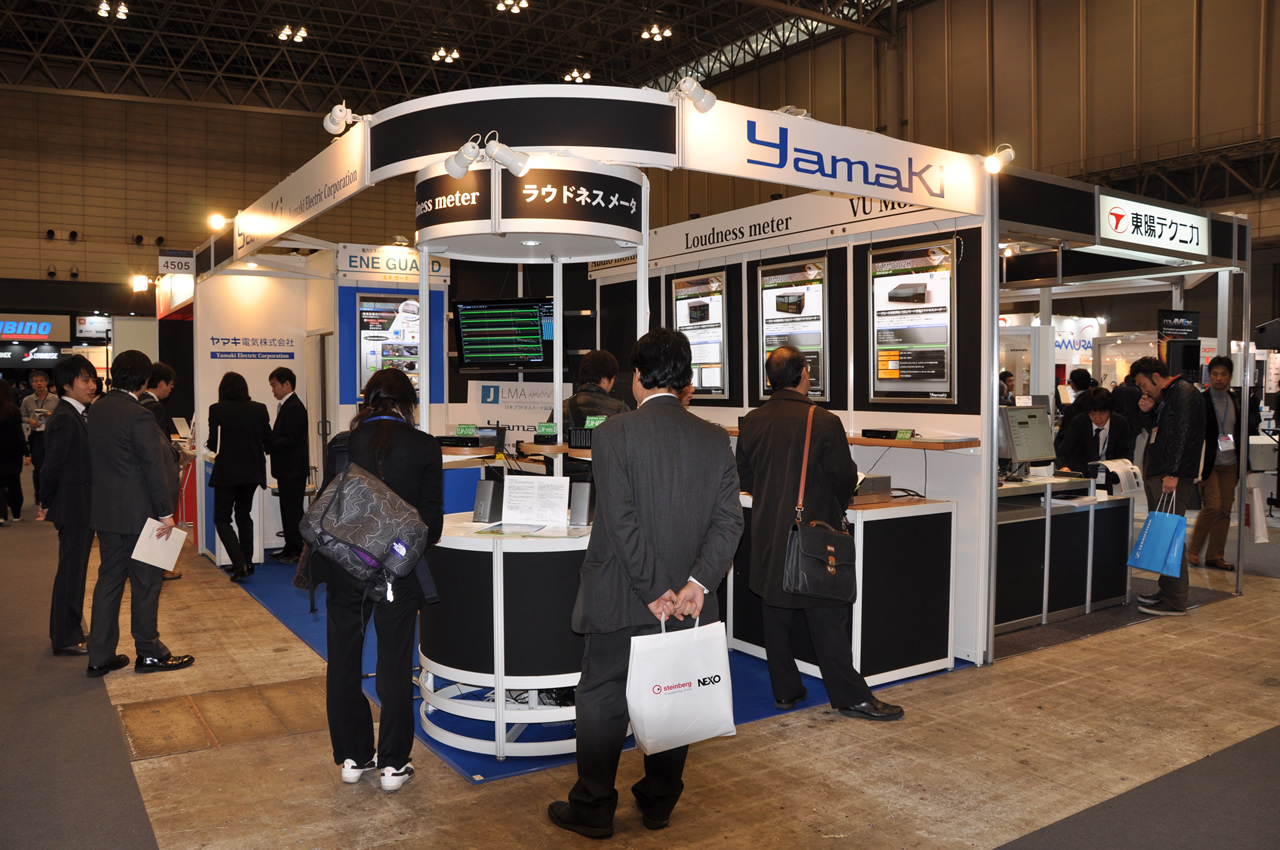 As members of the Japan Loudness Meter Association, Yamaki Electric and ForBit exhibited loudness meter products that have been gaining attention.

The penetration of digital broadcasting has resulted in big problems caused by large differences in audio volume between channels, between programs, or between programs and commercials. The audio metering devices mainly used have been VU meters and peak meters, and compression meters that just measure compression. However, these metering devices don't really concord with each other in terms of listening methods or the actual volume levels that human beings feel. To approach this problem the "loudness value" index was introduced top indicate audio volumes that people can feel. ITU-R uses LKFS (Loudness, K weighted, relative to nominal full scale) as units of loudness level.

There are two international standards that stipulate the loudness levels that are permissible with digital broadcasting, ITU-R BS.1770/1770-1/1771 and EBU-R128/TECH3341, furthermore, ARIB is planning to establish standards in line with the ITU-R based international standards in spring next year.



■ Yamaki Electric exhibits three
ITU-R BS.1770-Compliant Loudness Meters
The company's YLM-D102 ITU-R BS.1770 compliant loudness meter comes with AES input and output. The device's ch1 displays short-term loudness levels, while ch2 displays momentary loudness on a bar graph meter as well as a numeric long-term display. The bar graph meter can also be switched on the front panel of the device for short-term display or switched for momentary display only. It's priced at JPY 195,800 (excl. tax).

Just like YLM-D102, the YLM-M20 is ITU-R BS.1770 compliant and features HD/SD-SDI input in addition to AES input/output. Loudness levels are displayed as momentary levels on 7ch/8ch bar graphs. This product can also be used as a normal VU meter. Mr. Daisuke Kawai from Yamaki Electric's metering technology department says the product can be used as master monitoring meter. It's priced at JPY 490,000 (excl. tax).

LLM-mini is also an ITU-R BS.1770-compliant loudness meter designed especially for integrated loudness. The D-sub connector on the rear panel enables start and stop operations with integrated loudness to get loudness levels. It's priced at JPY 88,000 (excl. tax).

Daisuke Kawai explained that users can operate the start and pause buttons to measure long-term loudness levels. He also went on to explain the advantages of the loudness meter, saying that currently with digital broadcasting, audio level standards are set at -20dBFS and -18dBFS for a 1KHz/+4dB signal, however there is no standardization for what is actually loud volume levels or small volume levels that can't really be heard. However, ITU-R's BS.1770 and EBU-R128/TECH3341 standards specify target values.



■ ForBit's LM-860 Loudness Meter Developed on Request from NHK
LM-860 is an ITU-R BS.1770 and EBU-R128/TECH3341 compliant loudness meter that offers real-time display and switching between the two standards. It also offers VU metering via its VU drive function, can be used in combination with existing VU meters, and provides start/stop functions for measuring long-term loudness via external GPI/TLC time data. The loudness metering display can be freely selected from SDI/DIGITAL/ANALOG input signals, and the device can display peak values as well. Slated for release in November 2010, this device will be on sale for the standard price of JPY 682,500 (JPY 650,000 for the actual device).

LM-860 comes with one HD/SD-SDI input, two HD/SD-SDI through outputs, eight unbalanced digital inputs and outputs, and one analog input/output (XLR balanced stereo L/R). The device also features input signal error monitoring, error logging with timestamp, and measured loudness log data output functions via the RS-422 interface.

Hiroyuki Yamauchi, ForBit's Managing Technical Director, says his company was asked to produce a loudness meter verifier by NHK, hence this product was developed. It can also be used for verification and parameters can be updated. He also explained that ITU-R will also be deciding upon standards for time-lengths for momentary values (average integral levels with real-time feel) towards the end of the year, while EBU is planning on changing mute ranges and overlap standards, which is why the company has designed the device so that parameters can be easily changed, and the firmware version updated when those decisions are made.

In addition, ForBit offers an optional SDI interface in preparation for the ARIB standardizations coming next spring, and planned the release of their LM-06 six channel digital input.

On top of all that, Astro Design exhibited their loudness meter compatible AM-3800-A audio monitor, Hibino Intersound presented the DK-Technologies RLB-LU meter, and Techno House showcased the Loudness Meter iLM8 from Neural Technologies.