Inter Bee TV - J-Stream Providing Technical Support for On-demand & Live Video Distribution
2007.11.16 UP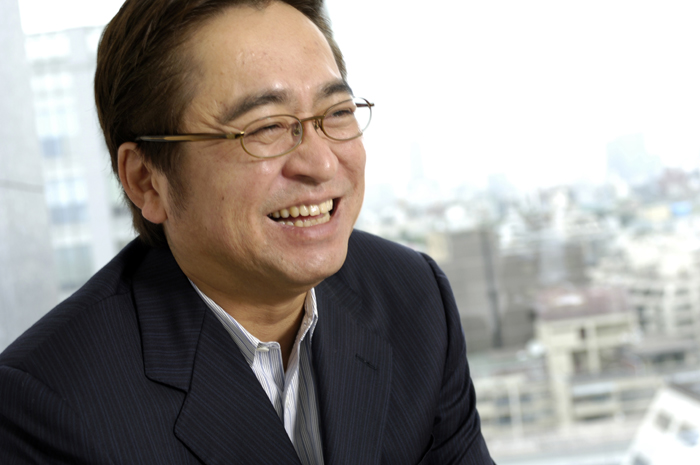 Debuting at Inter BEE 2007 is a new Web broadcasting initiative in the shape of Inter BEE TV. For the duration of the exhibition, this Web station will be delivering video content - on-demand, live, and as podcasts. Providing the Web content delivery infrastructure and technical support for Inter BEE TV is J-Stream Inc.

J-Stream is a leading company in the field of rich content delivery, developing business applications involving video, animations, and Flash content. This year marks the first time for the company to take part in Inter BEE and we asked Kiyoshi Shiraishi, President and Chairman of J-Stream, about the relationship between the video/broadcasting industry and the Web industry, and also about the

Photo 1: Kiyoshi Shiraishi, President and Chairman

The growing importance of Web video distribution for the video & broadcasting industry
Since it was started in 1997 as Japan's first company specializing in Web video distribution, J-Stream has actively expanded its business. As a leader in the development of business applications for such rich content as video, animations, and Flash, it currently provides a one-stop service, covering everything from planning and production to the supply of delivery infrastructure and impact verification . And with the ongoing convergence of the video/broadcasting industry and the Web industry, J-Stream is planning to further extend the scope of its business.

This marks the first time for J-Stream to participate in Inter BEE, Japan's international exhibition for broadcasting, video and audio equipment. "Hearing that there were plans to set up Web video distribution at Inter BEE as a new initiative, we decided to help from the initial phase, with the cooperation of Adobe Systems," explains President and Chairman Shiraishi. "J-Stream is supporting this Web TV initiative by supplying the video delivery infrastructure technologies. The fact that Web TV has come to Inter BEE, a world-class exhibition for broadcasting equipment, proves to the video/broadcasting industry that the distribution of content via the Internet is growing steadily more important. From now on, I think, the question of how to create business models based on such content delivery will become a key issue for the whole industry."

Three issues for developing the business potential of Web distribution
J-Stream has identified 3 key issues that need to be addressed in order to develop the business potential of delivering content via the Internet. These are (1) secure distribution, (2) reducing distribution costs, and (3) multi-device distribution. J-Stream already has a head start in making progress in these three areas.

First, secure distribution. In October this year J-Stream started sales of a Home/Abroad Discrimination Service in a business tie-up with Cyber Area Research. This is an ASP service that identifies geolocation information for people accessing content restricted to domestic users, preventing access from overseas. This enables flexible territory control even in cases where it is essential, because of restrictions on usage rights, to limit distribution to a particular region or country.

Second, as a means of reducing distribution costs, J-Stream is investigating P2P (peer-to-peer) technologies. In fact, from September last year the company has been providing a P2P-based content delivery service. Also, in October this year they teamed up with BitTorrent, and by combining BitTorrent's DNA service with J-Stream's CDN, J-Stream has been able to start a new distribution service that offers high quality for low cost.

Third, multi-device distribution. J-Stream believes that content delivery to mobile phones in particular will expand further. According to a J-Stream survey, it appears that people are increasingly using their phones to connect to the Internet for a variety of reasons and applications. The phones themselves are becoming technically more sophisticated and it is becoming possible to distribute high-quality video to them. J-Stream expects that they will become even more important for content delivery. Also attracting attention in this regard are PDA-like mobile devices such as the iPod touch, and next-generation game consoles like the Nintendo Wii.

Photo 2: Castella site for mobile phones
Photo 3: Castella site for iPod touch
Photo 4: Castella site for Nintendo Wii

Web distribution support for video/broadcasting companies
This is the first time for Web TV to be featured at Inter BEE, but J-Stream already has considerable experience in this field, having handled Web video distribution for many companies in the video and broadcasting industry. J-Stream arranged Web distribution for the 11th IAAF World Championships in Athletics Osaka 2007 held in August and September this year via a special TBS website (http://www.tbs.co.jp/seriku/) and also DOGATCH (http://dogatch.jp/), a free video portal site. J-Stream is also providing support for business development by supplying modules for delivering Internet commercials that make use of Flash technologies developed jointly with Cyber Communications Inc.

Furthermore, J-Stream is providing delivery infrastructure for high sound quality IP retransmission of programming from OTTAVA (http://ottava.jp/), a digital radio station specializing in classical music and operated by TBS Radio. In fact, J-Stream is supporting various types of content delivery for the video and broadcasting industry, including Internet-based news distribution and live video streaming of variety programs for several TV stations.

This, then, is the J-Stream that is handling Inter BEE TV. On-demand distribution began before the actual event opened, and live streaming will start at 10am on November 20, in sync with the opening of Inter BEE. It is planned to offer ? live from the exhibition venue - valuable information not available anywhere else, including interviews with both exhibitors and overseas guests. Be sure to watch these live broadcasts as they will let you experience the excitement of Inter BEE in real time!