Official Interview with the Keynote Speaker (Part 1)
2009.1.13 UP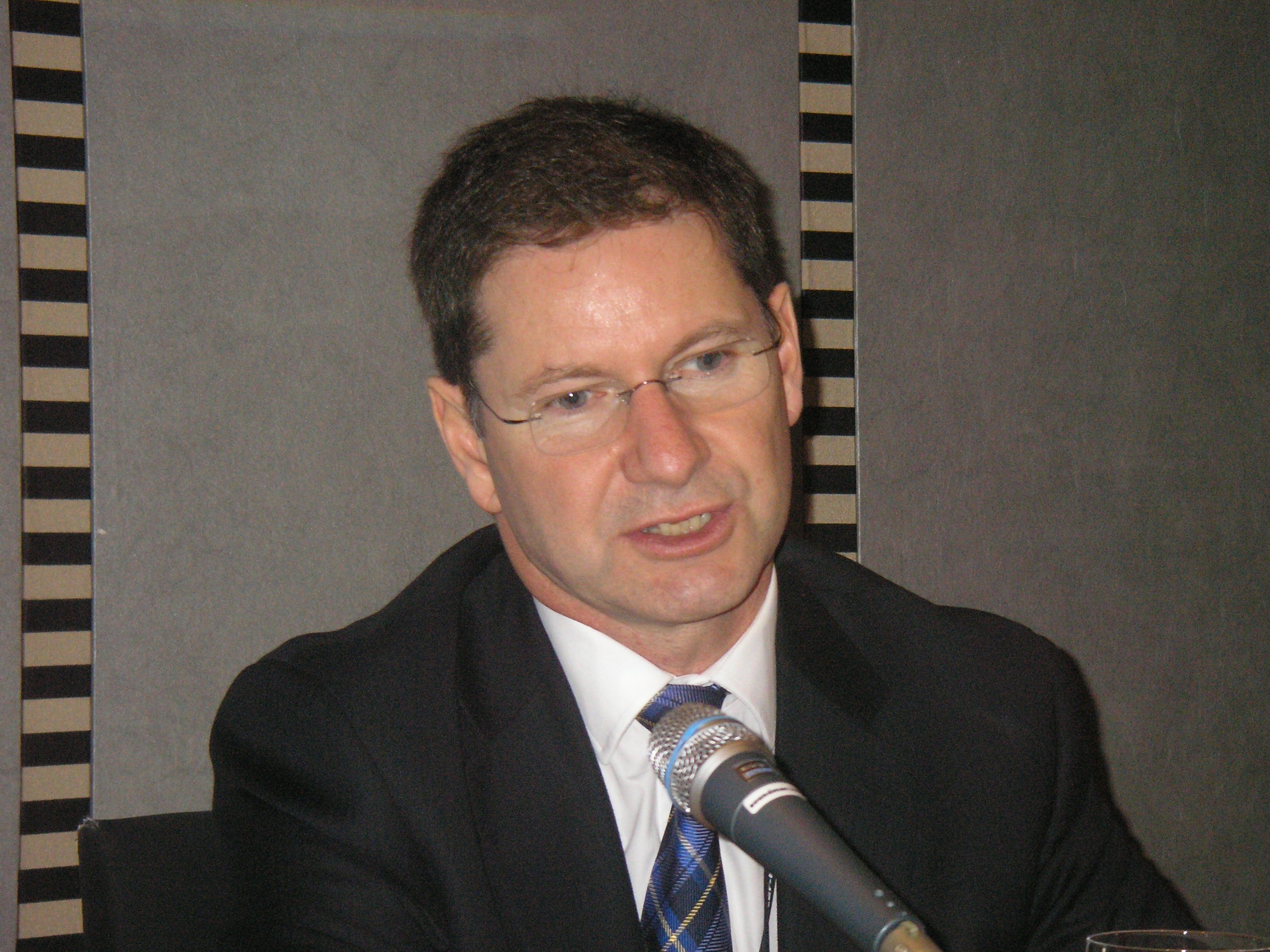 Guest: Andy Davy (Controller of Portfolio Management for BBC's Future Media & Technology Group)
Interviewer: Yuji Suzuki (Senior Researcher, NHK Broadcasting Culture Research Institute)
Chairman: Seiji Kunishige (NHK Art Executive)
Date: November 19th, 2008

(Kunishige)
I would like at this time to begin the official interview with our guest keynote speaker at Inter BEE 2008, Andy Davy from the BBC. The interview will be conducted by Senior Researcher Yuuji Suzuki from the NHK Broadcasting Culture Research Institute and I wish to thank the both of you for being here today.

With the continued merging of broadcast and communications here in Japan and around the world, I wonder what kind of changes we can expect from the forthcoming developments. We have already enjoyed a very enlightening presentation from our keynote speaker Andy regarding his experiences at the BBC with emerging businesses linked to broadcasting and communications convergences as well as the practical issues and future directions of this issue.

In this interview, I would like to follow up on Andy's keynote presentation and publish its contents on the Inter BEE Online website. The BBC is a world leader in the linking and merging of broadcasting and communications services, and I believe these services are based on the creative future plan advocated by BBC Director General Mark Thomson. First of all, I would like to ask about the relevant points of the plan in relation to the excellent presentation you just provided.

(Davy)
As a core organization within the BBC, the Future Media & Technology Group has pioneered the introduction of new media, and in terms of content, new content services were provided by linking diverse sectors such as audiovisual, journalism (news reporting) and vision (program content).

These new services have been illustrated by BBC Director General Mark Thomson, and as explained in the keynote address, the iPlayer is one effort to expand online services. As we go forth in the 21st century, the organizational structure at BBC must also change in order to remain adaptable. We have to keep thinking about the next step while continuing to supply radio and television services.

(Kunishige)
Actual deployment of such services will present various issues, and I would like to hear what you think those issues might be.

(Davy)
I touched upon these topics in the presentation, and at the BBC we have to consider how to lead this industry in regards to the practical deployment of services that link and merge broadcast and communications. In other words, the question is how to maintain the historical role the BBC has as a leader. With the continuing media revolution and diversification of viewer demands, the challenge for the BBC is to continue to provide a valuable and well-appreciated service to the people.

(Kunishige)
Thank you very much. Now from Yuuji Suzuki, could we hear your views on the current state of program broadcasting and rights processing, and could we get Andy to elaborate on some of the successful examples in the United Kingdom regarding the merging of broadcast, communications and new media businesses.


[Right processing for broadcast programs]

(Suzuki)
Although in its infancy, there are apparent issues with the VOD (Video-on-demand) services that will be offered by Japanese broadcast stations shortly and questions as to its potential for success. Andy has said in his address that the BBC is enjoying success with their services, and I would be interested to find out how those successes were achieved.

NHK's on-demand starts with two services on December 1st this year. One service is a catch-up service like iPlayer, while the other is an archive VOD service. As you pointed out, the rights handling issue is also a problem we are experiencing in Japan, and the biggest part of this problem is obtaining advanced permission from people concerned such as right holders and stakeholders when supplying broadcast material to VOD. I would like to know if this situation is the same in the United Kingdom.

(Davy)
Yes, the situation is very similar ― the difference being that NHK is starting an archive service, but the BBC does not currently provide such a service. The BBC service is purely a 7-day catch-up service.

(Suzuki)
Regarding rights handling for broadcast programs, you mentioned the issue of obtaining permission from production staff such as camera operators and audio engineers, but I think an even larger area related to rights would involve such professionals as actors and producers, among others and I would like to hear your thoughts on this point.

In dealing with professionals, I believe there is an extra royalty for VOD that is necessary in addition to the broadcast performance fee. For example, NHK negotiates to pay 10% of the performance fee, and majority of performers agrees to this but there are still some people who disagree and solutions are yet to be found. What does the BBC do regarding these issues?

(Davy)
I'm not a specialist in handling/processing broadcast program rights, but ideally we would have a universal rights handling system, and further obtain permission for individual content items to hopefully prevent problems from arising. However, a situation where programs produced years ago with diverse performers can present serious problems.

If we look at an example of the BBC show called, "Dr. Who", where there were 20 to 30 cyber-men on the show wearing masks, getting rights processed for each and every one of those individuals would be extremely difficult, and so there is a demand to simplify the whole process with some sort of system.

(Suzuki)
As you just mentioned, the catch-up service has now been in operation for about a year, and most programs are offered as content with the service, so does this mean that there is a comprehensive rights-processing mechanism to obtain consent for new programs made for the catch-up service?

(Davy)
With the catch-up program, permission is obtained in advance; therefore, as long as permission is obtained for a 7-day window, it means the service can be offered at anytime.

(Suzuki)
So conversely, if permission cannot be obtained from a professional performer or actor, would that become a reason to remove such a person from the production?

(Davy)
Now, and as before, broadcast performance is not allowed if there is no permission, so there are not any problems in this situation. However, with archived material, if just one person refuses permission it means the material cannot be delivered but this person would also put his or herself at a disadvantage since performance fees would not be paid.

(Suzuki)
Tracking down all people involved with archived material and obtaining their permission is certainly a monumental task, and NHK is incurring some heavy expenses under the current state of rights processing. So, what do you think the future holds? Do you think the BBC is not going to implement VOD for archived programs until a comprehensive archived program rights processing system is in place?

(Davy)
Well, recently at the BBC we have specially appointed an archive content director and this director will decide the form of archived material that the BBC releases. Of course, it will be very difficult to release the entire archive since the original films and subsequent digitalized content are subject to some serious restraints.

So I think it will be difficult to achieve, but partial and gradual releasing of archives is a definite possibility and therefore, we are experimenting with this at present. Last year was the 50th anniversary of the partitioning of Pakistan from India, and as a test case we prepared a season of archived programs for the occasion. We feel that the future directions in this area will be dictated by such projects.