The new Niccabi(R) modular concept -- the cyberRAIL console
2008.11.19 UP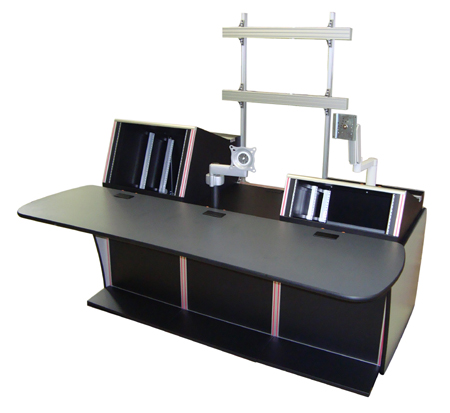 Focusing mainly on video and broadcast equipment desks, Hoshino Trading Co., Ltd. with its Niccabi(R) brand is involved primarily with the product development, design, and sales/support of rack cabinets for electronics and communications equipment. At this year's Inter BEE, the company exhibited their new cyberRAIL console for video and broadcasting equipment for the first time. Incorporating modularized components, this innovative console features a layout-free design and superb expansion capabilities to answer diverse user needs. Thanks to these unique design characteristics, the cyberRAIL console is attracting considerable attention from within the video and broadcasting world.


■ Modular assembly provides the ideal console layout for any application

At their Inter BEE booth, Hoshino Trading introduced the NEO and NOW series 19-inch aluminum racks, BSR series steel racks, NOIR series wooden 19-inch racks, and the TBC console desk, all in one convenient location. The new STA-16 series slider tray and the ECON-1U/2U cable organizer were also exhibited. However, the biggest attraction of their exhibit this year was the new cyberRAIL console concept, which was introduced for the first time at Inter BEE.

One of the most remarkable features of the cyberRAIL console is its structural modularity. Akihiko Takahashi, TBC console advancement assistant manager, explained that, "Conventionally, users would have to choose from the variations available to find a console layout that most closely resembled their intended plans. What's more, customization usually involved the complete redesign of the console. However, cyberRAIL does away with this type of cumbersome process by enabling the user to assemble only the modules required to produce the optimum console layout because the 19-inch rack mounts are structurally modularized. Additionally, as only the minimum number of modules required for a customized layout is necessary, the system also helps to reduce design and reconfiguration costs."


■ A selection of seven basic packages with enhanced options for LCD monitors

Thanks to a design where all the structural components are modularized, the cyberRAIL console is available in seven basic packages for easy implementation. Used as a base modular assembly, the basic packages include side panels and a countertop shelf module (operations panel). Other base modules including optional housing modules for CRT monitors and flat shelf modules for LCD monitors are also available to suit a variety of applications.

What's more, in order to meet increasing professional video editing LCD monitor needs, optional modules such as wall-mounting frames and LCD mount arms are available to enhance LCD monitor operations. And notably, the simple installation of an aluminum extension frame with rails to the LCD mount arm makes it easy to configure the arm to any position. Multiple LCD monitors can even be installed on a wall-mounted frame to create a multi-screen observation system that can be used as circuit observation consoles in security rooms, by securities company dealers, etc.


■ An extensive range of modules to answer user requirements

The company's booth was setup to feature its flagship cyberRAIL product in the main location, with three basic packages and three LCD monitors also on display. The LCD monitors provided corporate profile and market performance content, as well as promotional content for both the cyberRAIL and TBC consoles for visitors to enjoy, making it even easier to understand the cyberRAIL system. The company also distributed information catalogs free of charge, which highlighted examples of basic package and optional module usage combinations in addition to suggestions for a range of layout patterns.

The company will also have a detailed product guide available for download from their web site in early 2009, and is even considering making CAD data available with 3-dimensional diagrams of each basic package. Akihiko Takahashi further explained his company's objectives by saying that, "The cyberRAIL concept will continue to evolve even after its initial release as our project team will periodically check up with users to find out how the equipment is being used, analyze sales trends, etc. This feedback will help to identify which modules are most often customized, and we can then use this information to develop new modules and expand module variations."


[Inter BEE News Center]
Photo 1: The cyberRAIL console.

Photo 2: The cyberRAIL console on exhibit.

Photo 3: The cyberRAIL console logo.