A stunning array of non-linear video editing and live event broadcaster systems from Thomson Canopus
2008.11.21 UP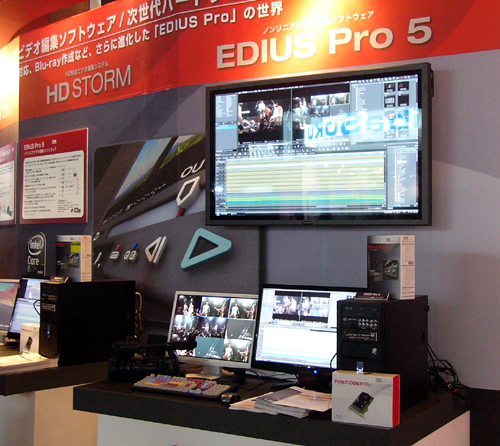 Thomson Canopus provides total video system solutions for coverage, conversion and editing, as well as for distribution and management. From among the company's rich and varied product lineup at this year's Inter BEE, the key products exhibited were the EDIUS Pro 5 non-linear editing software, K2 Dyno live event broadcasting system, NexGuard content protection system, and the MEDIAEDGE4 digital signage product that is scheduled for release in December of this year. The Thomson Canopus booth was also distinguished by a highly popular stage demonstration.

At Inter BEE, the company exhibited the latest version of their EDIUS Pro 5 non-linear editing software that was released in September of this year. This system achieves video editing in real-time for materials with differing frame rates, sizes, formats and resolutions, including both HD and SD. This is the first major version upgrade for EDIUS Pro in three years, and the new version features video camera support, BD writing as well as streaming functions. Additionally, the new GPUFx 3D transition system included with the software enables high-speed, high-quality effect processing of full HD clips. Centered on the EDIUS Pro 5, the company also presented a superb range of products offering cutting-edge performance such as the video editing HDSTORM and network editing EDIUS workgroup server systems.

Another important product in the exhibit was the K2 Dyno live event broadcasting system. Designed specifically for live broadcasts, this system consists of the K2 Summit production client that is controlled by the K2 Dyno Live controller, and it offers a range of functions demanded by sports, news and other live event broadcasting. Among the functions offered are spillage-free background recording, quick replay, exquisite slow imaging, multi-camera angle switching, flying image call functions, and much more. This system is not only ideal for sports or time-shift broadcasting but is also highly suited for other live event coverage such as arena or live concert multicasting and live news broadcasts.

Andy Smith from the company's marketing and communications division emphasizes that, "The joint efforts of Thomson, Canopus, and Grass Valley in terms of support and know-how have come together to create the K2 Dyno system, our first uniquely Japanese product. There is no other live broadcast system that can provide this kind of comprehensive functionality at such a low cost."

The NexGuard content protection system is a forensic marking solution for master production that buries virtual code in the basic core of contents and copied material. This system makes it easy to identify multiple content and enables copying in user-operated environments or across multiple sites. The forensic analysis features available with this system help copyright holders to take the appropriate measures when their rights are infringed by calculating piracy and data leak sources. This will help to eliminate the modern-day issues of illegal internet publishing among other problems.

MEDIAEDGE4 is the latest model in digital signage systems, which is due for release in December 2008. This system consists of the MEDIAEDGE-LEB4 H.264 HD compatible live encoder box and MEDIAEDGE-STB4 H.264 HD compatible set-top box, and it enables H.264 HD video transmission across a network.

In addition to all these innovative produces, the booth also featured a 10-screen digital signage demonstration with the HDMA-4000Sync synchronous replay functional network HD player.


[Inter BEE News Center]
Photo 1: The EDUIS Pro 5 non-linear editing software.

Photo 2: Demonstrating the K2 Dyno live event broadcast system.

Photo 3: The 10-screen digital signage demonstration.