InterBEE 2012 - Fujitsu, in collaboration with Astrodesign, will conduct a 4k transmission demo using the IP-9610 codec which offers high image quality in H.264. The technology has also been used by Sky Perfect TV for its JSAT 4K live transmission experment.  
2012.11.9 UP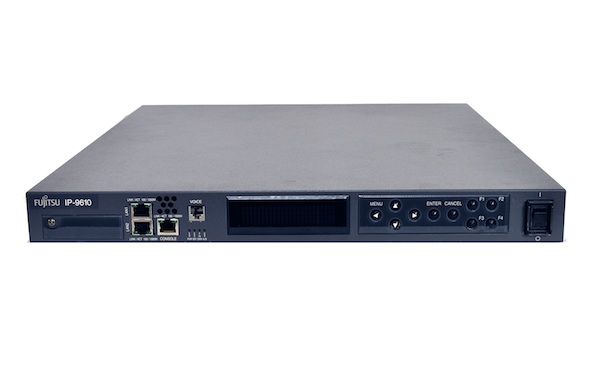 Fujitsu (video and broadcast equipment #6408) will conduct a real time 4k video transmission demo using its own H.264 codec 'IP-9610' at InterBEE.
 IP-9610 is a high quality image transmission codec which offers an even higher quality than the previous IP-9500 which was initially displayed at last year's InterBEE. Since then they also held a demo in April at NAB, and began Japan sales in 2012.
  IP-9610 supports 422 and 10 bit, and allows 1080 60P transmission in H.264. By supporting 3G-SDI output, it is more resistant to movement and thus ideal for broadcasts such as live sports games.
 While being 1U size, it comes installed with an engine which can encode 2 minutes of HD video footage.
 The demo will be held in collaboration with Astrodesign, and conducted by pulling a LAN wire between the two companies' booths.
 2 IP-9610s will be set up in each company's booth. The transmitting side will then divide a 4K video into four parts and encode them using two encoders. The receiving side will use two decoders for the four HD video signals, synchronize them, and then send them to the 4K projector through four video cables.
 This is the same method that was used in Sky Perfect's JSAT 4K video transmission experiment which featured a live J-League game and was conducted on October 20.
 Fujitsu has conducted experiments with NTT Viz Link in which the 4K video network distributor used NGN (optical circuits). It has repeatedly seen achievements in 4K video distribution. Such successes include a transmission of 3840 60p video at about 50 Mbps.

InterBEE 2012
Inter BEE is a professional sound, video and communications exhibition where top-level foreign and domestic broadcast equipment, video equipment, audio equipment, lighting equipment, IPTV, Mobile TV, cross-media, and related applications and solutions are gathered under one roof. It is an exhibition that provides an opportunity for people involved in all aspects of media to find out more about the latest trends in the creative and media businesses.
It will be held at the Makuhari Messe from November 14 (Wed) ~ 16 (Fri) (free admission).