[Inter BEE 2014] Keisoku Giken says, "Convert all videos to 8K." Upscaling videos from PC, HD, and 4K sources to 8K.
2015.1.16 UP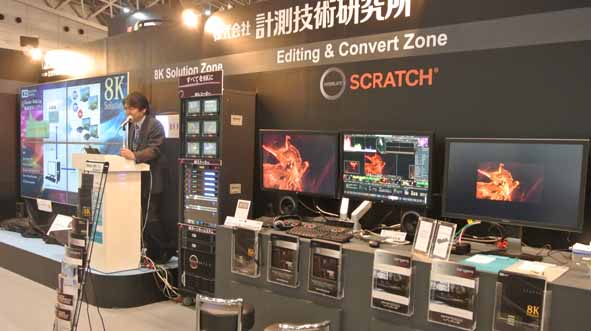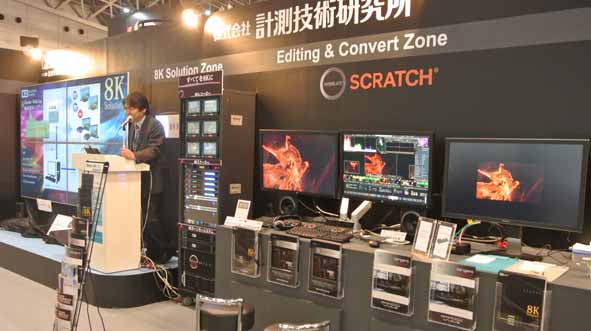 Keisoku Giken's booth. On the left is the 8K Solution Zone, and on the right is the Editing and Conversion Zone. On the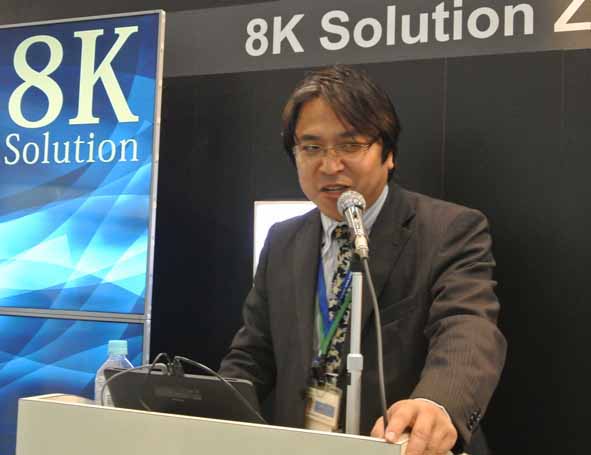 Mr. Tabata giving a presentation.
Keisoku Giken's Inter BEE 2014 booth's theme was "Convert all videos to 8K."
Delivering the presentation at the booth was Hiroshi Tabata from Keisoku Giken's visualware sales department. He explained the booth's aims as follows:
"People might think of 8K as something still in the future. But as monitors and other equipment are being developed, 8K is starting to join HD and 4K as an actual method of visual expression. It is also certain that we will see an age when even HD videos will be widely used for 4K and 8K applications. To prepare for the time when videos will be used in new ways, our company is taking preemptive steps to bring 8K closer to reality. Our booth lets you experience 8K."
Upscaling solutions to convert and show 4K, HD, PC, and other video sources in 8K were exhibited at the the booth and introduced on the main stage . The main stage exhibition showed a 58-inch professional 4K LCD monitor turned into a 2x2, four-screen 8K monitor equivalent to a 116-inch display. While using this multi-screen display, various 8K video solutions were introduced.

■ Ushering in the 8K era with an 8K ultra-high definition screen.
Mr. Tabata commented on the significance of ultra-high definition units: "We have to wait until 2018 to see NHK start 8K Super Hi-Vision trial broadcasts. However, by using a system incorporating our ultra-high definition units, you can immediately start experimenting with 8K, show 8K videos, and conduct research and development. I think we got people to understand this. A presentation produced with a PC's presentation software can be upscaled to 8K and displayed. Various content such as Broadcast Satellite programs and terrestrial TV broadcasts can also be presented on a large screen via 8K ultra-high definition." Mr. Tabata was motivated and optimistic about the spread of 8K upon seeing the positive reaction of visitors.

■ The 8K era is imminent and will arrive in the not-too-distant future
Mr. Tabata further explained, "With the Tokyo Olympics in 2020, the 8K era is imminent and will arrive in the not-too-distant future. Even for 4K, Keisoku Giken worked on it for more than 10 years. As a result, we now see 4K commonly displayed at all trade shows. At this year's Inter BEE, our booth revealed that the next-generation 8K can be used right now. We received a very good response here, so I'm convinced that the age of 8K is right before us."

(*This report is from Inter BEE 2014 held during November 19th-21st, 2014 at Makuhari Messe in Chiba, Japan.)