[Inter BEE 2018] International CDN vendor Limelight Networks to provide demonstration for Limelight Realtime Streaming—a live streaming service which allows for worldwide streaming with less than one second of latency.
2018.11.8 UP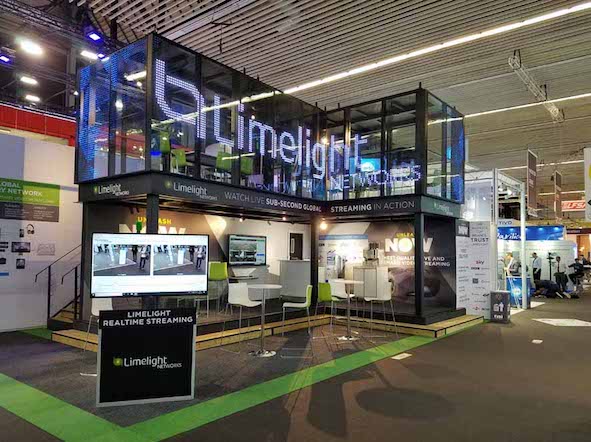 The Limelight Networks booth from IBC, which was held in September in Amsterdam.

Live streaming needs continue to grow as well with the current tremendous expansion of internet-based video content.
Limelight Networks will exhibit at Inter BEE 2018, held for the three-day period of November 14th (Wed) through the 16th (Fri) at Makuhari Messe, and demonstrate their Limelight Realtime Streaming service which allows for live streaming anywhere in the world with less than one second of latency.

- Possession of a Private Network Connecting 80+ Points of Presence Worldwide
Limelight Networks is a video streaming and CDN vendor company located in Arizona, USA which works to expand content delivery. The Limelight Networks CDN is characterized by its possession of a global private network of the company's own construction. Their 80+ PoPs (Points of Presence: large scale access points), installed in 40+ urban areas worldwide, are interconnected in a formation which supports QoS. The network uses a 100Gbps optical fiber backbone that allows for global content delivery which bypasses internet congestion. The service is connected with 900+ ISPs and major public cloud providers worldwide.

- Employs the Real-Time Communication Protocol Web RTC
Limelight Realtime Streaming is a live streaming service which was announced in September of this year at IBC in Amsterdam, The Netherlands. The streaming protocol used for this service is the real-time communication protocol advocated by the W3C known as WebRTC. This allows support for major browsers with no need for a plugin. Furthermore, by using the company's global private network, the service makes it possible to stream video to any region of the world with less than one second of latency.

- Strong Demands From Clients for Low-Latency Live Streaming
Kyoko Hoshi, Senior Marketing Manager at Limelight Networks Japan, had the following to say concerning the context of this announcement of Limelight Realtime Streaming.
"Web content is increasing by the day, and streaming content is on the rise as well, but there is a particularly high demand for live streaming. The young generation, especially those who were born in the age of smartphones, who wishes to easily enjoy live streaming outdoors, including live concerts and sporting events, as well as eSports and other gaming events, is growing. The area thought of as the bottleneck for live streaming is the latency which is caused by streaming on the internet. Even information from sporting event broadcasts falls behind flash reports from the event via SNS, and this sometimes dampens the enjoyment of viewing those broadcasts. In the future, there is also the possibility that timing delays could become a big problem for streams involving gambling."
"Limelight Networks already supports the program streaming of major OTT companies via CDN and has a proven track record of providing CDN for over 11 years in Japan as well for clients such as broadcasting stations. Demands from these sorts of clients for low-latency live streaming led to this most recent announcement."

- Real-Time Streaming With 100,000 Simultaneous Viewers Possible
After the announcement at IBC, Limelight Realtime Streaming received a big announcement in Japan as well, and there are already approximately 10 companies worldwide who are proceeding with testing in hopes of using the service. The service currently supports 100,000 simultaneous viewers, and there are plans to further expand on this in the future.

The company plans to stream video from a live camera at the venue and demonstrate their no-latency video streaming capabilities routing through servers in locations such as Singapore and the USA.
Kyoko Hoshi also commented, "Because we can stream with less than one second of latency regardless of country, be it San Jose, Singapore, Frankfurt, London, or Japan, this service can be used even more effectively for events such as international sporting events."

[Exhibitor Overview] Limelight Networks Japan K.K
- Main Office
NA Building 2F, 2-7-28 Kita-Aoyama, Minato-ku, Tokyo
- Website URL
https://jp.limelight.com/
- Hall / Room Number
ICT/Cross Media / Hall 7 / 7309