[InterBEE 2012] RealNetworks exhibits at InterBEE for the first time -- shows latest version of streaming Helix Universal Server and Helix Media Library content management tool
2012.10.23 UP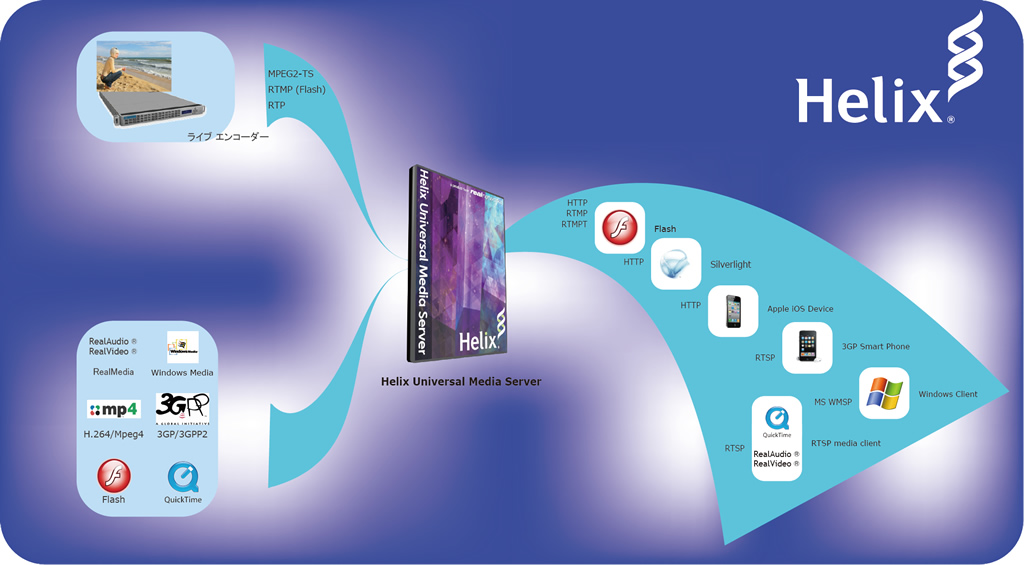 RealNetworks will be appearing for the first time at InterBEE 2012, held at Makuhari Messe from November 14 (Wednesday) through 16 (Friday). The company plans to use its booth (Crossmedia category, booth #8306) to showcase the latest version of its streaming Helix Universal Server and its Helix Media Library content management tool.

■ Helix Universal Server: Latest Version is Compatible with MPEG-DASH
 RealNetworks is slated to exhibit the latest version of Helix Universal Server, the company's streaming server solution. They plan to give a demonstration by filming footage of the expo, using their Helix Producer encoder to prime the data, then streaming the live feed via Helix Universal Server to a multi-device array of PCs, Android devices, and iPhones and iPads.

 Helix Universal Server is a piece of streaming server software capable of sending multiple streams to PC, Android, and iPhone/iPad devices with just one encoding pass. The software runs on Windows Server 2008 R2 (64bit), RedHat Enterprise Linux Server 5.x, and Oracle Solaris 10 (64bit). The latest version also supports interaction via Amazon Web Services. Hideyo Yoshida (RealNetworks Helix & IP Licensing Office, Sales Division) explains that cloud support was added because the company was receiving increasingly more inquiries about that platform.

 Helix Universal Server can also make use of Apple HLS (HTTP Live Streaming), Flash-based dynamic streaming, Silverlight streaming, and Windows Media streaming. The software can also initiate IP ingest of MPEG2-TS, RTMP, and RTP sources from the encoder. The latest version of Helix Universal Server also supports MPEG-DASH, which was established as an international standard last November because of the strong need for the protocol in Europe. Helix Producer, the company's encoding software, is designed around live and on-demand streaming, and supports H.264, MP4, and RealVideo. It can also IP ingest MPEG2-TS and RTSP sources over a network connection.

■ Helix Media Library content management tool also on display
RealNetworks exhibits its Helix Media Library content management tool
 In addition to its streaming server, the company will also be showing the latest version of Helix Media Library, its content management tool. Helix Media Library lets users easily upload files in existing media formats like MPEG, AVI, Windows Media, and QuickTime, which the software automatically encodes. The tool then lets users stream that content via Adobe Flash Player 10 (RTMP protocol), embedded RealPlayer (RealMedia), or on iPhone/iPad (HSL protocol). The software requires the Windows Server 2008 R2 operating system and Microsoft IIS installed on the web server.

 Helix Media Library also lets users customize the GUI by including, for instance, a university name or crest, as well as modifying the site's colors and other parameters. In addition, users can specify which content is made public and which is made private. Yoshida explains that Helix Media Library is 'currently in use by the University of Manchester, which uses it to provide a video library of VOD course content.' The current version only supports English, but 'The latest version will be released before year-end, and we plan to feature Japanese-language support on the GUI and management screen.'

 RealNetworks plans to give demonstrations of how the University of Manchester uses Helix Media Library on a public content page, as well as demoing how the software handles uploading and GUI customization.

[InterBEE 2012]
InterBEE is the exhibit for audio, video, and telecommunications professionals, showcasing the best domestic and international broadcast, video, audio, and lighting equipment, IPTV technology, Mobile TV technology, crossmedia products, and related applications and solutions all on one showfloor. This expo is visited by a range of professionals in the media industries, as it provides an opportunity to see the latest trends in the creative and media businesses up close and first-hand.
Held at Makuhari Messe from November 14 (Wednesday) through 16 (Friday). Admission is free.