InterBEE 2012: Pioneer | Exhibiting BD Drives for Long-Term Storage; Capable of Data Archival for 50+ Years ; Compatible with OPARG (Optical Archive Group) Products
2012.10.25 UP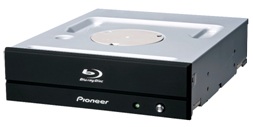 Pioneer (Video/Broadcasting Equipment Section #5205) exhibits the BDR-PR1M and BDR-PR1MA industry-use BD writers for digital archives, which enable high-quality recording on special archival discs. Both devices are compatible with Mitsubishi Kagaku Media's 100GB BD-R archival disc, the BDXL, which is specially designed for professional-use archiving. This enables high-quality recording and long-term data storage, allowing users to protect valuable data for prolonged periods of time. Mitsubishi Kagaku Media's acceleration experiments indicated that the lifespan for such data retrieval exceeded 50 years.

■Build Large, High-Quality Archives at Low Cost
By utilizing the latest optical pickups that clear only the strictest standards, and recording to archival discs at a fixed speed, these drives curb inconsistencies during recording and produce a stable archival product. The BDR-PR1M includes a built-in checking functionality that verifies recording quality after disc creation. It meets the quality control standards set by the Japan Image and Information Management Association (JIIMA). By using the device in conjunction with the BDR-PR1MA, which does not include the aforementioned checking functionality, one can construct a multi-writer system at a low cost. The result allows users to create large quantities of archival discs economically. Release is scheduled for the beginning of November.

■Establishing the OPARG Alliance and Building Archives with Optical Discs
OPARG (the Optical Archive Group) is an alliance between Pioneer, Mitsubishi Kagaku Media, and Pioneer Advanced Media promoting the construction of a framework for archives created with optical disc technology. The alliance will handle all types of archival discs (BD SL/DL/XL, DVD, CD) released by group members going forward. This standard is already being supported by a number of major companies like Asaka and Epson.

OPARG was built as a comprehensive framework for digital archiving. It unites high-quality optical discs (BD-R and DVD-R) with recording drives and disc-checking equipment to digitize and store information. OPARG aims to meet the expected increase in need for long-term archival, as in the case of libraries and art museums possessing primary sources and official documents. The framework takes advantage of the reading and writing power of optical disks to provide a solution for these and other industries. Optical discs boast lower maintenance costs that other archival media, and they are also considered highly reliable due to their high retrieval capabilities even after suffering damage from floods and other disasters. OPARG has created increased compatibility and a high level of quality assurance which meet JIIMA guidelines. By providing solutions for long-term data storage systems, it is both promoting the appeal, and advancing the adoption of, optical disc archiving.


InterBEE 2012
InterBEE is an exhibition for audio, video, and communications professionals which features top-level foreign and domestic broadcast equipment, visual equipment, audio equipment, lighting, IPTV, Mobile TV, cross-media, and peripheral applications and solutions, all brought together under one roof. The exhibition allows those involved in the media to witness the latest trends in the creative and media businesses.
Held November 14-16 at Makuhari Messe. Admission is free.