【Inter BEE 2012】Sogyo exhibits its latest digital signage devices, including 'Sound Signage,' a system based on European-made Penguin System, an advertisement display system
2012.10.22 UP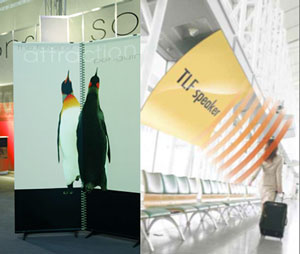 Sogyo (Video/broadcast devices category, booth #7403) will exhibit a range of products geared to indoor and outdoor events, program advertising, and live on-location feeds.
 Sogyo offers a lineup of unique products intended to assist in digital signage and IP transmission of video data. The Sogyo booth is slated to offer a range of products catering to indoor and outdoor events, program advertising, and on-location feeds. Sogyo's offerings are eco-friendly and convenient aids for event and on-location shooting.
 The Sound Signage System is intended for making strong pitches to the viewing audience. Its TLF Speakers (made by Yamaha) are just 1.5mm thick, and it features the Penguin System, a slick ad display system out of Europe.
 Sogyo will also display and demo its RT60/40 Flexible Solar Panel range, a lightweight, completely waterproof, and portable backup power source; in addition, it will present a super robust flexible stainless steel-coated fiber-optic cable.

 Below follows a summary of the products to be exhibited:

○ RT60/40 Flexible Solar Panel
 The RT60/40 Flexible Solar Panel utilizes amorphous film and can generate power even indoors. It is lightweight and completely waterproof, as well as flexible and crack-resistant. This product's strength is that users can roll up the film and carry it with them ― the light units weigh respectively 1.4kg (RT40 model) and 1.8kg (RT60 model). This bulk-free solution opens up new possibilities for users going on location. Treated in a fluorine polymer film, the panel is completely waterproof and features amorphous silicon, which ensures charging power even in cloudy weather or with a nicked film. This ultra sturdy unit is ideal for filming outdoors.

○Sound Signage utilizes TLF speakers
 Sound Signage plays back sound from the display panel (e.g., poster) at a range of levels. It can be set to produce an ambient sound seeming to speak to passersby, raised up to reach distant listeners, and more. This easy to set up solution makes a big difference in attracting customers.

○Portable Pico Cable 'PICODRUM'
 PICODRUM, a portable pico cable device, allows for easy fiber-optic connections with the simplicity offered by traditional extension cords. Ideal for staging fiber-optic cable setups or using in the event of an outage -- simply connect to an existing shorter cable to extend its range. Standard fiber-optic specifications: four-core (SM/GI) fiber-optic connector and SC drum connector; SC length: 120m; weight: approx. 10kg.

Inter BEE 2012
Inter BEE is a professional expo for audio, video, and communications professionals, featuring the latest in domestic and overseas broadcast devices, video devices, audio devices, lighting, IPTV, Mobile TV, crossmedia, and related applications and solutions under one roof. The event provides an opportunity to see the latest trends in the creative and media businesses and is ideal for those involved in various aspects of the media.
Inter BEE will be held from November 14th (Wednesday) through 16th (Friday) 2012 at Makuhari Messe. Admission is free.