NEWS: Ontec exhibits multi-file player "KAMELEON" and optional equipment "Choi-Pac!" at Inter BEE. The company proposes new ways to flexibly make use of smartphone videos including the transmission of video files.
2016.11.13 UP


"KAMELEON MFP-330". It has a display on the left, and a slot for various media on the right.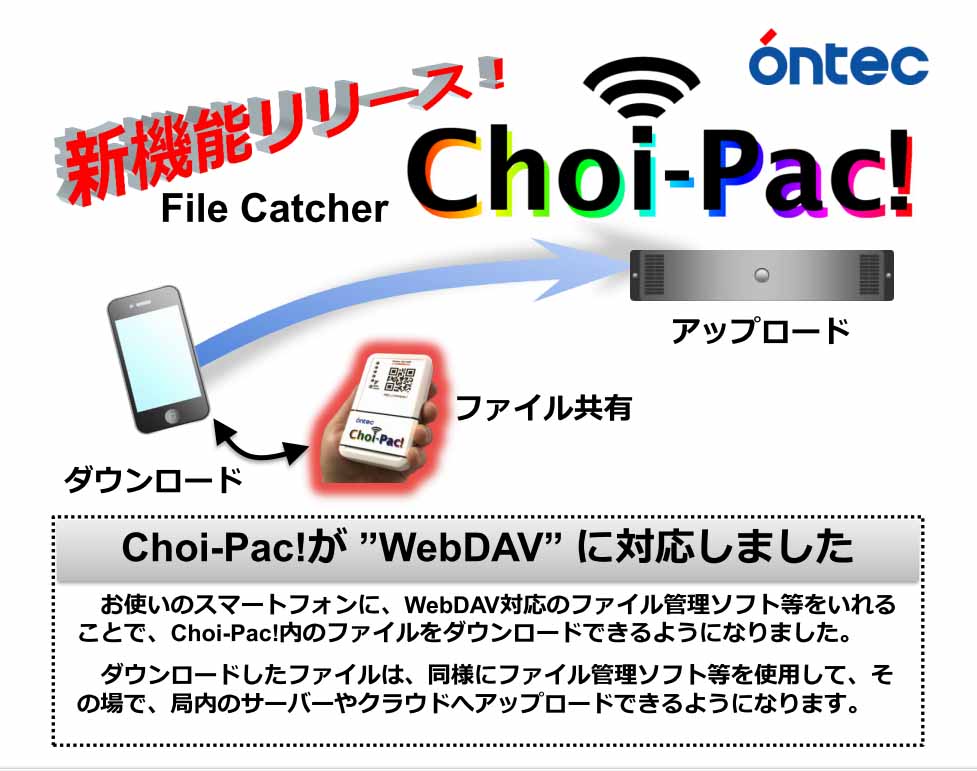 "Choi-Pac!", which allows you to collaborate with KAMELEON to read images from smartphones, now supports WebDAV.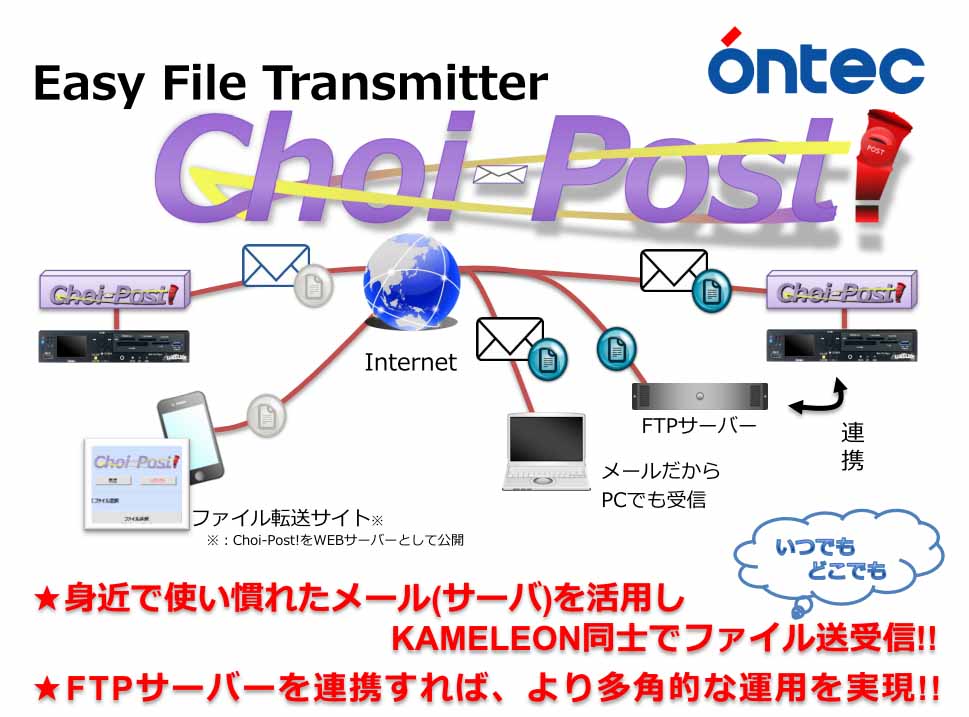 By using the new product "Choi-Post!", you can build a system that allows remote transfer of image files between KAMELEO
Ontec is participating at the Inter BEE 2016 held at Makuhari Messe from November 16 (Wednesday) to 18 (Friday) and is exhibiting the multi-file player "KAMELEON", KAMELEON's optional equipment "Choi-Pac!" and the new product "Choi-Post!". (Booth number: 6308) The company will be proposing solutions to create more freedom when playing consumer video files in broadcasting sites.

■"KAMELEON" supports various media and files
The core of the exhibition will be the "KAMELEON MFP-330" released in October 2015. It was publicly presented at last year's Inter BEE and is a multi-file player whose usage is becoming more and more common in broadcasting sites. It is equipped with a slot that supports various media including SD card, micro SD card and compact flash, and it also has a USB port in front. This player allows you to play almost any kind of consumer format video file recorded on various media immediately in HD-SDI. It is also equipped with the function to copy files from media to the built-in SSD, to convert files from HDMI to HD-SDI and to receive files via Wi-Fi.
At Inter BEE, as KAMELEON's optional equipment, we will exhibit "Choi-Pac!". Choi-Pac! is a tool that allows you to receive video files from smartphones. You can play video files by receiving video files from smartphones via Wi-Fi connection and then connecting with KAMELEON using the special USB cable. Because critical scenes required for broadcasting are increasingly being picked up by smartphones, using Choi-Pac! makes it easy to receive smartphone video files on site.
In addition, as Choi-Pac!'s new function, it now supports "WebDAV". It is also possible to download files stored in the Choi-Pac! to smartphones, becoming more convenient.

■Transmission of video files to a KAMELEON in a distant area is now possible
The highlight of this year's exhibition at Inter BEE is the new product "Choi-Post!". "Choi-Post! is a product that allows you to transmit video files via Internet. It allows you to mutually send and receive video files between several KAMELEONs.
We offer several patterns of operation form. The basic operation form is to split and send video files to Internet mail servers used by companies and automatically receive the mail including the video file and reconstruct the file by using Choi-Post on the receiving side. In addition, by collaborating with FTP server, you can send the actual video file to the FTP server, and, through notification via mail server, you can automatically receive the file on the receiving side. Moreover, we offer other operation forms including publishing Choi-Post! as a web server and uploading http files from computers and smarphones.
Choi-Post! will provide means for remote transfer of video files in a form suitable for the application. You should check out the actual movement of the product at the Inter BEE venue, as it is an option product that further expands the scope of use of KAMELEON.


Ontec Co., Ltd.
Head office location:
Postal code: 564-0062
Tarumi-cho 3-20-27, Suita city, Osaka
URL: http://www.ontec.co.jp/
Exhibition category: Video production and broadcast equipment
Hall number: 6
Booth number: 6308