InterBEE 2012: MIT to exhibit special LAN cables for concerts and outdoor construction, NBC connector cables; also planning demos of mobile digital audio signal analyzer
2012.10.23 UP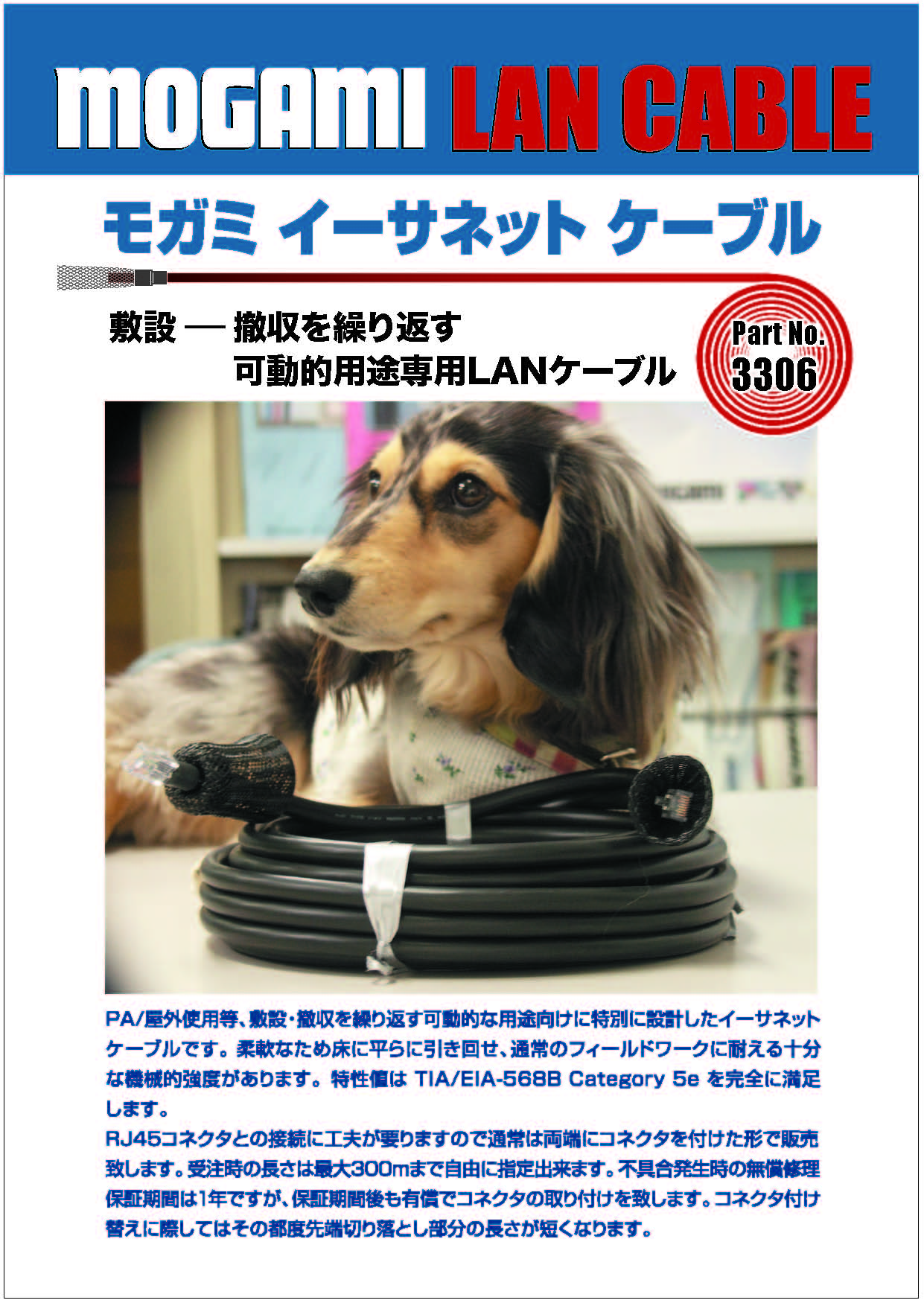 MIT (#4212 in Pro Audio category) is known for development and sales of interfaces and cables for audio, video, and computer applications for businesses, including broadcasting departments, recording studios, and public halls. In this case, MIT will exhibit its newest lineup of Mogami cables. MIT is well known for high sound quality and efficiency, in everything from analog audio to high-frequency bandwidth solutions for digital video.  

At the center of MIT's booth display this year will be LAN cables designed for mobile use, at concerts and for outdoor construction, as well as BNC connector cables that can be plugged and unplugged with a single touch.
 Mogami ethernet cables are also made to a high standard of strength in order to withstand the frequent laying and removal that goes along with fieldwork at events. They completely meet all the values specified in TIA/EIA-568B Category 5e, and can extend up to 300m (they are made to order).  
 Additionally, at the booth a demonstration will be given of DIGIspy, a mobile digital audio signal analyzer, using real equipment to showcase its practical use. DIGIspy displays digital audio transmission line protocol analysis (IEC958 protocol analyzer), an audio level display (level meter), and an audio signal monitor (vectorscope), all on one screen. It also includes monitor output for headphones. DIGIspy can process any standard sampling frequency signal up to 96kHz. It is compatible with input from S/P-DIF data streams from coaxial cables or optical fibers and AES/EBU signals.
 Thanks to its small size and light weight, as well as its backlit LCD screen, DIGIspy is suitable as an on-site measuring device.

 Main products on display:
 Electric cables, made by Mogami Cables
 Patch cables, microphone cables, multicables, internal cables, speaker cables, high-frequency coaxial video signal cables, digital interface cables, guitar cables, multipurpose multi-core cables, super fine flexible cables
 DIGIspy (digital audio signal measuring device)
 AMPHENOL (selected EP series high-current connectors (only 4P, 6P, 8P))

 Other products on display:
BTX screw-clamp connectors (HD15, DB9, etc.)

InterBEE 2012:
Inter BEE is a professional exhibition for sound and images. It features top-quality domestic and international broadcast equipment, video equipment, audio equipment, lighting equipment, IPTV, Mobile TV, cross-media products, and related applications and solutions, all in one place. Since it offers an opportunity to discover the latest trends in the creative arts and media industries, it is relevant to everyone involved in media.
Held November 14th (Wed) to 16th (Fri) at the Makuhari Messe (no entrance fee).