【Inter BEE 2012】 Soliton Systems - Joint Exhibit with TBS - Exhibit featuring the mobile video relay 'Smart-telecaster' product series
2012.11.7 UP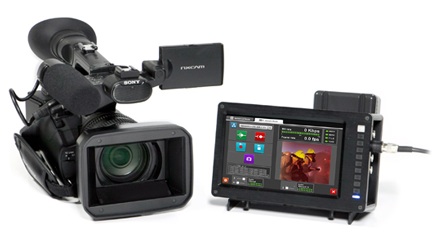 ■Mobile relay system with demonstrated success in the TV relay field
Soliton Systems is to hold a joint exhibit with TBS showcasing the 'Smart telecaster HD' from its mobile video relay 'Smart-telecaster' product series, the 'Smart telecaster for Android' which works with the Android OS, as well as yet-unannounced new products.
Smart-telecaster is a system that allows anyone to easily relay high-resolution video using a video camera and dedicated tablet PC. It can also be used to check on progress at disaster locations or emergency medical treatment, maintenance or construction sites. It is also capable of smooth and high quality live relay even in cell phone environments such as FOMA. The line environment can be changed to fit the situation in which it is being used, such as the INMARSAT BGAN (Inmarsat Broadband Global Network).
The RASCOW (Real-time Auto Speed Control based-on Waterway model) technology developed by Soliton allows for continuous and stable video transmission.
There are many examples of it being used in various programs in commercial broadcasting, CATV information programs and marathon relays, live relays from abroad and more.
The newest version uses VP8 video encoding and Vorbis sound encoding and is able to achieve even higher quality live broadcasts.
The SD version is able to monitor up to 12 locations simultaneously and is capable of two-way sound calls, allowing for remote instruction-giving and checking. Transmission to web browsers or cell phones is also possible if it's used together with Flash Media Live Encoder or Windows Media Encoder.

■Products with full HD support also introduced

Smart-telecasterHD can transmit HD-class high quality video in real time. It supports full HD resolution (1920x1080) video input. It is optimized for the mobile environment and is capable of stable video relay using public lines such as FOMA, Xi, WiMAX, etc. Two models are available: the Type I which has an HDMI video input, and the Type II which has an HD-SDI input. The Type III is able to use a V-mount battery, making it well-suited for use in broadcast locations. The Smart-telecasterHD maintains high quality video while realizing low delay transmission. When using 3G, the delay is an average of 1-2 seconds, with a minimum delay of 240 milliseconds. The low video delay allows for smooth audio interaction.
Smart-telecaster for Android supports Android smartphones, including models such as NTT Docomo's GALAXY S SC-02B and GALAXY Tab SC-01C. Video relay is possible using the smartphone's built-in camera and transmission module.

InterBEE 2012
Inter BEE is a professional sound, video, and communications exhibition where top-level foreign and domestic broadcast equipment, video equipment, audio equipment, lighting equipment, IPTV, Mobile TV, cross-media, and related applications and solutions are gathered under one roof. It is an exhibition that provides an opportunity for people involved in all aspects of media to learn the latest trends in creative and media businesses.
It will be held at the Makuhari Messe from November 14th (Wed) - 16th (Fri) (free admission).