【Inter BEE 2012】 Carina System - Demos of products that expand the possibilities of video expression and displays showing examples of use; demos of next-generation camera systems for video distribution
2012.11.1 UP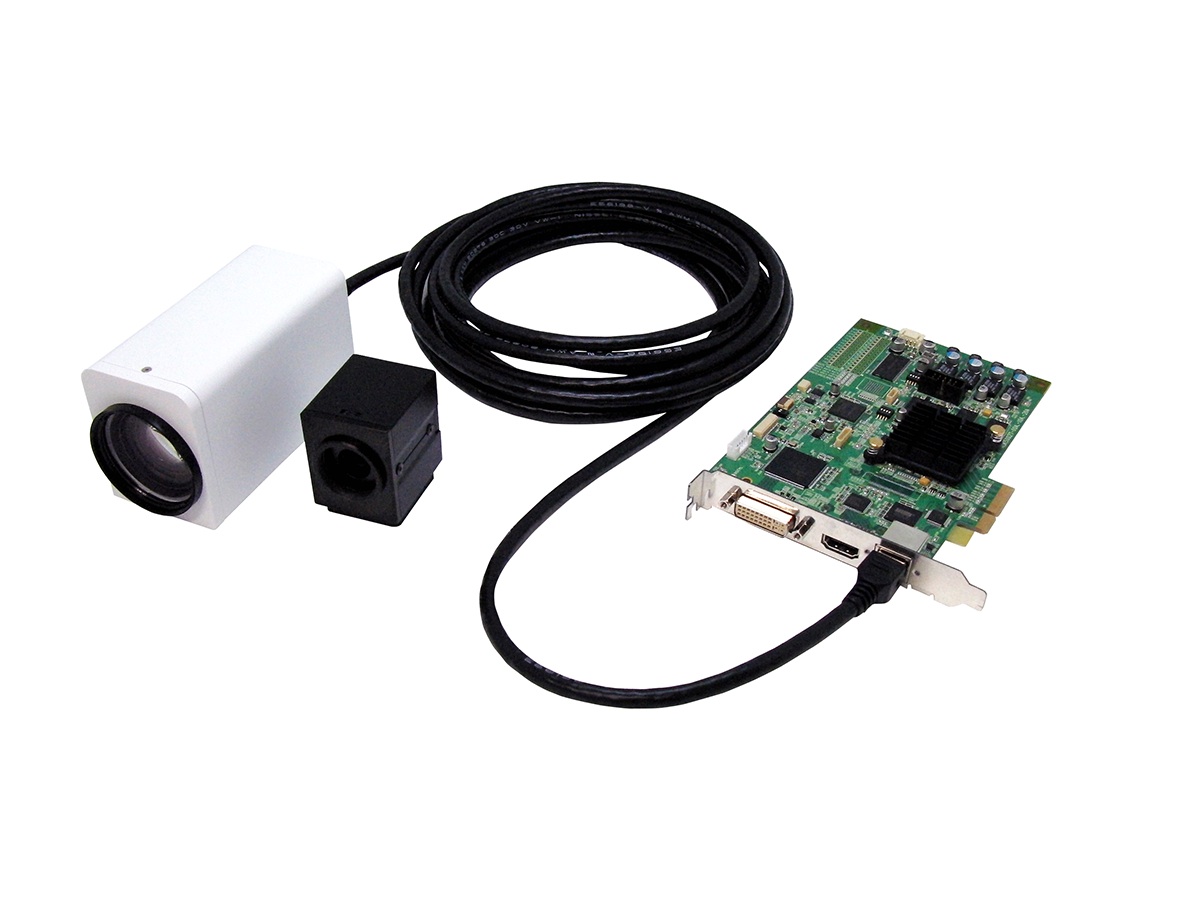 ○Body
The main attractions of Carina system's (video/broadcast related equipment division #6301) exhibit include the 'SXH-360 Series' Slot-In Camera, the new version of its live encoding system 'Cambria Live', its network encoder 'MEDIASYNERGY NEX' which is currently in development, and more. By exhibiting a demo using these products, Carina aims to illustrate how they enable one to achieve a unique video expression.

■Highly flexible video capture and real-time processing
The 'SXH-360 Series' Slot-In Camera, one of Carina's main attractions, is a next-generation camera system designed to allow PC-based camera control, image processing, video distribution, and more. It is composed of a camera head equipped with a QXGA CMOS sensor and a PC board video processing component. A highly flexible camera system can be easily built by incorporating it into a PC.
Its greatest strength is its ability to capture video using a variety of resolutions, color depths, and frame-rates. Not limited by standard TV video signals, capture is possible in a variety of formats including QXGA/60fps, XGA/120fps, VGA/180fps and 1080/60fps.
An SDK (drivers, API, sample software) which is necessary for software development is provided with the product free of charge. PC-based systems for video composition, compression, preservation, display, streaming and more can be developed in a short time by combining it with other development software or libraries. It is also equipped with a DVI input allowing for 1080/60fps video capture separately from a dedicated camera head.
In addition to a combination of the 'SXH-360' and the SDK showing the extraction of a section of QXGA video, the booth will also have a demo of video processing including slowed-down playback utilizing the product's high frame rate features.
'SXH-360 Series' technology was also exhibited at last year's Inter BEE 2011 and the product earned significant attention. Domestic sales are expected to begin in December 2012. This technology can be used in a variety of situations by combining it with a camera head with a flange-back adjustment mechanism or a camera head with a built-in 20x zoom lens.

■Exhibit with examples of use of TOKYO MX and demo of 'one device, two function broadcasting'
'Cambria Live' is an encoding system specialized for live internet distribution. The latest version of the product will be displayed at Inter BEE 2012.
'Cambria Live' includes an H.264 encoding engine and can carry out live distribution of video and sound input from HD/SD-SDI or HDMI to various streaming servers (such as Adobe Flash Media Server, Ustream Server or Wowza Media Server). Files can be saved in formats including MP4. The brightness, contrast, gamma correction, sound level and lip-synching delay of video can be processed in real-time during live transmission and text and logos can also be inserted in real-time. It also has a junction control feature which makes it possible to seamlessly switch between file video and live video. Upon reopening, playback begins at the point from which it was previously switched.
It also continuously monitors the network line status and is able to automatically adjust the transmission bit-rate accordingly. Furthermore, it can output video to a file simultaneously with live transmission, transmit to multiple channels, or automatically begin re-transmission after a live broadcast.
In addition to the presentation of this product's features and technology, there will also be suggestions for practical methods of application that are based on real world experience. Included among these is an exhibit at the booth by Tokyo Metropolitan Television (TOKYO MX) showing examples of use.
At this company, the junction control feature is used during net transmission of television programs to realize the flexible transmission of commercials. To be more specific, the junction signal from the master equipment is used to automatically replace the commercials in the broadcast program used in standard broadcast television with commercials meant for internet transmission while leaving the rest of the television program as is. This system configuration will be reproduced at the booth and an explanation of how it is used in practice will be provided.
There will also be an exhibit demonstrating a combination with the 'SXH-360' allowing for 'one device, two function broadcasting'. This is comprised of the use of 'Cambria Live' to freely switch between QXGA resolution video shot with a single 'SXH-360' and video extracted from any specified location within that video and then transmit it. 'SXH-360' extensions and cameras with SDI connections can also be added to allow for full-scale multi-transmission.

■Technology display of 'MEDIASYNERGY NEX' which allows for H.264 dual encoding
'MEDIASYNERGY NEX' is a network encoder that is currently under development and it will be part of the technology display. It includes HD/SD-SDI, DVI digital, analog RGB, composite and S-video inputs and more. It also supports DVI digital VESA standard video signal (WSXGA+, SXGA, XGA, SVGA, etc.) input and allows for a direct PC display output connection and screen transmission.
Its greatest feature is its support for H.264 dual encoding. This allows for encoding into both high bitrates and low bitrates from a single source as well as the simultaneous encoding of 2 sources and transmission to separate locations.
The booth will include a demo showing the encoding of video from 2 cameras using a single 'MEDIASYNERGY NEX' unit and real-time transmission to monitors in separate locations. The dual encoding feature which supports VESA standard video signals can be put to practical use to synchronize materials used in meetings or remote instruction, etc.

【Inter BEE 2012】
Inter BEE is a professional sound, video and communications exhibition where top-level foreign and domestic broadcast equipment, video equipment, audio equipment, lighting equipment, IPTV, Mobile TV, cross-media, and related applications and solutions are gathered under one roof. It is an exhibition that provides an opportunity for people involved in all aspects of media to learn the latest trends in creative and media businesses.
It will be held at the Makuhari Messe from November 14th (Wed) - 16th (Fri) (free admission).