InterBEE 2012: Mitsubishi Kagaku Media exhibits BDXL discs, 100GB BD-R media for long-term archiving. Stored at 25℃ and 50% relative humidity, they have a data recoverability period of over 50 years
2012.10.25 UP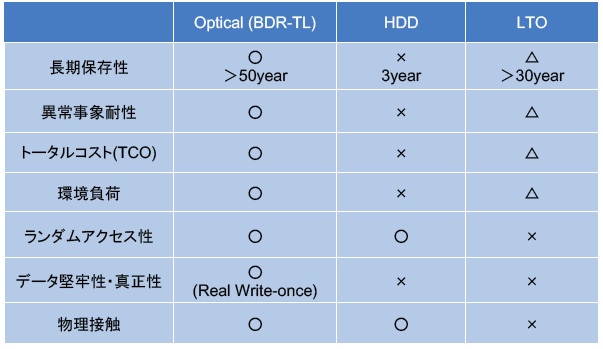 Mitsubishi Kagaku Media (Video and Broadcast Equipment Section, booth #5205) will exhibit its recently announced BDXL, a professional 100GB BD-R archive disc. This direct-read after write Blu-ray disc is intended for long-term (10+ year) professional storage and is to be used for storing public documents, government files, and other critical data such as that stored by libraries and corporations. The discs meet OPARG (Optical Archive Group) standards.
 The discs are specially designed for use in conjunction with Pioneer's professional BD drives, the BDR-PR1M and BDR-PR1MA.
 A core factor behind its long-term storage capability is the drives' initial-stage signal output.
 By writing high-quality discs using a specialized drive fine-tuned to match the media in question, the recorded output guarantees that the data will be preserved in its initial state -- i.e., in archival quality. Moreover, Mitsubishi's plants exercise strict controls when shipping the product, ensuring consistent disc quality; the plants also exercise far more stringent RSER and burst error controls than those used in standard products. In this way, data playback errors are reduced to a minimum threshold.
 Accelerated testing using the Arrhenius equation demonstrated that data could be played back even after fifty or more years in storage conditions of 25℃ and 50% relative humidity. In addition, discs were still readable after immersing in water or 5% saltwater, as well as exposure to temperature extremes such as 80℃/80%RH and -40℃.
 Mitsubishi Kagaku Media has over twenty years' experience in the area of optical recording media. The company emphasizes these discs' suitability for archival purposes based on their 'Low environmental impact and low maintenance costs, as they require no electricity for storage,' and their data integrity, as 'Direct-read after write media is a true write-once technology, meaning data cannot be overwritten or altered after the fact.' These professional archival discs are designed to leverage the full potential of long-term storage.

InterBEE 2012
InterBEE is a professional expo for audio, video, and communications professionals, featuring the latest in domestic and overseas broadcast devices, video devices, audio devices, lighting, IPTV, Mobile TV, crossmedia, and related applications and solutions under one roof. The event provides an opportunity to see the latest trends in the creative and media businesses and is ideal for all people involved in the media industry.
InterBEE will be held from November 14 (Wednesday) through 16 (Friday) 2012 at Makuhari Messe. Admission is free.