【Inter BEE 2012】 ATOMOS to exhibit its various new products including the 'Ninja2' ProRes compatible portable recorder, the 'Connect' portable recorder, and the 'Ronin' recorder, which comes with a small monitor
2012.11.6 UP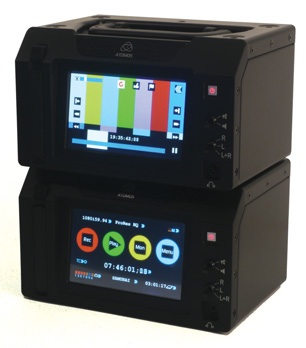 ATOMOS (video and broadcast equipment, booth #8103) will perform demos in combination with the company's 'Samurai' and 'Ninja2' HD(SD)-SDI input output compatible and ProRes compatible portable recorders, and major camera manufacturers' camcorders and DSLR.
 ATOMOS will also exhibit its 'Connect H2S' (HDMI to SDI) and 'Connect S2H' (SDI to HDMI) HDMI-SDI portable converters, as well as its 'Ronin' and 'Ronin Duo' ProRes(AVID DNxHD) portable decks.
 The 'Ninja2' imports uncompressed quality video from the camera's HDMI terminal, converts it to the Apple ProRes codec, and then records it to a 2.5 inch hard disk or SSD. With the ProRes three different recording qualities are available: HQ (220Mbps), 422 (150Mbps), and LT (100Mbps).
 The 'Connect' is a portable converter which supports internal and external batteries. It also offers test pattern and audio signal generation functions.
 The 'Ronin' is a recorder which comes with a half-rack size playback monitor. It supports both DC and AC batteries, and can also be operated by touch screen. It can also convert Apply ProRes and Avid DNxHD. Audio input and output are equipped with XLR type connectors.

Inter BEE 2012
Inter BEE is a professional sound, video and communications exhibition where top-level foreign and domestic broadcast equipment, video equipment, audio equipment, lighting equipment, IPTV, Mobile TV, cross-media, and related applications and solutions are gathered under one roof. It is an exhibition that provides an opportunity for people involved in all aspects of media to find out more about the latest trends in the creative and media businesses.
It will be held at the Makuhari Messe from November 14th (Wed) - 16th (Fri) (free admission).