Inter BEE 2015: Velbon commences sale of Miller's (Australia) video camera tripods -- also exhibits a wide range of products that include its own line of UT tripods
2015.11.13 UP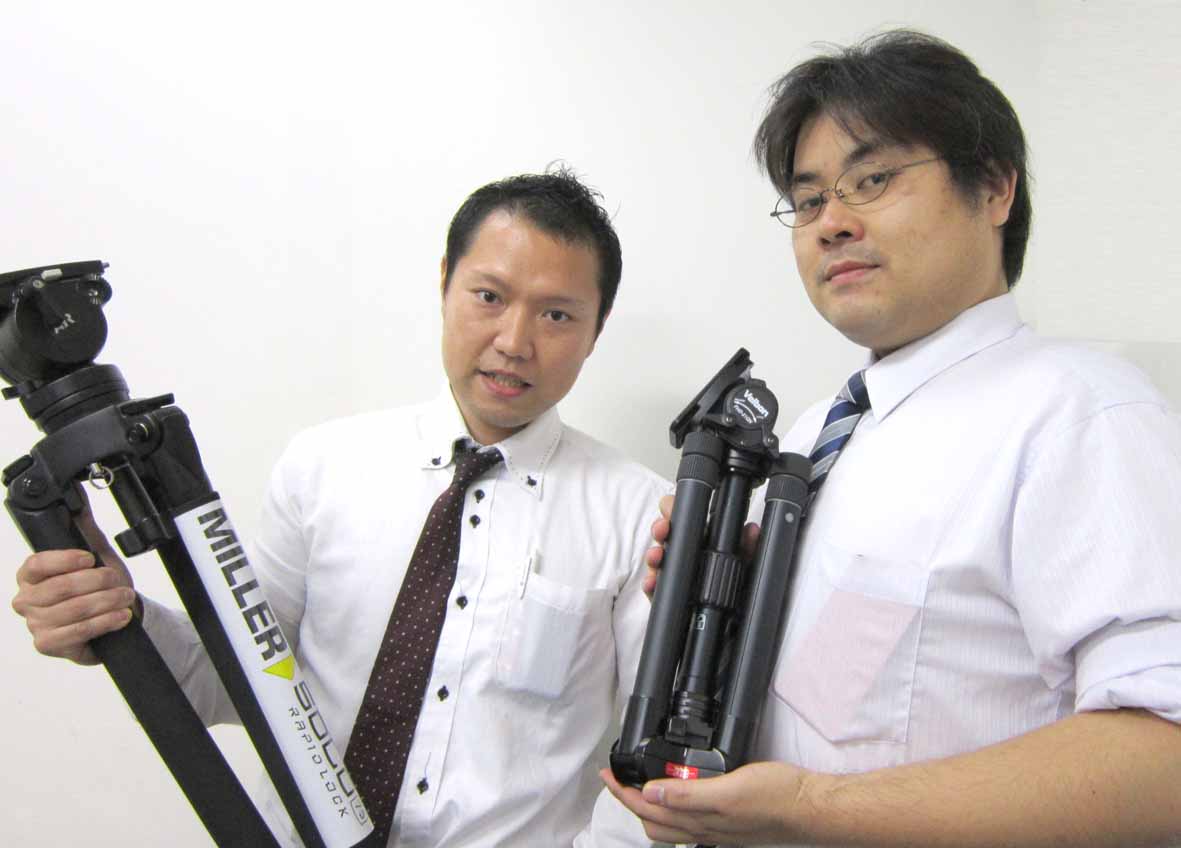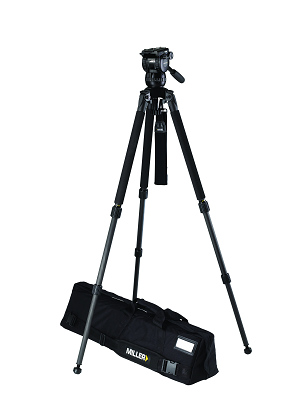 Miller 1870 Compass 12 Solo 2st CF System tripod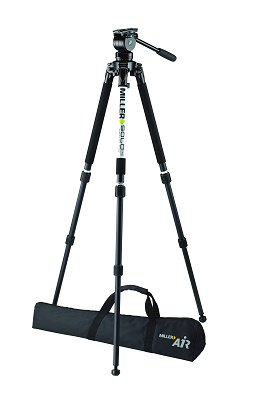 Miller 3001 Air Solo 2st System tripod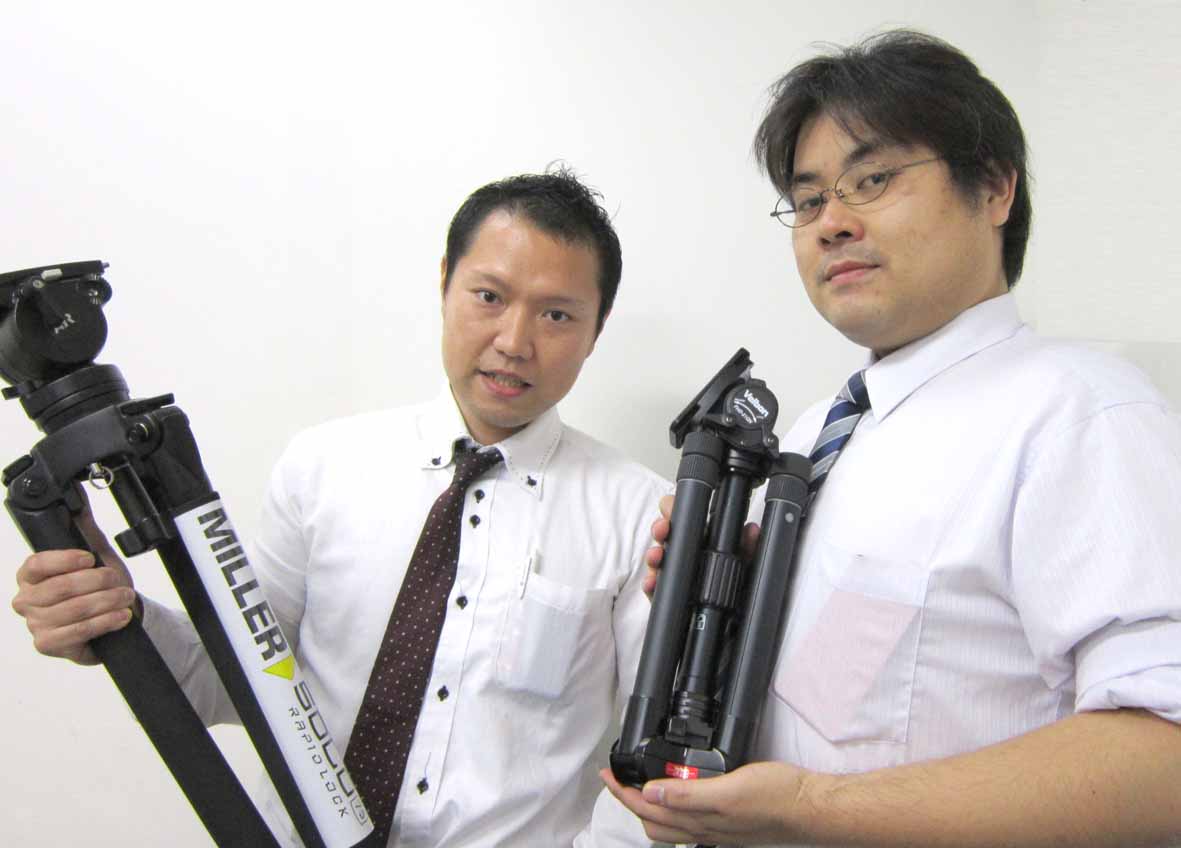 Naoto Nakashima (left) holds a Miller tripod and Yasumasa Matahira (right) holds the UT series tripod
For Inter BEE 2015, open from 11/18 through 11/20 at the Makuhari Messe in Chiba, Velbon (hall 5, booth #5205) exhibited a range of tripods and accessories for professional use, among them Miller Camera Support Equipment's tripods. This is the first time the company exhibits at Inter BEE. Drawing on their expertise in developing tripods and accessories for consumer-level still cameras, the company is now entering the market for professional video cameras and accessories. In addition to trying the products out first-hand, visitors to the booth can ask questions directly to representatives of Miller, who have flown in for the event.

■Velbon brings Miller's tripods to Japan for the first time -- users test their functionality
The main draw of the booth are Miller's 1870 Compass 12 Solo 2st CF System and 3001 Air Solo 2st System. Eight other units are also on view.

The Compass 12 is 178.4cm tall. When folded up, it becomes 86.4cm. The unit weighs 5.5kg and supports between 2 and 10 kg of load. The price is slated to be ¥281,000 (pre-tax). The Air is 176.2cm tall and 83.7cm when folded. It weighs 4.8g and supports between 2 and 5 kg of load. The price is slated to be ¥129,000 (pre-tax).

These units are easy to operate, and their main feature is that a single camera operator can set them up. For that reason, they are geared at comparatively lighter professional cameras. The torque and counterbalance on the Compass 12 platform can be adjusted to one's desired level. Naoto Nakashima of Velbon says, "We encourage users to test the functionality of these tripods at the booth."

Velbon took over the resale license for Miller products this November from Kenko Profesional Imaging and is the sole domestic vendor of Miller products. Representatives from Miller will be stationed at the booth throughout the expo. They want to get live feedback from professional camera operators about what it is they need. Nakashima says, "For instance, most camera platforms in Australia that sell well are of the 100mm diameter variety, but the standard in Japan is 75mm. We want to get live feedback and opinions from users about what the Japanese market needs."

■Velbon's new tripods, a mix of strength and light weight, on display as reference models
In addition to Miller's tripods, Velbon is exhibiting several of its own in-house models. One is the UT-63Q+FHD-51QN (reference model), a model in the lightweight and compact UT series that includes a video platform.

The unique structure offers a base that can be flipped 180 degrees and folded up, with the dedicated mounting platform stored between the legs, compressing the unit by 5.4 times for storage and giving it excellent portability. The unit is made out of magnesium and machined aluminum, which have a low specific weight while retaining resilience. In all, this model is designed to be sturdy but light.

The UT Series was originally designed for still cameras. Drawing on their unique combination of a special structure and strength and light weight, the company's next target is the professional video camera market. Also on offer are various other tripods and camera platforms for a range of uses.

Accessories for professional video cameras represent a new market for the company. Yasumasa Matahira of Velbon says, "We are looking forward to engaging directly with industry professionals and getting lots of feedback from them. Both we and Miller have our own lines of products we have developed; collaborating in this way will let us produce new products. We want to use Inter BEE as a chance to kickstart that process."