Suntech receives high acclaim for TV studio exhibit at "Inter BEE 2014". Display includes high-capacity LED light unit "LED LG-1200S" with 72W output using 1200 high-intensity white LEDs.
2015.1.16 UP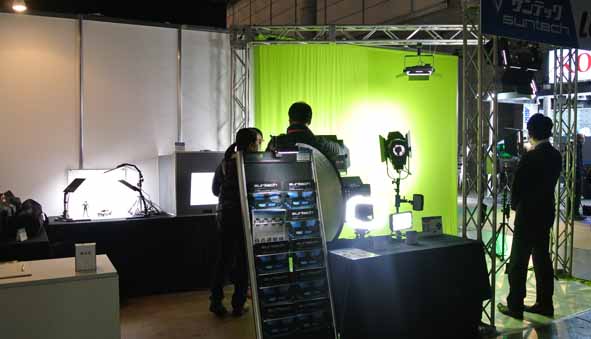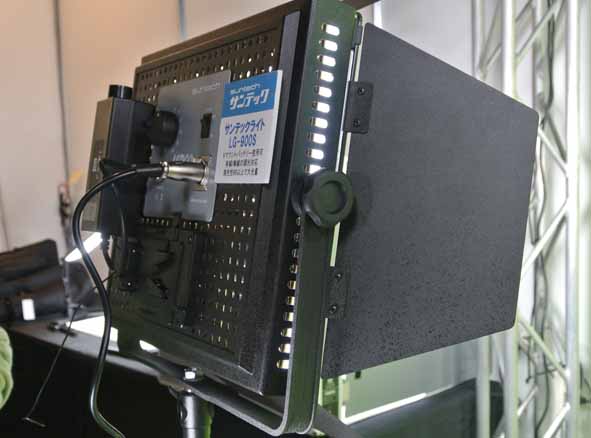 Suntech high capacity LED lights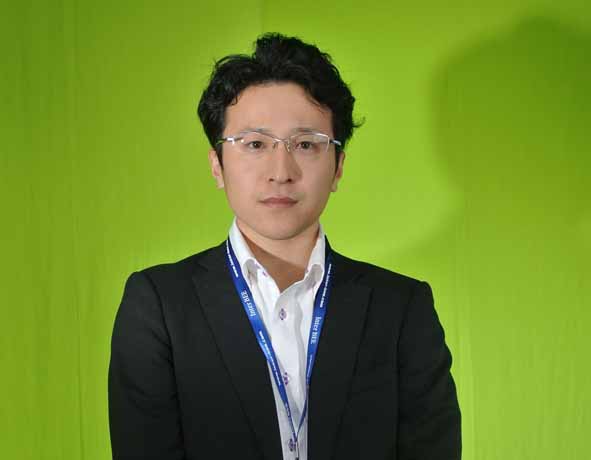 Mr. Noaki (at the Suntech booth)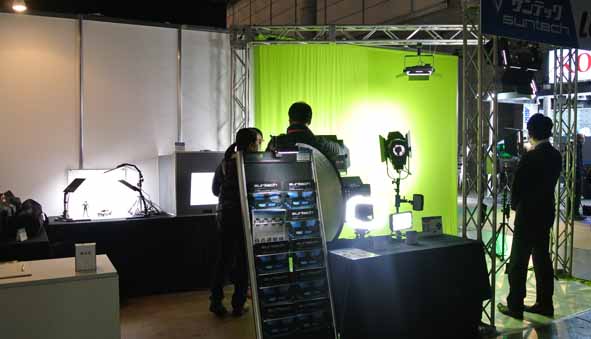 Suntech booth which simulates a television studio
■Suntech expands its interest in the broadcasting industry with the introduction of LED lighting at Inter BEE.
Since its inception in 1975, Suntech has been involved solely in the sales of photographic equipment for professional use. The photography-related equipment that it imports and sells has become widely used in photo studios, by professional photographers, and in other applications.
Mr. Tetsuya Noaki of Suntek's sales division reported: "Our company has focused chiefly on business in the photography industry in past, but with the importation and sales of LED lighting several years ago, our dealings in the broadcast industry have increased in number. Therefore, in order to make the products which we handle more appealing to the broadcast industry, we set up an exhibit at Inter BEE for the first time this year. Since there are not that many other companies that deal with LED lights for broadcast studio use, our company's products drew the attention of many visitors, since they were displayed for the first time. The booth remained popular day after day".

■LED lighting equipment displayed in TV studio environment
Most of the products exhibited consisted of LED lighting equipment. The "LED LG-1200S" is a large capacity 72W output LED light that incorporates 1200 high intensity white LEDs, and is ideal as a main lighting source. It provides better illuminance than former products, with a brightness roughly equivalent to that of a 450W halogen lamp. The average color rendering index (CRI/Ra), which expresses the reproducibility of eight types of normally occurring colors, has been improved to 90, compared to 79 for former products. Color rendering properties have also been greatly improved. Noaki explained: "LED lighting equipment is increasingly being adopted as the current standard in the broadcast industry. In addition to studio lighting applications, the equipment can also be carried to on-site locations, so the exhibit simulates an on-site shooting. The easy-to-understand exhibit showing a concrete sample situation was received well".
The SP roll reflector series is a reflector plate assembly that is indispensable for use on-location as well for indoor studio shooting. The fabric can be easily extended by simply inserting a rod that is fixed to the fabric into two spring bars. It can also be held by hand or easily attached to a stand using an SP grip head, sold separately. Noaki continued: "We are importing the products from overseas and selling them at a reasonable price. In this way we are meeting the needs of the broadcast industry, which requires inexpensive, high performance products.