【Inter BEE 2013】Meiko Tech showcase industry-leading 'Multi Video Wall System' capable of displaying an unlimited number of windows and demonstrate simultaneous display of 484 screens
2013.11.20 UP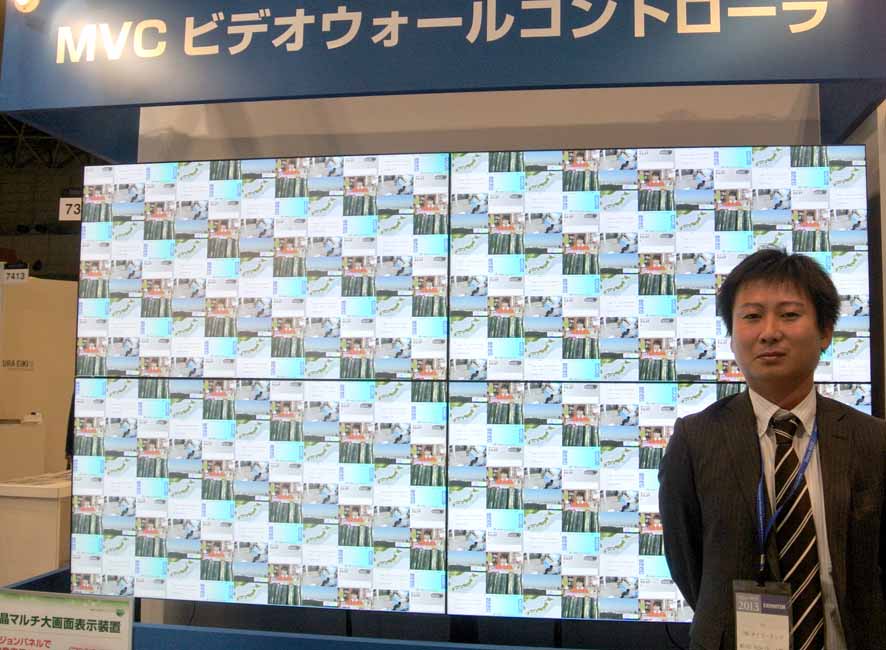 At Inter BEE 2013, Meiko Tech displayed its 'Multi Video Wall System' (top photo) based on its 'MXD 16-16/HDCP compatible DVI matrix switcher' which is capable of displaying an unlimited number of windows. This system makes constructing large multi-screen solutions less expensive when compared to existing systems, and can help when building systems for traffic control and monitoring control etc.

■All functions consolidated into one box
 The 'MVX Series' all-in-one video controller used in the 'Multi Video Wall System' combines functions including multi-window processor, matrix switcher, scan converter, and controllers into a single device. Previously, it was necessary to separately connect each of these components in order to construct a system, but this device consolidates the entire system into a single box. As a result, "users can simplify complex systems, while also achieving short delivery times and large cost reductions", says Mr Seiji Goto, Assistant Manager of Video Devices Business at Meiko Tech's Yokohama branch office.

■Simultaneous display of 484 screens demonstrated
 In a demonstration of its video wall, Meiko Tech simultaneously displayed 484 screens on an approximately 92-inch screen. "In applications such as monitoring and control systems, there is a growing need to simultaneously monitor many places in real time. Our device excels with the maximum display capability. Other companies' products have limits of the number of screens they can display, but ours allows users to simultaneously display an unlimited number of screens" Goto explains. Meiko Tech continues to expand its role in the field of monitoring and control system solutions, which are growing in importance in the aftermath of the Great East Japan Earthquake.