[Inter BEE 2014 preview] Rohde & Schwarz is exhibiting 4K end-to-end solutions from recording to broadcast transmission with a 4K/120P disk recorder with real-time playback of non compressed 4K/120P
2014.10.29 UP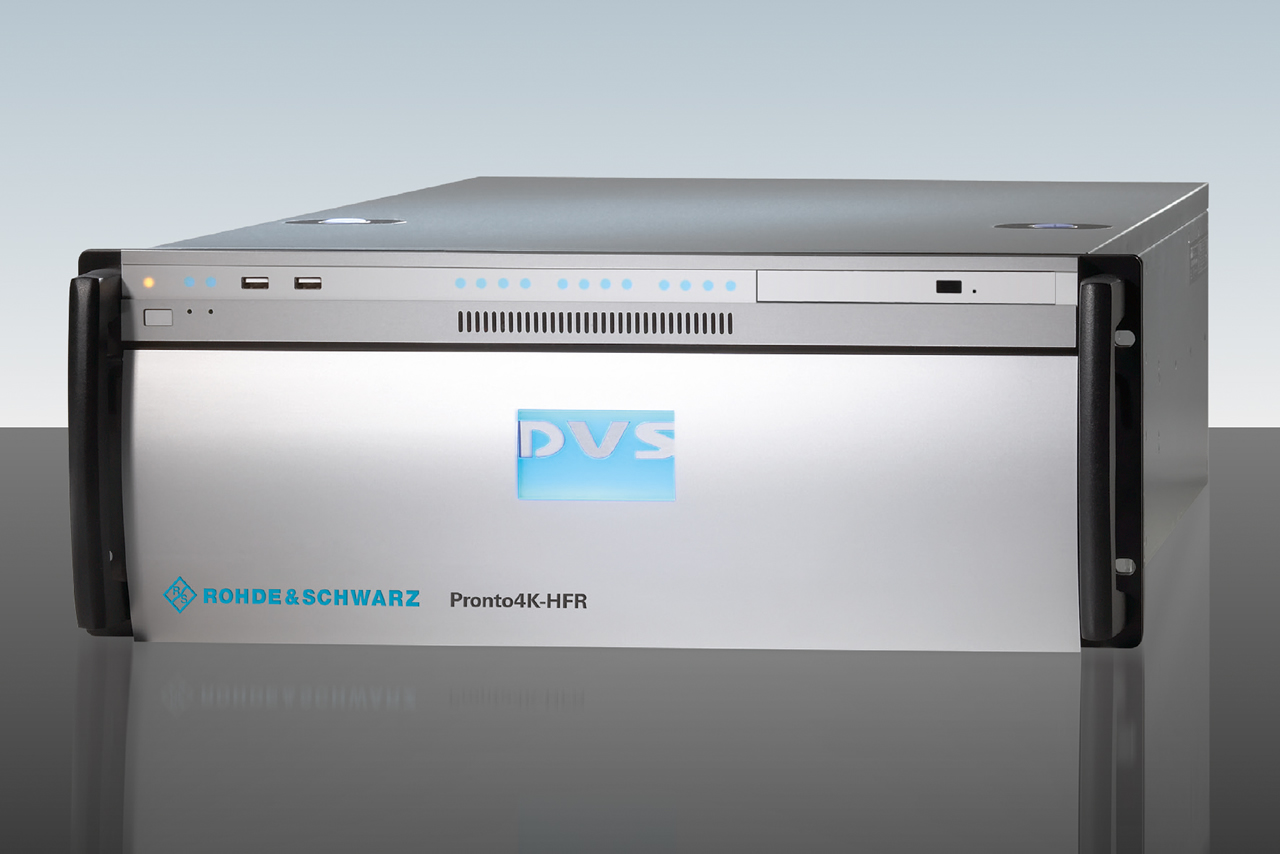 Rohde & Schwarz Japan (Head Office: Shinjuku-ku, Tokyo), will be at "Inter BEE 2014" for three days from November 19 to 21 at Makuhari Messe (Makuhari City, Chiba Prefecture, Japan). In their booth (#4510), Rohe & Schwarz is exhibiting their broadcast infrastructure equipment supporting key features such as 4K recording, transcoding, transmission, compression, multiplexing and TV broadcast transmissions. They are also showing the latest test & measuring equipment targeted for 4K consumer electronics product development and manufacturing. In addition to all the new product exhibits, Rohde & Schwarz will demonstrate a 4K live broadcast using their end-to-end 4K broadcast infrastructure equipment that was successfully installed in South Korea in July of this year
At the "Inter BEE CONTENT FORUM" held at the Makuhari International Convention Center, Simon Roehrs, the company's broadcasting equipment regional manager, will give a talk titled "About IMF (Interoperable Master Format)" on November 21 (Friday) from 10:30AM.

■ Demonstration of the "Pronto4K-HFR", a 4K/120P disk recorder
Rohde & Schwarz is exhibiting for the first time in Japan its "Pronto4K-HFR" product that was announced at the NAB show in July of this year. The Pronto4K-HFR is a high-spec disk recorder capable of handling up to 4K/120P of video data. Equipped with a video board, Rohde & Schwarz is demonstrating in their booth a playback of 4K/60P uncompressed video in real-time. Genya Yatsu of the company's marketing department states that 4K/120P playback capability will be achieved by the end of this year.

■ Demonstration of the 4K live broadcast infrastructure
Rohde & Schwarz is demonstrating live 4K broadcasting using their 4K broadcast infrastructure equipment. This system solution was selected by Seoul Broadcasting System (SBS), a Korean commercial broadcaster, in July of this year. In the booth for the demo, Rohde & Schwarz will demonstrate the DVS brand post production mastering station called the "CLIPSTER," which stores 4K content; a headend device, the "AVHE100," which encodes the contents into HEVC compression format and multiplexes into a TS (transport stream) in real time; and finally, in the R&S BTC broadcast test center, a reference signal generator, produces DVB-T2 broadcast standard signals for a 4K- ready TV to display the content.
"CLIPSTER" is Rohde & Schwarz master work station that can record signal from a 4K video camera, transcode the video, and output mastered content. CLIPSTER is a hardware and software turn-key system that integrates a proprietary video board, is equipped with a DCI board, and is capable of encoding and decoding XAVC video format.
The "AVHE100" is an AV head end device equipped with a 4K HEVC real-time encoder that possesses SDI/TS/uncompressed video/IP insertion capabilities, PSI/SI table generation functions, and CAS encryption engines, and can output the multiplexed transport streams.
Mr. Yatsu described their demo scenario as "a master system CLIPSTER and a AV head-end device AVHE100 selected by SKY Perfect TV of Japan as well as the Korean commercial broadcaster, SBS. He states, "In our demo, AVHE100 is used to encode video in real time at about 30Mbps, and the output is displayed using a Samsung 4K television equipped with a HEVC decoder and supports the DVB-T2 broadcast format."

■ Introduction of "R&S VENICE," a media production hub with multiple I/O channels
A media production hub, called "VENICE" is not only a conventional video server with HD-SDI I/Os but also a 4K studio video playout server with multiple I/O channels offering enhanced features such as video file ingestion, video format transcoding and file system management. One VENICE can support up to 4 channels of simultaneous recording using 3Gbit/s SDI I/Os. With the use of the Avid Workflow Option, VENICE can access Avid ISIS and Interplay storage system environments and can also perform catch up playback with the Avid system. Also, it can control multiple VENICE systems on the same network.
The supported video compression formats are XAVC, P2 and XDCAM in MXF OP-Atom and OP-1a containers and Apple ProRes Quick Time. TIFF and DPX file formats are supported. Miyagawa Haruka of a Technical Center explains, "In our booth we will show the key features of VENICE using multiple channels."

■ Exhibition of "R&S BTC", a broadcast reference signal generator
Rohde & Schwarz is exhibiting the "R&S BTC - Broadcast Test Center," broadcast signal simulation equipment. This product is designed to support the development of 4K/8K transmission facilities and broadcast receiver products by the users. "R&S BTC" supports both DVB-Sx and DVB-C2 broadcast standards, can test MISO and MIMO transmission standards with two signal sources, and is also equipped with an IP input interface so that users can experiment and be ready for future 4K/8K broadcasts. "In addition to DVB-Sx and DVB-C2 standards, Rohde and Schwarz has a plan to support ISDB-T broadcast standers in the near future," said Mr. Yazu.
In addition, Rohde & Schwarz is exhibiting the "SpycerBox Cell," their 8K storage solution, and demonstrating image quality comparisons of the original 4K videos and HEVC-compressed videos using "GMIT BMM-810", a broadcast multi-screen monitor system.
[Rohde & Schwarz Japan]
Address of Headquarters: Nishi-Shinjuku-ku Bldg., 27F, 7-20-1 Nishi-Shinjuku, Shinjuku-ku, Tokyo 160-0023 Japan
URL: http: //www.rohde-schwarz.co.jp
Inter BEE Booth: #4510, Hall 4, Video and Broadcast Equipment Zone

# Photo and caption
Photo 1: Disk Recorder "Pronto4K-HFR"
Photo 2: Media Production Hub "VENICE"
Photo 3: Broadcast Reference Signal Generator "R & S BTC Broadcast Test Center"
Photo 4: AV head-end Device with a 4K/HEVC encoder "R & S AVHE100"