Inter BEE 2014: Web Technology displays and demonstrates PSD file conversion software aimed at Hybridcast and an ARIB-compatible data image optimization tool for broadcasting
2014.11.15 UP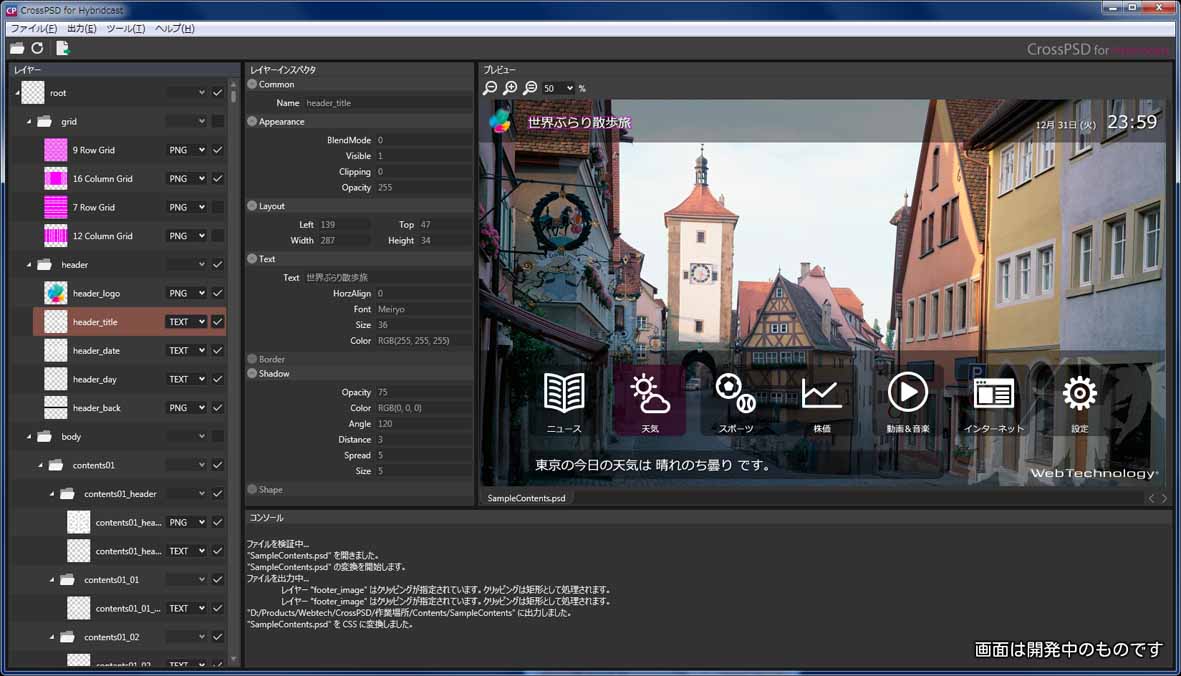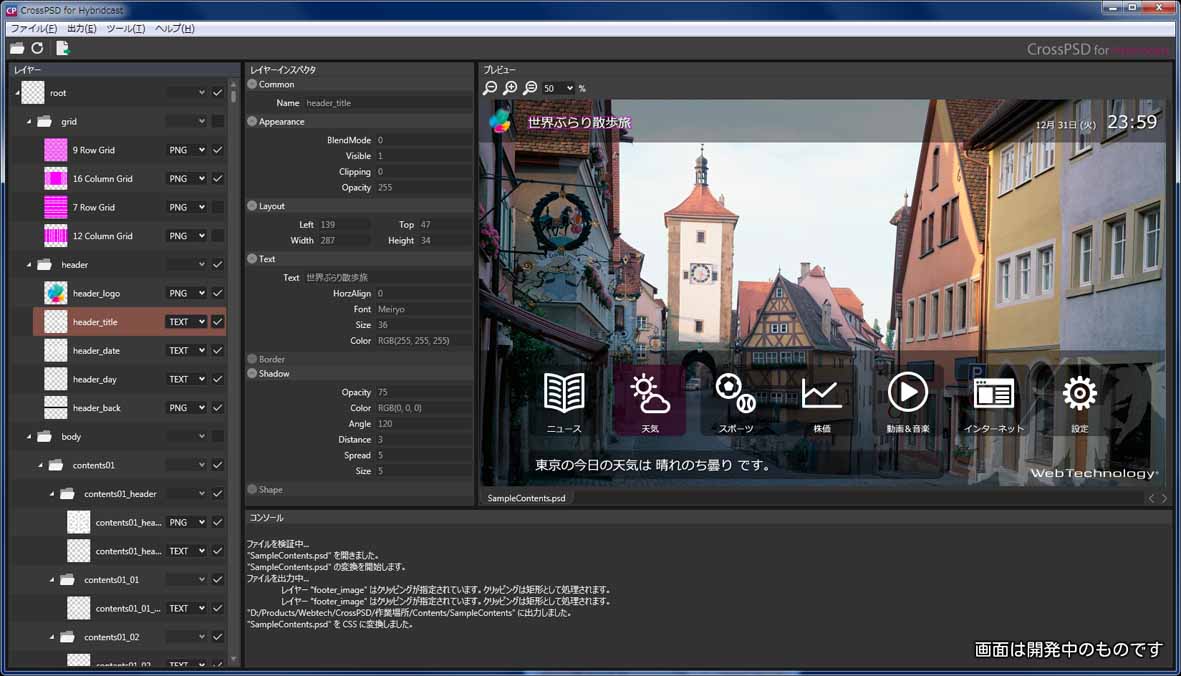 CrossPSD for Hybridcast takes a screen design that a designer created in Photoshop, splices up the images etc., layer by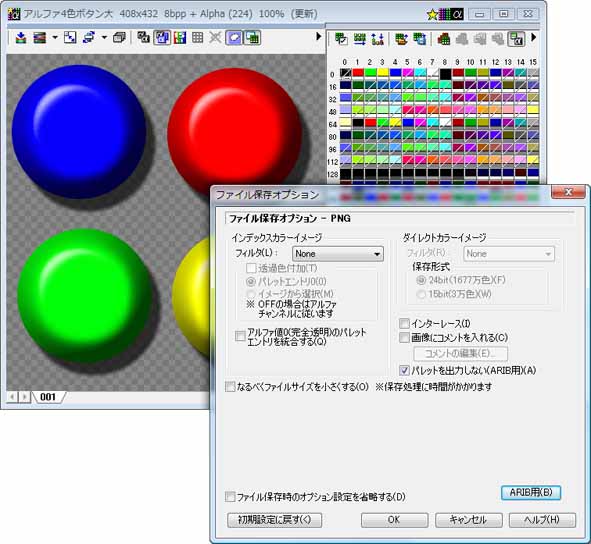 OPTPiX imesta 7 for Digital Broadcast can create/output ARIB supported images.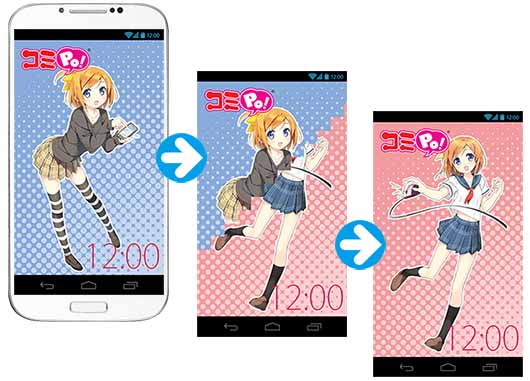 OPTPiX Live Wallpaper Maker can create moving smartphone wallpapers through a simple process.
Web Technology is holding their first exhibition at Inter BEE 2014 from Wednesday, November 19th - Friday, November 21th, at Makuhari Messe in Chiba. At their booth (booth number: 6206) they will display and demonstrate their creator support tools, with their PSD file conversion software "CrossPSD for Hybridcast" taking center. Toshinori Ueno, the sales/communication leader for the sales company of Web Technology, Web Technology dot com, says "We have been able to obtain overwhelming support from the mobile app, gaming and web industries thanks to our flagship image optimizing tool, OPTPiX imesta. At Inter BEE 2014, we are hoping to call attention to our support products for creators who work with Hybridcast content."

■PSD files will be automatically converted into Hybridcast content
The center piece of their exhibition this time was CrossPSD for Hybridcast, a tool designed to reduce the time it takes to produce Hybridcast content. It takes a screen design that a designer created in Photoshop, splices up the images etc. layer by layer, and then automatically generates an HTML 5 file with set effects and coordinates.
The Web Technology R&D manager, Masaki Nishida, laid the setting for how the development of this product came about. He explained that, "Implementing various kinds of content and designs takes a great deal of time and effort. We have developed CrossPSD in order to automate this process and make it more efficient. We have received requests for these types of features from some major broadcasting stations. Focusing first on Hybridcast-oriented technologies, we are now able to show this product at InterBEE 2014."
CrossPSD for Hybridcast is still under development, so they are preparing a trial version. Along with showing a demo at their booth, they will be introducing the product and doing a stage show in the Presentation Room of Hall 2. It will be held from 1:00 P.M. - 1:30 P.M. on both Thursday the 20th and Friday the 21st.

■ARIB compatible, low volume, high quality data broadcasting images optimized
At the Web Technology booth, they will also display their software that uses OPTPix image optimizing technology, OPTPiX imesta 7 for Digital Broadcast. OPTPix image optimizing technology is a technology that allows users to condense image data while still keeping it clear and is mainly used in creating game and mobile content. OPTPiX imesta 7 for Digital Broadcast is a product designed for digital data broadcasting.
In digital data broadcasting, users must use images that conform with data formats established by the ARIB (Association of Radio Industries and Telecommunications). By using this product, users can produce ARIB compatible data and simultaneously optimize the image quality and reduce data size by reducing colors. Furthermore, it includes a feature that can check whether or not a JPEG image meets ARIB standards. As Mr. Ueno said, "This is already a software application with a proven track record, but we hope to make it even more well-known by displaying it at Inter BEE."

■Introducing a simple ASP service to create "live wallpapers"
Additionally, they displayed an ASP service aimed at creating moving wallpapers for smartphones (live wallpapers), OPTPiX Live Wallpaper Maker. You can create live wallpapers just by uploading images or materials, going to a setting screen on your browser and pressing the "create" button.
Targeted applications include the distribution of broadcasting publicity materials as live wallpapers and the sales of character live wallpapers. They are promoting it as a new way for for broadcasters and the like to expand their contents to smartphones, etc.

【Web Technology】
5-14-8, Nishi-Ikebukuro, Toshima-ku, Tokyo, 171-0021, Japan
URL:http://www.webtech.co.jp/

ICT/Cross-media category/Hall 6 /6206

☆Related Links
Product Info:CrossPSD for Hybridcast
 http://www.webtech.co.jp/crosspsd/hybridcast/
Company: Web Technology Corp.

 http://www.webtech.co.jp/index.html
InterBEE Exhibit Space Info 
 http://www.inter-bee.com/ja/about/exhibitor_info/detail.php?