[Inter BEE 2014]Aurora Lite Bank Japan displays LED studio lights. Also displays back-end wiring in installation examples.
2015.1.16 UP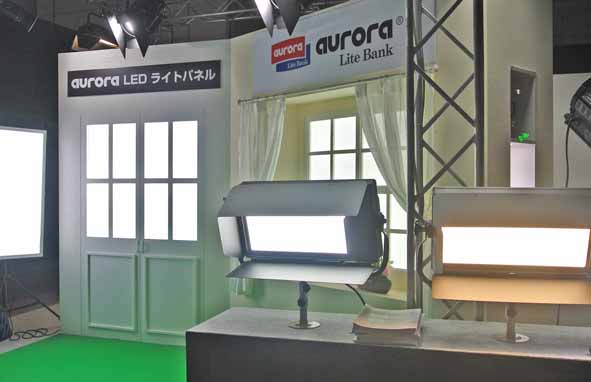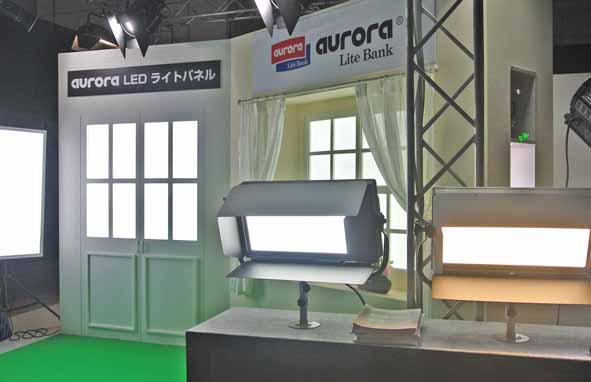 Exhibits included the LED Base Light and LED Spotlight with high color rendering properties.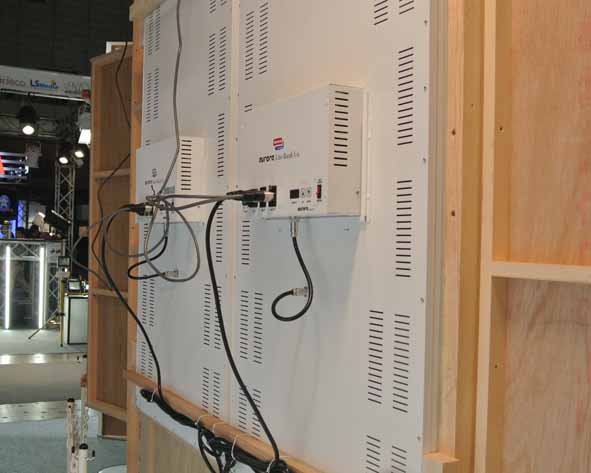 The back of a sample wall installation shows the light's wiring, etc.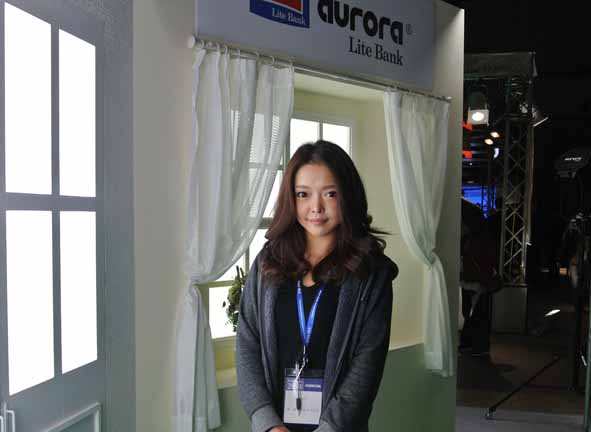 Ms. Hayashi at the Aurora Lite Bank booth.
Aurora Lite Bank Japan is exhibiting broadcast studio lights. The booth focuses on LED lighting having high color rendering properties and back-end views of studio designs incorporating LED lighting. They are mainly showing LED Base Light 1000F with high color rendering properties, the BLP series, the ELP Series, and LED Spotlight 2000S/1000S/L100 with high color rendering properties.
Emi Hayashi from Aurora Lite Bank Japan's sales department explained the objectives of their booth:
"Among our LED products, we have shipped the 1000F Base Light many times to broadcast studios. With the CRI94 and higher models, the skin tone reproduction is excellent and the amount of light is on par with existing 1kw halogen lights. The light is also evenly diffused to provide soft lighting. They are used in many news studios, etc."
"The LED Panel Light BLP series is highly rated as a base light providing an ample amount of light and uniform diffusion. The BLP612 is the largest unit in this series. It is used in a way similar to window frames, in many studios that cannot incorporate enough natural light."
"Since we often receive questions about how the light is installed in a wall, our booth also shows the back of the light in a sample wall installation. You can see how the actual wiring and power supply are configured on the back of the unit. Since it helps you understand how to install the light and the wiring, this display is being very well received," explains Ms. Hayashi.

■ LED diffused floodlight jointly developed with KBS, South Korea's national broadcaster.
Aurora Lite Bank jointly developed an LED diffused floodlight with the video studio of South Korea's national broadcaster KBS. It thereby entered the South Korean market. According to Ms. Hayashi, "Our LED lights with high color rendering properties are used in broadcast studios and movie studios around the world. This includes major broadcasting stations in Japan where our reputation is growing within the industry. We opened an office in Japan in 2010, and started exhibiting at Inter BEE from 2012. It seems that this year, we are seeing the most visitors. We are certain that more LEDs will be used in studio lighting henceforth. This show has been a good opportunity for users to experience our products." Ms. Hayashi was convinced that the show has been very fruitful.

(*This report is from Inter BEE 2014 held during November 19th-21st, 2014 at Makuhari Messe in Chiba, Japan.)