[InterBEE2012] ETANI Electronics Co., Ltd. to exhibit audio sound analyzer device, 'ASA-10mkⅡ' which can measure the distortion of speakers, and a convenient 'analyzer' application. Tutorials will also be staged on the 15th (Wednesday).
2012.11.12 UP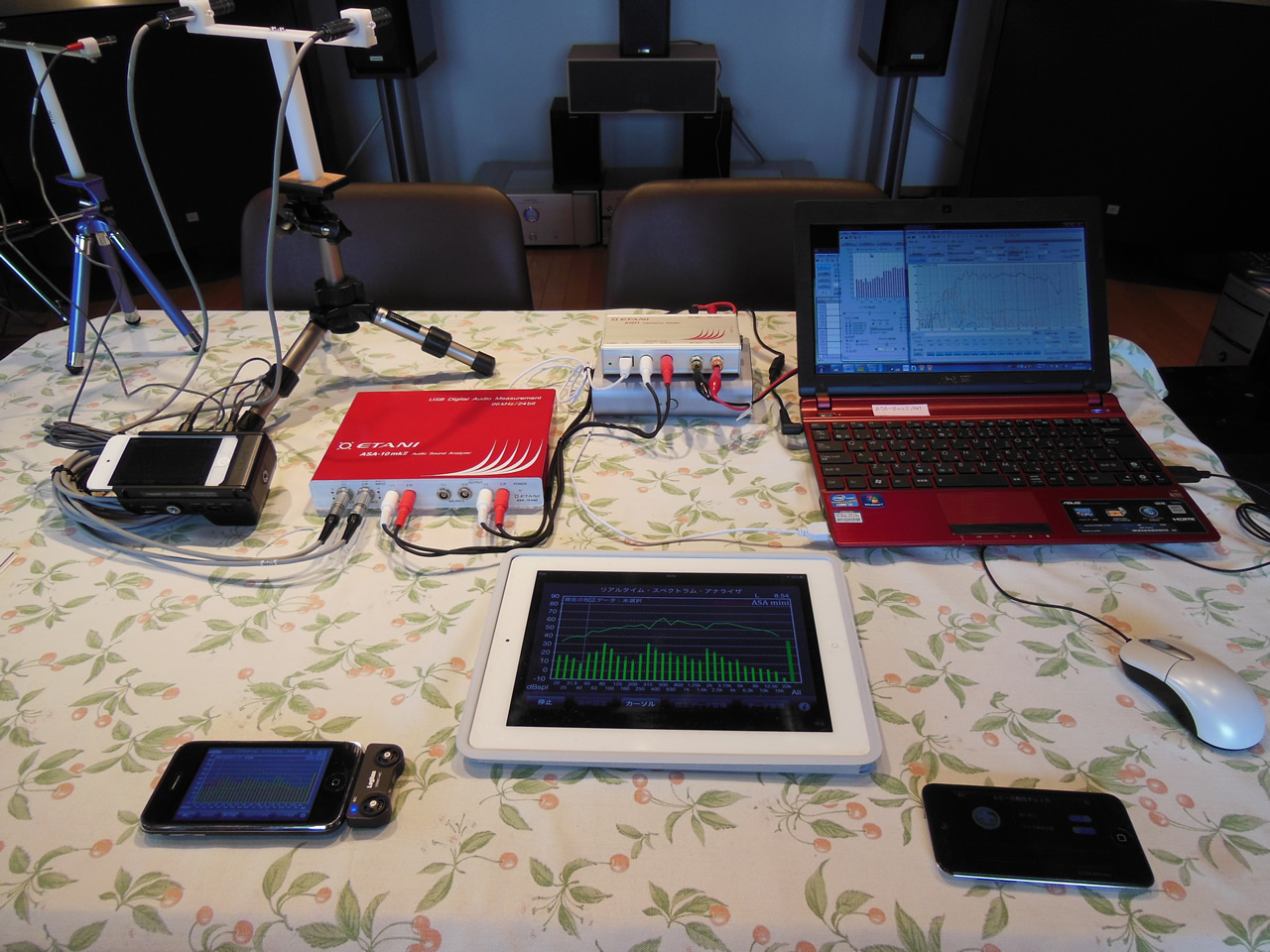 ETANI Electronics Co., Ltd. will be exhibiting an audio measurement devices such as the audio sound analyzer 'ASA-10mkⅡ' and the iPhone/iPod touch audio sound analyzer application 'ASA mini.' Demonstrations will be conducted in the booth (professional audio division #4612) of measurement using the 'ASA-10mkⅡ' and the iPhone/iPod touch application 'ASA mini'.

■ The audio sound analyzer 'ASA-10mkⅡ' can analyze 96 kHz/ 24 bit data.
 The audio sound analyzer 'ASA-10mk2' is the model that follows the 'ASA-10.' It is a compact audio analyzer that runs on USB bus power, and can analyze 96kHz/24 bit data. The input and output terminals are equipped with balanced lines, coaxial digital and optical digital lines. The device is operated by connecting via a USB cable to a Windows PC.
The main features are simultaneous 2 channel measurement, real-time spectrum analyzer, impulse response/acoustic distance measurement, sound pressure measurement and a graph printing function that can print overlapped layers of multiple frequency components. Optional analysis software is also available to support the extensive areas of electro acoustics and architectural acoustics. This measurement software runs on Windows XP, Windows Vista and Windows 7 operating systems.
 The most important feature of this product is the fact that, as well as speaker characteristics, it can measure speaker distortion. Mr. Shokichiro Hino, President of Etani Electronics Co., Ltd. explained, 'It is used by manufacturers such as Panasonic, Pioneer, Onkyo etc., as even distortion can be measured.' In addition, four-channel directional information can be automatically measured by using two of these measuring devices. Mr. Shokichiro Hino further added that they have plans to support 5.1 channels since they have also received request from broadcasters to develop devices that can be used in recording sites of 5.1 channel surround.

■ Introducing audio sound analyser, iPhone/iPod touch/iPad application "ASA mini"
 At Etani Electronics Co., Ltd., the iPhone/iPod touch/iPad application, 'ASA mini' is developed by applying the technology developed for the ASA series in the company, and is available as a free download from App Store. Furthermore, a paid version which does not have any restrictions is also available.
 There are two types of application - 2 channel real-time spectrum analyzer, 'Etani RTA' and speaker polarity checker 'Etani POLARITY'. 'Etani RTA' has a free version with restrictions as well as the paid version. 'Etani POLARITY' is available as a free version. Mr. Hino explained that emphasis has been laid on accuracy as these applications will be used by professionals. Besides, the microphone frequency characteristics parameters can also be adjusted.
This application uses a built-in microphone such as that of the iPhone, enabling 2-channel measurement. Even if a commercially available adapter is used, the functionality of this application is mostly dependent on the performance of microphone. For this reason, the company is working on an adapter for 2 channel measurements, and external microphones with correction data. Hino is "thinking about releasing these products for sale in the near future".
In addition, a speaker inspection device for production lines, the 'S-255,' and an acoustic analyzer device for measurement systems used in the design and development of microphones will also exhibited.

■ Conducting presentation and tutorials
 Etani Electronics Co. Ltd. will hold a presentation on 'Acoustic measurement and sound-field adjustment by mobile terminals and small measuring devices' in the presentation room in Hall 7 on 14 November (Wed) from 14.30 to 15.30 during the exhibition. They will also deliver a InterBEE tutorial session on 'Latest trends of production and application of acoustic measurement using mobile devices' (with an admission fee) in the first floor International Conference Room 101 on 15 November(Wed) from 13.00 to 14.30. Hino says that commentary will be offered on acoustic measurement and sound field survey methods, and invites all those who are interested to participate in the session.