[Inter BEE 2018] BIOS presents an ultra-high-speed data storage solution for 8K editing. Made in Japan, with improved reliability and built-in data recovery functionality, Thunderbolt 3 support, and a single unit max capacity of 120TB.
2018.10.20 UP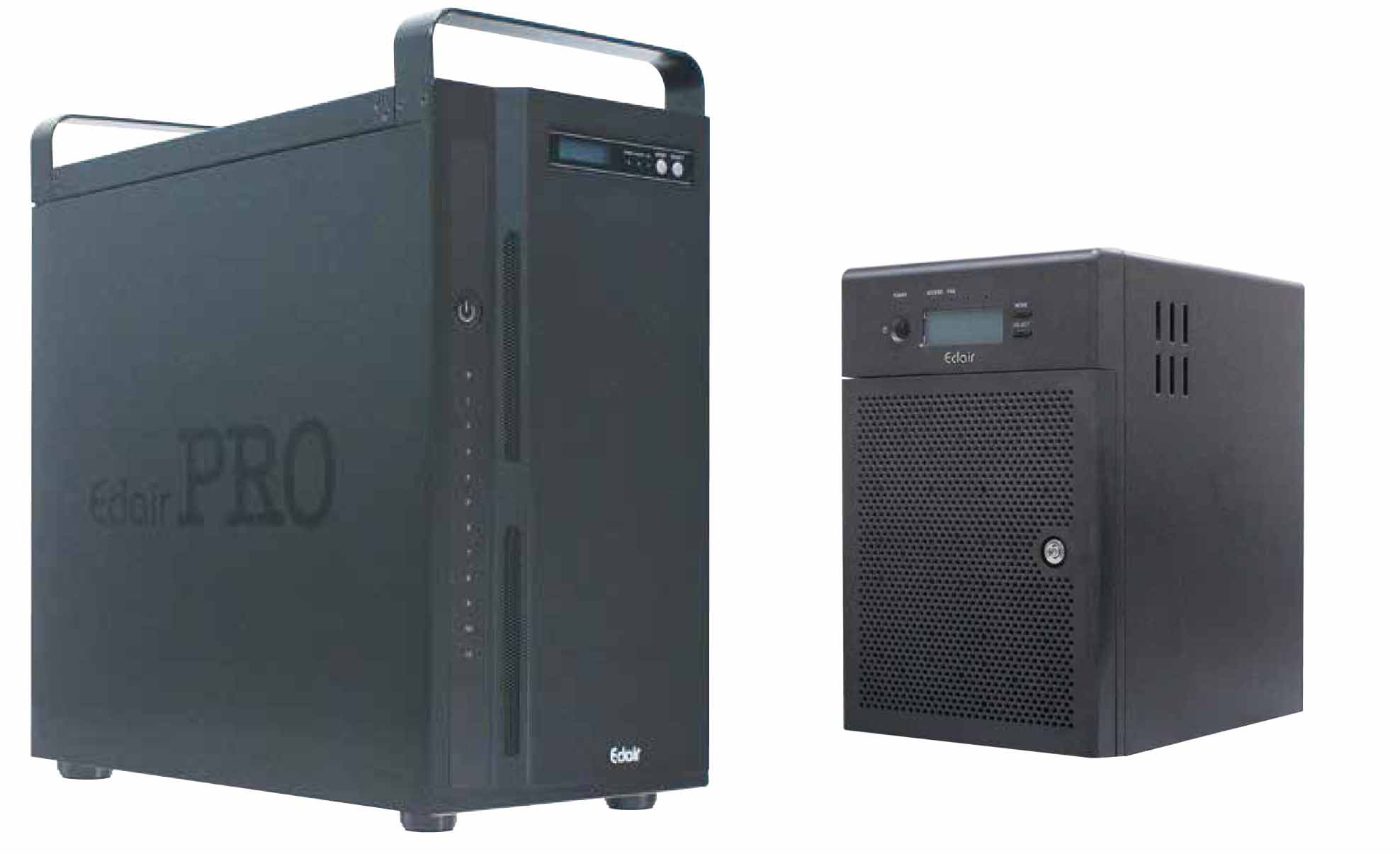 BIOS, a Melco Holdings (developers of computer components including storage solutions under the Buffalo brand) group company specializing in storage solutions for imaging professionals are at Inter BEE 2018 from November 14th to November 16th at Makuhari Messe showing off their ultra-high-speed storage solution for 8K editing, the EP106TB3 (6-bay model pictured above right) and EP112TB3 (12-bay model pictured above left).

■ High reliability thanks to nationwide support and proprietary RAID controller
The EP112TB3 is the latest addition to their Eclair Pro series for video storage. With Thunderbolt 3 support, when paired with a Mac Pro both the six- and 4- bay models can achieve theoretical transfer speeds of 40Gbps. Both are also equipped with eSATA and USB 3.0 interfaces. A wide variety of optional maintenance services are available, with a nationwide maintenance system to provide a made-in-Japan ultra-high-speed data storage solution with unprecedented reliability. And thanks to their own domestically produced RAID controller, transfer speeds of over 2000MB/s can be achieved in a Raid 6 configuration.

■Proprietary technology extends disk life
All hard disks are inspected, and full RAID setup performed at the company's factory in Japan prior to shipping. This means unstable factors such as defective third-party chips are eliminated, earning them high regard among their major-name clientele. With spot recovery technology that extends hard disk service life, every aspect of the final product has been made supremely reliable. Without relying on the host computer, the units are feature independent data recovery controls as standard equipment, resulting in streamlined recovery process. Moreover, after delivery on-site maintenance for one year is included.

■Maximum capacity of 120TB achieved
Image data processing technology eliminates dropped frames, preserves image quality, and supports multi-stream 4K editing. Equipped with high-capacity 12TB disks a max capacity of 120TB (Raid 6) is achieved.
A system for recovering corrupted data has also been set up in cooperation with leading Japanese technology firm Advance Design Corporation. Depending on the level of data corruption, both fixed and spot data recovery options suited to individual use cases are available.

[BIOS Inc.]
■ Main office address
2-43-15 Tomigaya
Yamazaki Building
Shibuya-ku, Tokyo
151-0063 JAPAN
■ URL
http://www.bios.co.jp/
■ Hall / booth number
Video Production / Broadcast Equipment Hall 5 Booth 5305

[Please register before attending Inter BEE 2018]
Inter BEE 2018 will be held over three days from November 14th (Wednesday) to the 16th (Friday) at Makuhari Messe. Entrance is free but advance registration is required. In addition, lecture attendance registration is also available. We hope you'll take advantage of this opportunity and we look forward to your attendance.

Event summary
■ Name: Inter BEE 2018 / The 54th International Broadcast Equipment Exhibition for 2018
■ Dates: Wednesday & Thursday November 14th & 15th from 10: 00-17: 30, Friday November 16th from10: 00-17: 00 [3 days]
■ Venue: Makuhari Messe (exhibition halls 1-8, event hall, and international conference hall) 2-1 Nakase Mihama Ward, Chiba City, Chiba Prefecture, Japan
■ Admission: Free of charge (registration required)
■ Organizer: The Japan Electronics and Information Technology Industries Association (JEITA)
■ Support: (By order of establishment) The Japanese Ministry of Internal Affairs and Communications, the Ministry of Economy, Trade and Industry
(In no particular order) NHK, The Japan Commercial Broadcasters Association, the Association of Radio Industries and Businesses, the Digital Content Association of Japan, and the Association for Promotion of Advanced Broadcasting Services.