【InterBEE 2012】Black Magic Design Two models of the Cinema Camera, Blackmagic Cinema Camera, will be displayed The booth will be enlarged and a photography corner will be established
2012.11.7 UP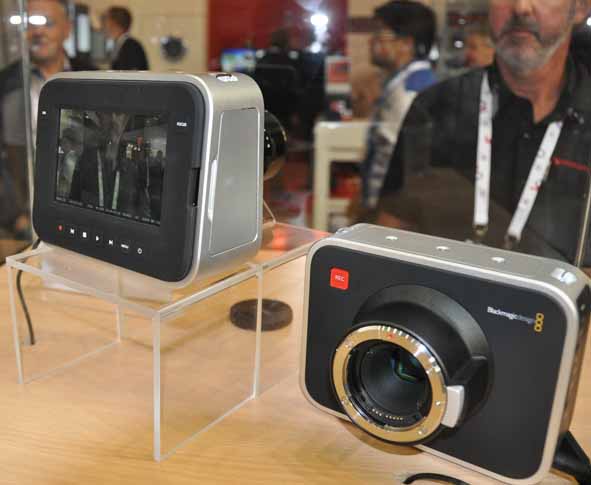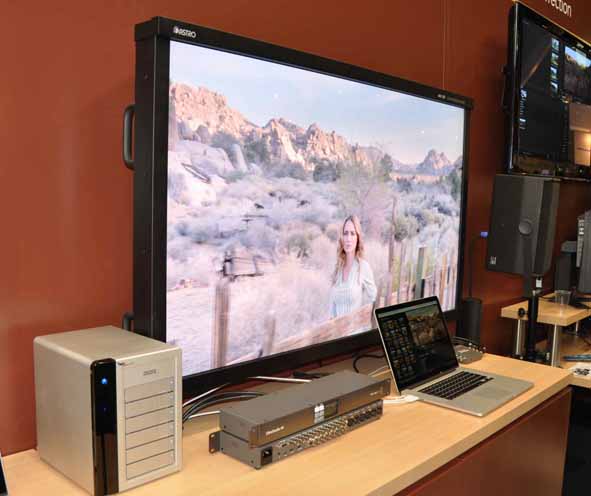 The 4K workflow demonstration that was displayed at the IBC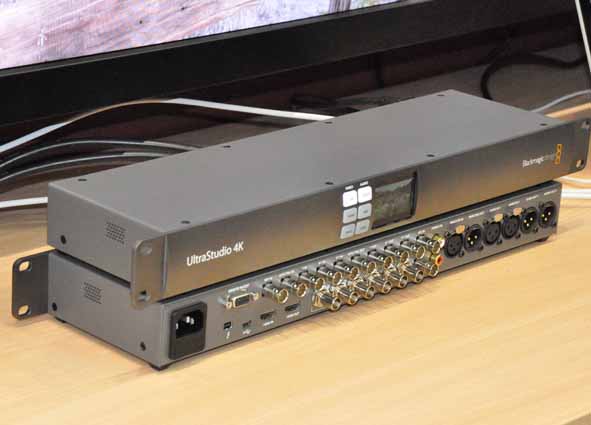 The Thunderbolt compatible Ultra Studio 4K
■A photography corner will be established and two models of the Blackmagic Cinema Camera will be displayed
Black Magic Design will display two models of the Blackmagic Cinema Camera, the EF model as well as the MFT model, which will support the micro four-thirds lens announced at the IBC.
The booth will be expanded to a size larger then last year's and a photography corner will be set up so visitors can try out cameras with freedom.
4K compatible SSD recorders and other 4K related products will be shown.
For 4K related products, the HyperDeck series SSD recorders, the 4K compatible HyperDeck Studio Pro as well as the 4K workflow compatible SDI to HDMI 4K and SDI Multiplex from the Mini Converter series will be displayed.
Additionally, the Thunderbolt compatible Ultra Studio 4K rack-mounted capture solution and Decklink 4K Extreme capture card will be displayed. The new Videohub Master Control router control panel, compatible with 288x288 Universal Videohub from the Videohub series, will be introduced.
The high quality Teranex 2D Processor and 3D Processor standard converters will also be displayed.

■ Colorist Giles Livesey will hold a grading demonstration of DaVinci Resolve
The well-known DaVinci Resolve is also scheduled for its annual colorist-lead demonstrations. In addition to the grading demonstration by Hong Kong colorist Giles Livesey, Digital Egg's colorist Tetsuya Ohta and Interceptor's Genta Tamaki will demonstrate in the hands-on corner. Participants can directly question artists who use Resolve in their work every day.
Additionally, many other well-known products such as the ATEM series or Mini Converters will be displayed. Many product managers will visit Japan from their head offices and be available at the venue to answer questions.

【InterBEE 2012】
Inter BEE is a an exposition featuring professional sound, picture and transmission equipment. Top Japanese and foreign broadcast, imaging, audio and lighting equipment, and IPTV, Mobile TV, Crossmedia, peripheral applications and solutions are exhibited in one building. This event relates to people who work in media. It provides a great opportunity to learn the newest trends in the creative and media business.
The exhibition will be open at the Makuhari Messe from Wednesday to Friday, November 14th to 16th. Admission is free.